Mavis: an Irish Beauty
Mavis: an Irish Beauty
Tuesday, July 21st 2015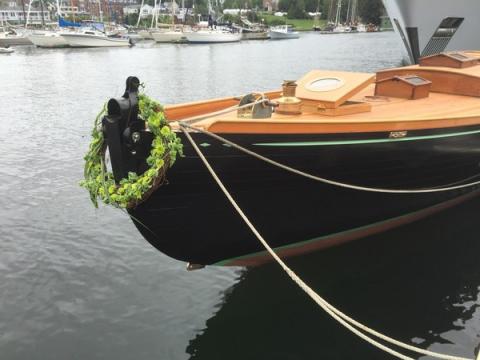 One of Ireland's most beloved yachts, MAVIS, a lovely 38-foot wooden yawl designed and built by John B. Kearney in Ringsend, was relaunched in Camden, Maine, after a fifteen-year restoration by Ronnie Hawkins with the help and encouragement of Denise Pukas.
Hawkins is a boatbuilder and tugboat man who had to balance the restoration with the many other demands on his time. He has spent his life on boats, his family built the beautiful schooner the Mary Day, and he has very high standards for himself and his work. MAVIS looks beautiful, and soon with a new rig and the interior restored, it will sail beautifully again as well.
The restoration of MAVIS is a superb piece of work.