The Vikings are coming
The Vikings are coming
Wednesday, July 11th 2018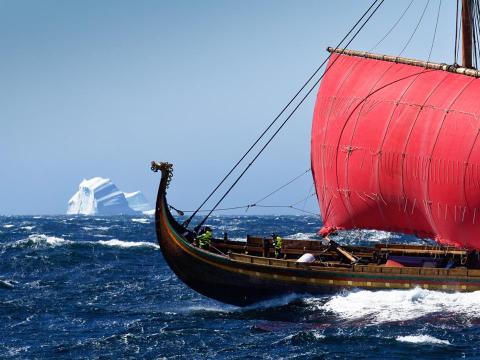 The Norwegian Viking ship, Draken Harald Hårfagre (Draken for short) will make an official stop in Rockland as part of its Expedition America: East Coast Tour 2018.
The tour, which began July 9, will bring the world's largest operating Viking ship to the Rockland Public Landing for a 4-day stopover, July 22-25. Beginning with an arrival ceremony on Sunday, July 22 and continuing with three days of ship tours and activities on an onshore "Draken Village."
In 2016, the Draken successfully crossed the North Atlantic Ocean, recreating one of the most epic, mythical explorations of all time in the wake of the Viking Explorer, Leif Ericsson. Curated by Sigurd Aase, construction of the Draken began in 2010 – creating what would be the largest Viking ship ever built in modern times. Named after Harald Hårfagre, the king who unified Norway into one kingdom, the great dragon ship was built in the town of Haugesund in Western Norway. Draken measures 115 feet from stem to stern, 26 feet wide, with 260 square meters of silk sail, and a 79-foot mast made from Douglas fir.
"This is a very exciting visit for Rockland and it's a great chance for locals and visitors alike to get up close and on board an incredible vessel," said Dan Bookham of Allen Insurance & Financial who is coordinating the Draken visit. "Rockland's history as a fishing and boat-building hub in Maine along with sizeable Scandinavian community who immigrated to the Midcoast to work the quarries, the land, and the ocean gives this visit special significance. "
Hosted in partnership with the City of Rockland, Allen Insurance & Financial, The Strand Theatre, The Apprenticeshop, and the Penobscot Bay Regional Chamber of Commerce, the Draken will offer an opportunity for visitors to relive history.
"The Vikings were accomplished navigators, artisans, traders and storytellers, but their greatest triumph was the ships they built." said Captain Björn Ahlander. "Each Draken stopover offers guests a tangible tie to history. We hope our visitors are inspired by the vigor of the Viking spirit and our modern-day adventures."
The schedule for the visit is as follows:
Sunday, July 22, 3:30 p.m.: Draken Arrival Ceremony Led by Rockland City Council, guests are invited to greet the Draken ship as it sails into port with a display of Viking valor and excitement. Captain Björn Ahlander and his crew will step ashore to welcome the crowd and introduce the Draken. This event is free and open to the public. A private welcome reception will follow.
Monday July 22- Wednesday July 25, 10a.m.-8 p.m. daily: Draken will be open for timed and ticketed deck tours. Tour tickets, which run $6 for kids (ages 5 to 15, free admission for ages 4 and under); $12 for adults (ages 16 and over); and $30 for a family pack (includes two adults, and up to three children). During each 30-minute tour, guests are guided through the ship and offered a look at a day-in-the-life of the crew and the historic craftsmanship used to build the ship with oak, tar, hemp, iron, and silk. Within the Draken Village, which is free and open to the public, guests can experience a photo and video exhibition illustrating Viking history, modern explorers, and the adventures of the Draken; land-side views of the ship; official Draken merchandise, and more.
Additional ticketed Draken events include a screening of the newly released Draken documentary: Expedition America - a Modern Viking Adventure (tickets $15, Monday July 23, 7 p.m. at the Strand Theatre, 345 Main Street, door s open at 6:30pm) and a talk by Captain Björn Ahlander (tickets $25, Tuesday, July 24, 7 p.m. at the Apprenticeshop, 655 Main Street, ).
Tickets for boat tours, and both presentations can be purchased online at https://www.drakenhh.com/rockland, on-site at the Draken Village, or in person during the visit.
The Viking ship also pans stops in New Hampshire, Massachusetts, Rhode Island, Pennsylvania, Maryland, Washington D.C., and Virginia.