About the Magazine
Maine Boats, Homes & Harbors: The Magazine of the Coast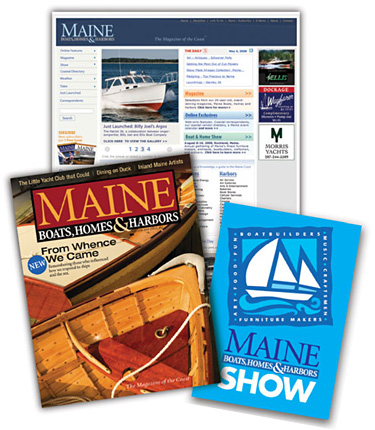 Maine Boats, Homes & Harbors
In Print, Online, In Person.
Maine Boats, Homes & Harbors produces an award-winning print magazine, an online edition that includes original content, and an annual boat and home show during the second weekend in August, each with a focus on the unique lifestyle that is living, working, and cruising the coast of Maine. Located in Rockland, Maine, the company was founded in Camden, Maine, in 1987 by publisher John K. Hanson, Jr.
Our products demonstrate that the Maine coast is more than just magnificent scenery. It is rugged (and sometimes quirky) people, rich history, traditional boats (and modern ones, too), great architecture, and good food. No other magazine covers the coast of Maine the way we do, and our emphasis on boats with lovely sheerlines holds universal appeal. Some of Maine's best writers, photographers, and illustrators (Peter Bass, Edgar Allen Beem, Billy Black, Ben Ellison, Candice Hutchison, Alison Langley, Carl Little, Caroline Magerl, Sam Manning, Janet Mendelsohn, Benjamin Mendlowitz, Eva Murray, Sandy Oliver, Art Paine, Brian Robbins, Jeff Scher, Peter H. Spectre, Brian Vanden Brink, Robert Lloyd Webb and many more) grace the pages of Maine Boats, Homes & Harbors magazine, which was honored with a Silver Editorial Excellence Award for Outstanding Editorial Work, Consumer Magazine--Boating & Yachting at the annual Folio: Show.
Maine Boats, Homes & Harbors explores some of the world's finest cruising grounds, talks with Maine's renowned yacht designers and boatbuilders, sails aboard Maine vessels from dinghies to fancy yachts to schooners, relives the historic events that shaped Maine's character, uncovers the mysteries of Maine's coastal ecology, views the work of Maine's fine visual artists, tours coastal Maine's beautiful homes and gardens, and samples delicacies from the kitchens of Maine's gourmet chefs. Don't miss a single issue--subscribe today. (HINT: Maine Boats, Homes & Harbors also makes a great gift!)
Maine Boats, Homes & Harbors mailing address: P.O. Box 566, Rockland, ME 04841-0566
Physical/courier address: 218 South Main St., Suite 300 Rockland, ME 04841
Phone: 207-594-8622 | Toll-Free: 1-800-565-4951
Fax: 207- 593-0026 | E-mail: info@maineboats.com