About the Magazine
Maine Boats, Homes & Harbors: The Magazine of the Coast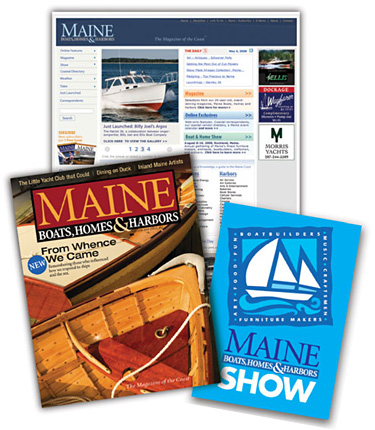 Maine Boats, Homes & Harbors
In Print, Online, In Person.
Maine Boats, Homes & Harbors reflects in words and images life along the Maine waterfront, whether on the ocean, a lake or river. We bring a boater's sense of simplicity, practicality and elegance to our coverage of boats, art, science, history, and food.
We explore some of the world's finest cruising grounds, talk with Maine's renowned yacht designers and boatbuilders, and sail aboard Maine vessels from dinghies to fancy yachts to schooners and workboats. We relive historic events that shaped Maine's character, uncover the mysteries of Maine's coastal ecology, view the work of Maine's fine artists, beautiful homes and gardens, and sample delicacies from the kitchens of Maine's gourmet chefs.
Our products include an award-winning print magazine, an online edition, and an annual boat and home show in Rockland during the second weekend in August.
Our mission is to educate, entertain, and to promote boats, the coast of Maine, and its makers.
Our goal is to promote healthy coastal communities, and to get more people out on the water, buying and enjoying boats.
Some of Maine's best writers, photographers, and illustrators grace our pages, exploring the coastal experience with compelling, often first-hand narratives.
Our readers are affluent, educated, curious and responsive. They love the water, Maine and boats. They have a sense of humor, a strong conservation ethic and a love of beautiful things, whether designed for practical use or for decoration. They appreciate and understand quality craftsmanship. Many live in Maine or spend part of the year here. Others dream about living here.
The company was founded in 1987 by publisher John K. Hanson, Jr.  The magazine celebrated its 30th anniversary in print in 2017 , the same year that the Maine Boat and Home Show celebrated its 15th anniversary.
Our offices look over the harbor in Rockland, Maine. We made this short film about the harbor in 2017. https://maineboats.com/video/2017/underwater-rockland