Maine Boat & Home Show - Welcome!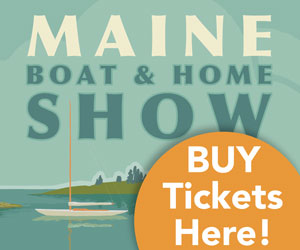 Welcome to
the
16th Annual
Maine Boat & Home Show!
If you love the coast of Maine, you won't want to miss this high-summer event in Rockland, Maine, August 10-12, 2018. Each year we gather Maine's finest artists, architects, boatbuilders, craftsmen, designers, furniture makers, jewelers, and marine gear vendors together in ONE place at ONE time!  Meet them all in person at the 16th Annual Maine Boat & Home Show.
Elegant Boats
Live Music
Fine Fresh Food
Bespoke Furniture & Jewelry
Fun for All Ages
It's the pages of Maine Boats, Homes & Harbors magazine brought to life and the largest in-water boat show north of Newport, Rhode Island, with more than 60 boats in the water and 100+ exhibitors in tents and on the grounds.
SCHEDULE & TICKETS
DATES:
August 10-12, 2018
TIMES:
Friday: 10-5, Saturday: 10-5, Sunday: 10-4
LOCATION:
On the waterfront in Rockland, Maine (Harbor & Buoy parks) (Click here for directions)
TICKETS:
$15 each (good all weekend; kids under 12 always get in FREE!) BUY TICKETS
PROGRAM: You can view the 2018 Boat & Home Show Program here. You can also download the program (FREE) through the MBHH app in iTunes and Google Play.
PARKING: Paid parking is available right next to the show in the DST Systems lot on Water Street. Proceeds benefit local nonprofits. Some handicap parking on Myrtle Street.
PLEASE NOTE: 
For the safety and comfort of all, NO pets are allowed on show grounds (except bona fide service animals, preferably marked as such, and the pre-selected Boatyard Dog® Trials competitors). Also, no strollers can be allowed on the show docks. Please plan ahead. Thanks in advance for your consideration.
SPECIAL EVENTS
WORLD CHAMPIONSHIP
BOATYARD DOG® TRIALS
Middle Pier: 10:30 Sunday morning
Six dogs will compete: come cheer for your favorite!
(Entrants are pre-chosen; please leave your pet(s) at home.)
Buoy Park: All weekend
A groovy gathering of privately owned small craft
from Corsons to Whalers.
Bring your boat and show it off!
NEW! WORKING THE COAST:
CHARTING THE FUTURE
This year's show salutes those who make
their livelihood from the sea.
"Working the Coast" will bring together builders and finishers of commercial vessels, vendors and installers of heavy-duty diesel engines and marine electronics, and reps from fisheries management and other agencies to show their wares.
On the docks, attendees can climb aboard
an assortment of working vessels
as part of the show's "Icon Boats" exhibit (see below).
ICON BOATS
A different vessel will visit the show docks each day.
Welcome aboard!
It's all part of the show's "Working the Coast:
Charting the Future" theme.
Friday: Visit aboard Sunbeam V, the official ship of the
Maine Seacoast Mission
Saturday: Find out what it's like to be a merchant-mariner-in-training aboard R/V/ Friendship, a research and training vessel from
Maine Maritime Academy
Sunday: View the Friendship sloop Blackjack, originally built by Morse
in 1900 and recently refit and relaunched at Rockland's
own Sail Power and Steam Museum.
EXHIBITORS:
CLICK HERE TO RESERVE YOUR SPACE TODAY!
The Maine Boat & Home Show would not be possible without the tremendous efforts of our intrepid volunteers. From setting up tents and traffic cones, to staffing ticket booths and collecting trash and recycling, our volunteers make it all work.
Are you interested in volunteering? Great! We need handy men and women, hosts and hostesses, and people who love to be by the water helping out. As a thanks, we'll give you two show passes, a cool Show Crew t-shirt, and a year's subscription to Maine Boats, Homes & Harbors magazine. Just click here to fill out the form, or send an email to showinfo@maineboats.com for more information.