MB&H Show - Exhibitor Information
MB&H Show - Exhibitor Information
Maine Boat & Home Show
August 9-11, 2024 
The Annual Maine Boat & Home Show is typically held the second weekend of August. Gates open at 10 a.m. daily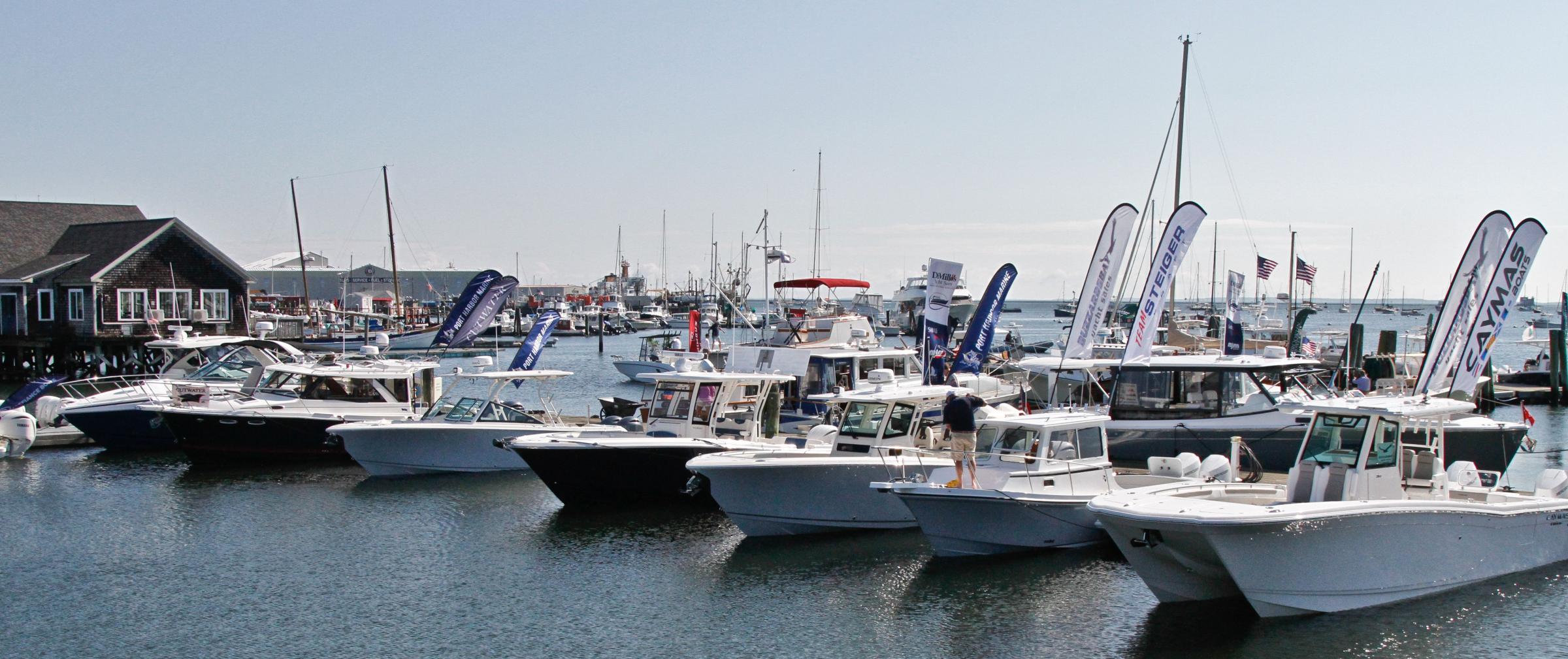 The docks at the annual MB&H show lined with fine boats, both power and sail.
With boats in the water, boats on land, furniture makers, fine artists, high-end home builders, and sustainable-energy experts, the annual Maine Boat & Home Show highlights essential components of life on the coast. Products reflect classic and timeless designs that are durable, practical, and beautiful. A corps of committed exhibitors has turned this show into the largest in-water collection of boats ever assembled in Maine. Interested in exhibiting? If you'd like to exhibit, we'd love to talk with you. Give us a call at 207-594-8622 or click on the request button below to submit your information and we will call you.

For preliminary information, click on the links below:
Market Yourself:
Download show logos to help spread the word for people to visit you at the show
View the current list of Show Exhibitors
Show FAQ (Frequently Asked Questions)
When do I have to get all of my information in? Space is assigned on a first-come, first-served basis. Space sells quickly, so contracts with deposits need to be in sooner rather than later. Proof of liability insurance listing Maine Boats, Homes & Harbors as an "additional insured" needs to be in by July 15 (see below for more info) or as soon as possible after you sign up. Your insurance carrier will email this form to us directly upon your request.
What if I don't have liability coverage? Contact us for information about a special group-rate, short-term insurance policy for land and booth exhibits only (not available for boats in the water).
How many people attend the show? Show attendance is usually between 8,000 and 10,000 people.
By what date do I need to get my information in to be listed in the show map? The deadline for a listing in the show program is July 1.
What are badges/credentials? They are the name tags on lanyards that you and your exhibit staff need to wear for admittance and while on show grounds. You are entitled to five free credentials for each unit of space rented. Additional credentials for your exhibit staff are available for $5.00 each.
What are Guest Tickets and how are they used? Guest Tickets are an important promotional tool for you. They are tickets we provide for you to give out to your best customers and prospects for admission to the show. We give you six FREE tickets per exhibit space, then charge you $35.00 per bundle of 5 additional tickets.
What are my display options for space? An in-tent booth is 8' deep and 10' wide. Outside space (Exhibit/Boat(s) on Shore), which requires you to supply your own cover (or not), starts at 10' x 10' and goes in increments up to 15' x 30', or multiples thereof. In-water boats have the option of being stern-to or side-to.
How are booth spaces furnished? Is electricity provided? All in-tent booths are piped and draped. Each comes equipped with an 8' table and two chairs if requested. Please indicate your preference on your contract. Additional tables are available for $10.00 each. Standard service electricity is limited to 30A/110V delivered to within 50 feet. Open land spaces will not have electrical service unless prior arrangements are made. All exhibitors requesting service should bring a heavy-gauge, 50' extension cord with a 3-prong adapter. For an additional cost of $150, 220v service is available.
Is there Internet access at the show? Yes. You will receive a password when you check in at the show office. The provider will have a booth on show grounds where questions about connection can be addressed. We cannot offer technical support for connecting to the WiFi network.
Do the tents have sides? Yes. Tent walls are clear or white with windows, and during good weather can be raised or pushed aside for air circulation if exhibitors want. They are closed overnight.
How high are the tents? The height of the sidewalls is 8 feet.
What color is the pipe and drape? The pipe and drape are generally white. We'll try to inform you in advance if we use another color.
What is the ground like? Will I need to bring flooring? Booths inside tents are mostly on grass. In some cases they overlap paved areas making some fairly minor irregularities. Outside spaces are mostly on paved areas and are flat. Flooring is a personal choice and not necessary in most cases. However, the ground contains moisture, so you might want to put your stock up on pallets or store it in totes to keep it dry.
What happens if it rains during the show? This is an outdoor venue. The show goes on rain or shine.
Can I bring my parrot/dog/cat/boa constrictor? No. Due to Health & Safety Regulations no pets are allowed on the show grounds except for the pre-qualified Boatyard Dog contestants and certified service dogs. Please plan accordingly.
 
Parking
Exhibitor Parking: Parking in and around the show is limited. We have made arrangements for exhibitor trucks and trailers to be parked at Snow Marine Park. Complete information, a map of Rockland, and directions to Snow Marine Park are available on the MAPS & PARKING page.
HINT: If you and your staff take up parking spots close to the show, those sites will not be available for your customers. Please park farther away and/or carpool if possible.
No cars will be permitted to enter the show grounds Friday - Sunday after 8:30 a.m. and all vehicles must leave by 9:00 a.m. Those not complying WILL be towed. You must have the show parking slip with your name and cell phone number visible in the windshield of your vehicle while on show grounds; pick up a copy at the Show Office during show hours.
Contact Info
For information about the Maine Boat & Home Show:

Exhibitor Space & Advertising
Ted Ruegg: ted@maineboats.com

Boat & Home Show Management:
Show Manager, Laura Borchert: showmanager@maineboats.com
Phone: 207-594-8622 | toll-free: 800-565-4951 | fax 207-593-0026 | email: showinfo@maineboats.com Maine Boats, Homes & Harbors P.O. Box 466, Rockland, Maine 04841
The Maine Boat & Home Show is produced by Maine Boats, Homes & Harbors magazine, which has brought the best of the coast of Maine to readers since 1987.