Former sardine carrier reborn as cruising yacht
Former sardine carrier reborn as cruising yacht
Tuesday, July 16th 2019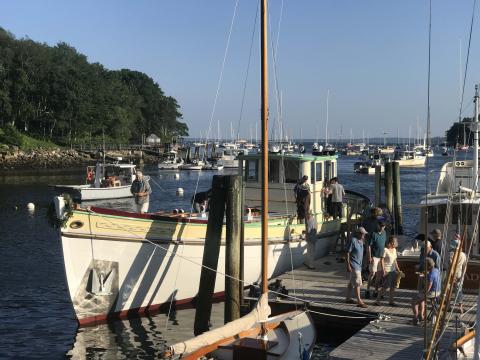 A launching at Rockport Marine usually includes the boat's proud owner(s) and a congratulatory speech from yard owner Taylor Allen. But last weekend, after years of sending other people's boats into the water, Allen launched one for himself.
On a sunny July afternoon, Allen's wife, Martha White, assisted by 4-year-old (almost 5) granddaughter Maite McCoun Tempe-Dwyer, gave a short speech and smashed a bottle of bubbly on the sturdy wooden bow of the William Underwood, a former sardine carrier that Allen and his crew at Rockport Marine spent almost 13 years rebuilding into a comfortable cruising boat.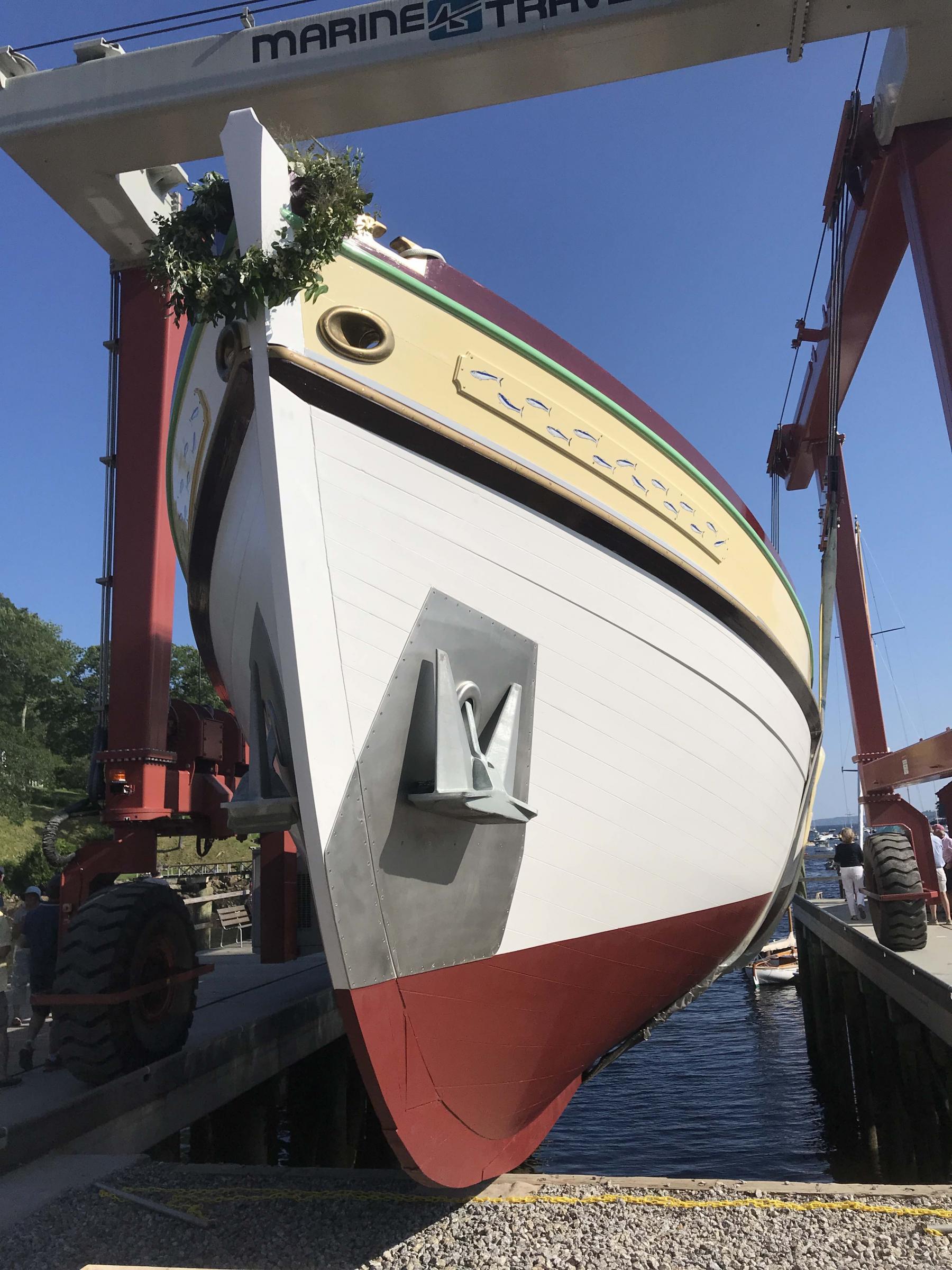 Built in 1941 in Dorchester, Massachusetts at the Simms Brothers yard, the 69-foot William Underwoodspent years hauling herring from weirs and seine nets to the Underwood Packing plan in Jonesport, Maine. By the time Allen found it, the boat was derelict. He stored it in the back of one of the yard's big red sheds and painstakingly rebuilt it over the years in between finishing jobs for customers. The result is an essentially new boat. The only remaining part of the former boat is the propeller, he said. 
During the launching, Allen, choked back emotion as he thanked his step-son Sam Temple, who has taken over day to day operations at Rockport Marine, and the other members of the crew who worked on the massive project. "It wouldn't have happened without a lot of people here at the boatyard," Allen said.
Painted white with yellow and green trim, the relaunched vessel features small, leaping, blue herring on either side of the bow — painted by a worker at the yard. The revamped interior has room to sleep as many as six people, a salon with a small wood stove and an elegant galley.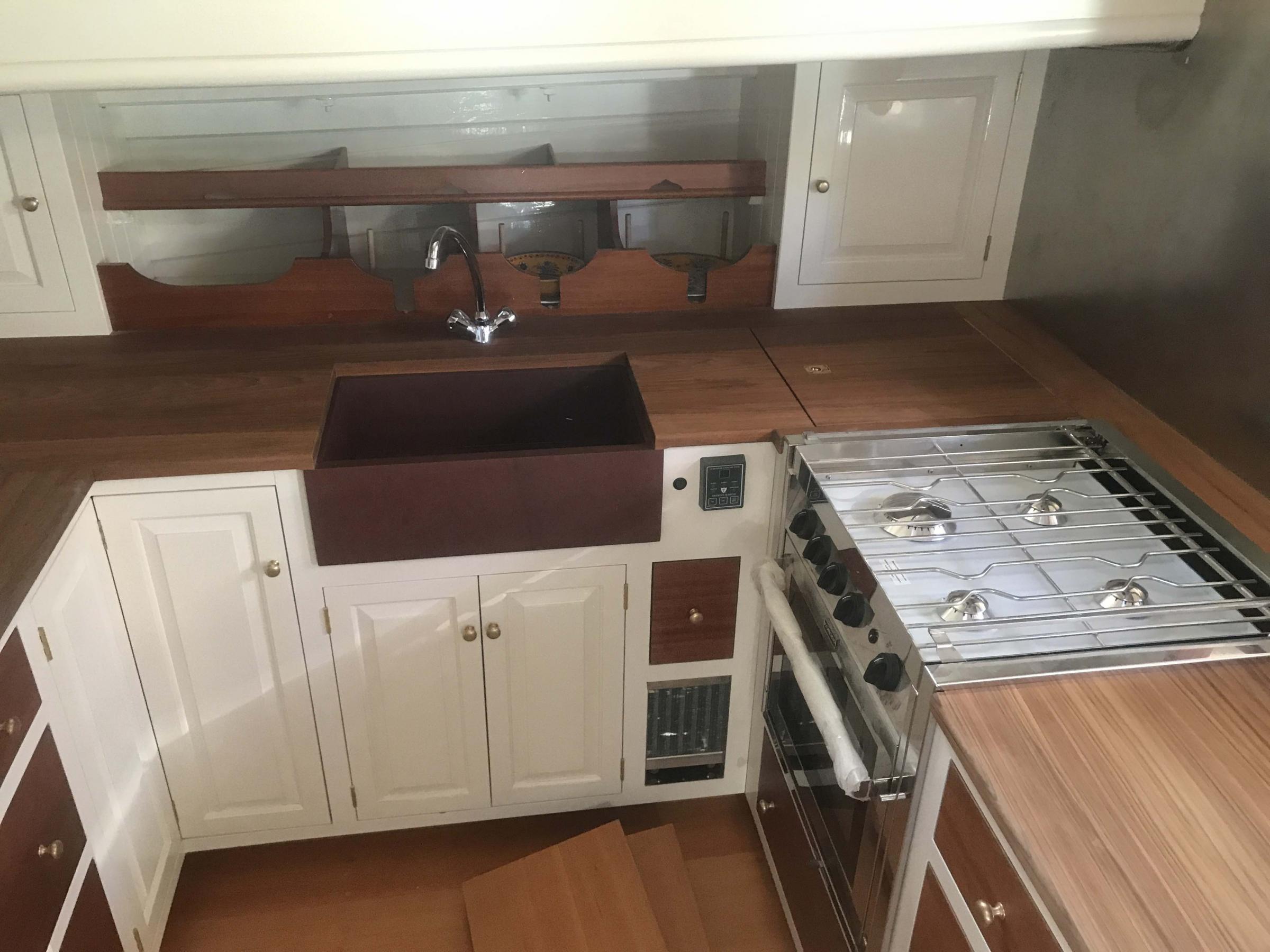 The last sardine plant in Maine shut its doors over a decade ago. But former fish carriers, like the William Underwood, are now considered excellent workboats to convert into yachts because of their attractive lines and maneuverability. Tied up at the other end of the dock during the William Underwoodlaunching was Grayling, another fish carrier converted for pleasure cruising.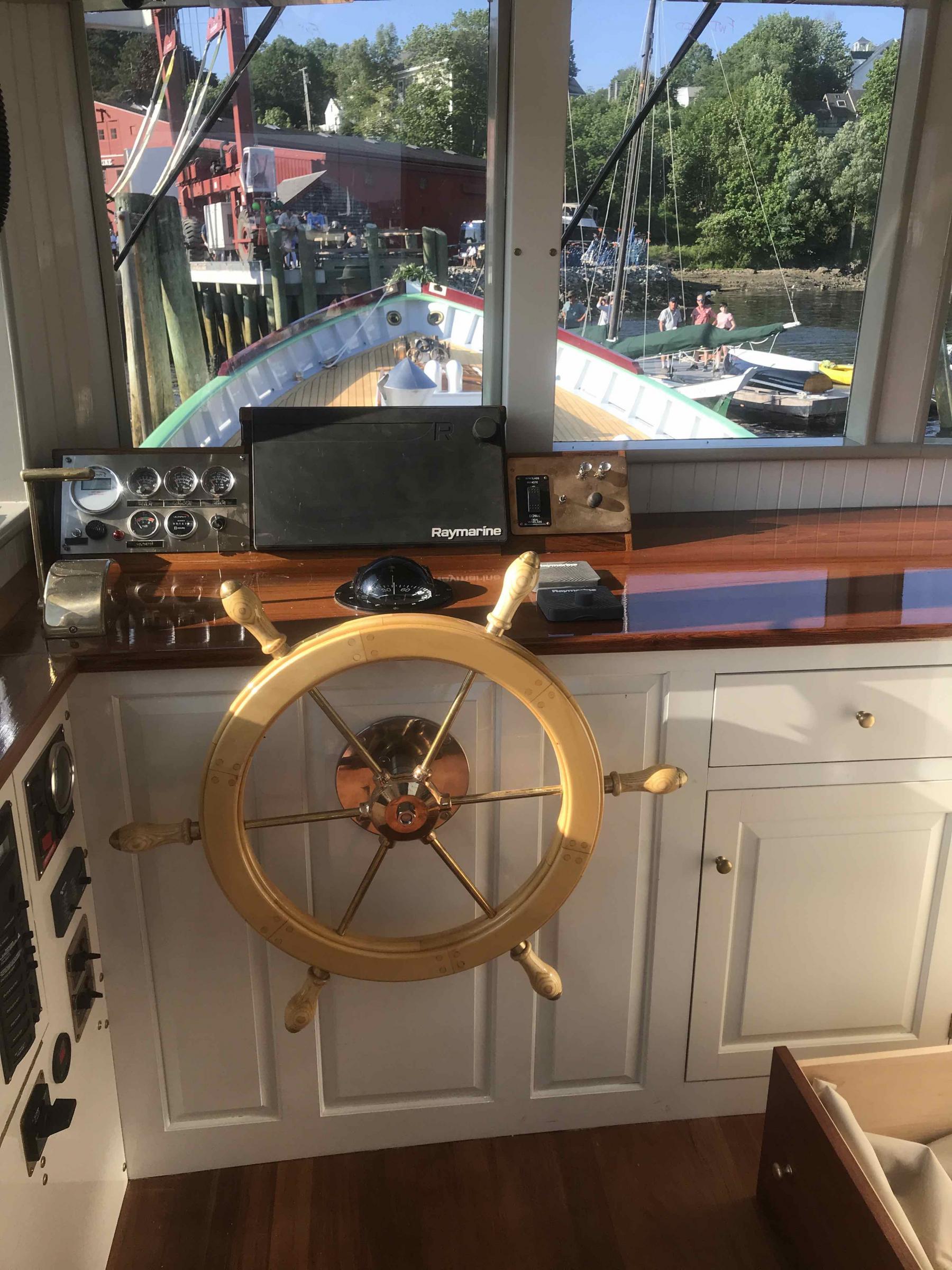 "Sardine carriers were at the top of their development," Allen explained, "active when form and function came together in a beautiful object."
A number of Underwood descendants attended the launching,  including William "Woody" Underwood, who said his great-great-great grandfather started the original Underwood Packing Company. He presented Allen with a small yellow tin of Underwood sardines; "probably packed somewhere in China," he said afterward.