Maine Maritime Museum acquires historic schooner
Maine Maritime Museum acquires historic schooner
Thursday, December 22nd 2016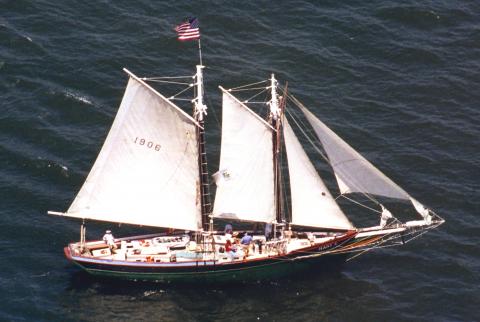 The Maine Maritime Museum in Bath has agreed to acquire the historic schooner Mary E, which is believed to be the oldest Bath-built wooden vessel still afloat. She is also the oldest fishing schooner built in the state of Maine that is still sailing, the museum said.
"Since the museum's board approved the acquisition of this historic vessel, word has spread quickly. So many people have commented about the incredible gift this will be for the state of Maine to return this beautiful schooner to the place where she was built. We could not be more excited to restore and preserve this beautiful and significant symbol of Maine's past," said Amy Lent, the museum's executive director.
Built in Bath in 1906 by shipbuilder Thomas E. Hagan (in a shipyard located where Bath Iron Works stands today), and restored in Bath in 1965 by William R. Donnell II (on the grounds of what is now Maine Maritime Museum), Mary E is a two-masted clipper schooner with a sparred length of 73 feet. This is the last of 69 vessels built by Hagan and representative of the type of vessel that would have been seen all over the coast of Maine in the 1900s.
Mary E will be delivered to the museum in spring of 2017, and the restoration work started by her current owner, Matt Culen of Pelham, N.Y., will be completed on the museum's campus, giving the public the opportunity to witness historic shipbuilding techniques first hand.
Following completion of the work, Mary E will be docked at the museum, serving as a historic vessel accessible to everyone. Mary E will also serve as the ambassador of Maine Maritime Museum and of Bath, the "City of Ships," traveling to events up and down the coast.
"This is a vessel of remarkable importance, despite its modest size," said Senior Curator Nathan Lipfert. "We have compiled a list of historic Maine vessels that are still extant, and there is nothing older, or better, that is available to us. I am very excited about Mary E becoming part of the historic collection of the museum, and I am looking forward to continuing research on her long history."
The museum will soon be launching a major fundraising effort to support the restoration and continued preservation of Mary E.
For 38 years the schooner was operated as a fishing and trade vessel out of Rhode Island. Her original four owners were William A. Dunn, Dwight A. Dunn, Curtis S. Dunn and Jesse Lewis, all of Block Island. For 38 years, these four men operated the vessel, mostly in the fisheries, but some years licensed for the coastal trade as well. Later owners told stories of her being used to carry mail and passengers, and as a rum-runner during Prohibition.
In 1944 the Block Islanders sold Mary E to Edward P. Gleason of Gloucester who used her as a dragger. He fished her out of Gloucester before selling her to Clarence W. Leveille in 1950. Leveille continued fishing her out of Gloucester, but abandoned the vessel in 1960, and she sank in a Thanksgiving Day hurricane in 1963 in Lynn Harbor, Mass.
Two years later, William R. Donnell II of Bath, great grandson of shipbuilder William T. Donnell, responded to a newspaper ad listing the "half sunken fishing schooner" for sale for $200. Knowing his great-grandfather had been an associate of Thomas Hagan, Donnell could not resist purchasing the vessel and raising it. He brought it to Bath and began a two-year renovation on the grounds of what is now the Maine Maritime Museum campus.
Following her restoration, Mary E was used as a passenger vessel in the Maine Windjammer Fleet.
In 1971 the vessel was sold to Robert Morse of Morse Marine in Boothbay Harbor, and later to jazz musician Teddy Charles who sailed her to New York where she was one of the first schooners sailing out of South Street Seaport. In 1990 Captain Charles moved her to Greenport where she was purchased by her current owner, Matt Culen in 2006. He began a major restoration effort, moving her to the Connecticut River Maritime Museum docks where she has been running river tours every summer since.