Kittery Harbor Tides
Kittery Harbor Tides
December, 2023 Tide Charts for Kittery Harbor in Kittery Point, ME
Dec

5

2023

High Tides
Low Tides
5:00 am (7.8 ft.)


---

5:10 pm (8.1 ft.)


---

11:00 am (1.7 ft.)


---

11:28 pm (1.1 ft.)


---
Date
High Tides
Low Tides
1
Fri
1:41 am (7.9 ft.)
1:42 pm (9 ft.)

7:24 am (1.4 ft.)
8:10 pm (0.5 ft.)

2
Sat
2:30 am (7.7 ft.)
2:32 pm (8.7 ft.)

8:15 am (1.6 ft.)
9:00 pm (0.7 ft.)

3
Sun
3:21 am (7.7 ft.)
3:25 pm (8.4 ft.)

9:09 am (1.7 ft.)
9:50 pm (0.9 ft.)

4
Mon
4:11 am (7.7 ft.)
4:18 pm (8.2 ft.)

10:05 am (1.8 ft.)
10:40 pm (1 ft.)

5
Tue
5:00 am (7.8 ft.)
5:10 pm (8.1 ft.)

11:00 am (1.7 ft.)
11:28 pm (1.1 ft.)

6
Wed
5:48 am (8 ft.)
6:02 pm (8 ft.)

11:53 am (1.5 ft.)

7
Thu
6:33 am (8.3 ft.)
6:53 pm (8 ft.)

12:14 am (1.1 ft.)
12:43 pm (1.2 ft.)

8
Fri
7:16 am (8.5 ft.)
7:42 pm (8 ft.)

12:58 am (1.1 ft.)
1:32 pm (1 ft.)

9
Sat
7:59 am (8.8 ft.)
8:29 pm (8 ft.)

1:40 am (1.1 ft.)
2:18 pm (0.6 ft.)

10
Sun
8:40 am (9.1 ft.)
9:15 pm (8 ft.)

2:22 am (1 ft.)
3:03 pm (0.3 ft.)

11
Mon
9:21 am (9.4 ft.)
10:00 pm (8.1 ft.)

3:04 am (1 ft.)
3:46 pm (0 ft.)

12
Tue
10:04 am (9.7 ft.)
10:45 pm (8.2 ft.)

3:46 am (0.9 ft.)
4:30 pm (-0.2 ft.)

13
Wed
10:48 am (9.9 ft.)
11:32 pm (8.2 ft.)

4:30 am (0.7 ft.)
5:16 pm (-0.4 ft.)

14
Thu
11:36 am (10 ft.)

5:17 am (0.6 ft.)
6:03 pm (-0.5 ft.)

15
Fri
12:21 am (8.3 ft.)
12:26 pm (10 ft.)

6:07 am (0.6 ft.)
6:53 pm (-0.6 ft.)

16
Sat
1:14 am (8.4 ft.)
1:21 pm (9.9 ft.)

7:00 am (0.5 ft.)
7:47 pm (-0.6 ft.)

17
Sun
2:09 am (8.5 ft.)
2:19 pm (9.8 ft.)

7:58 am (0.5 ft.)
8:43 pm (-0.5 ft.)

18
Mon
3:07 am (8.7 ft.)
3:20 pm (9.6 ft.)

9:00 am (0.5 ft.)
9:41 pm (-0.4 ft.)

19
Tue
4:05 am (8.9 ft.)
4:23 pm (9.4 ft.)

10:05 am (0.3 ft.)
10:39 pm (-0.3 ft.)

20
Wed
5:04 am (9.2 ft.)
5:26 pm (9.2 ft.)

11:09 am (0.2 ft.)
11:37 pm (-0.2 ft.)

21
Thu
6:01 am (9.5 ft.)
6:29 pm (9 ft.)

12:13 pm (-0.1 ft.)

22
Fri
6:57 am (9.7 ft.)
7:31 pm (8.9 ft.)

12:33 am (-0 ft.)
1:14 pm (-0.3 ft.)

23
Sat
7:52 am (9.8 ft.)
8:30 pm (8.7 ft.)

1:29 am (0.2 ft.)
2:12 pm (-0.5 ft.)

24
Sun
8:44 am (9.9 ft.)
9:26 pm (8.6 ft.)

2:22 am (0.3 ft.)
3:07 pm (-0.6 ft.)

25
Mon
9:34 am (9.9 ft.)
10:17 pm (8.4 ft.)

3:13 am (0.5 ft.)
3:59 pm (-0.6 ft.)

26
Tue
10:22 am (9.8 ft.)
11:05 pm (8.3 ft.)

4:02 am (0.6 ft.)
4:47 pm (-0.5 ft.)

27
Wed
11:07 am (9.7 ft.)
11:50 pm (8.2 ft.)

4:48 am (0.7 ft.)
5:32 pm (-0.4 ft.)

28
Thu
11:50 am (9.5 ft.)

5:32 am (0.8 ft.)
6:15 pm (-0.1 ft.)

29
Fri
12:32 am (8 ft.)
12:33 pm (9.2 ft.)

6:16 am (1 ft.)
6:57 pm (0.1 ft.)

30
Sat
1:13 am (8 ft.)
1:15 pm (9 ft.)

6:59 am (1.1 ft.)
7:38 pm (0.3 ft.)

31
Sun
1:55 am (7.9 ft.)
1:59 pm (8.7 ft.)

7:44 am (1.2 ft.)
8:18 pm (0.6 ft.)

More Tide Charts — Now Available Coast to Coast!
If the tides for your harbor are not listed here, our national website, USHarbors.com has detailed tides and weather for over 1,200 harbors in 22 states — perfect for making sure you stay on top of the tide (literally!) on your next cruise up or down the coast.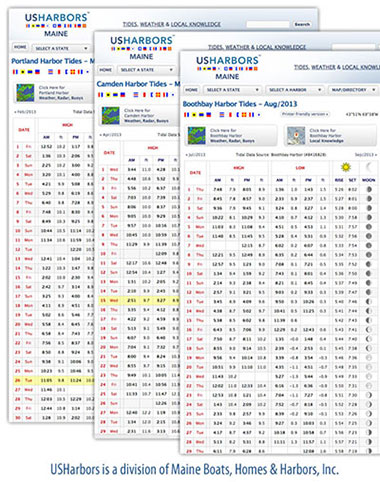 CLICK HERE to visit the tide charts, now hosted on USHarbors.com
While you're checking the tides, make sure to check out the other information on USHarbors.com — pinpoint weather forecasts and conditions for 1,200 harbors coast to coast, business listings for hundreds of the finest coastal companies, and a steady stream of Local Knowledge for your favorite harbors. No matter what part of the coast you love, USHarbors.com is the one site you'll want to check every day!