Great Island Boatyard expands with construction of new building
Great Island Boatyard expands with construction of new building
Wednesday, May 3rd 2017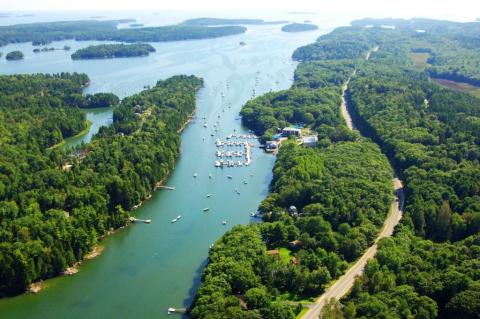 Great Island Boat Yard in Harpswell, Maine, is breaking ground this spring on a new 14,400 square foot structure. The new building, which will be finished in time for the 2017-18 storage season, will feature two, 20-foot overhead doors and will provide fire-protected, heated space for 30 vessels.
The new facility will be situated above GIBY's Main Office on the north end of the property. The building's state-of-the-art interior will include shore power hook-ups, as well as LED fixtures and exterior windows that will give the space the benefit of both natural and artificial lighting. The storage surface will be paved, providing ideal working conditions for GIBY techs, and an extra clean environment for the vessels under GIBY's care. The building's design will mirror that of the last facility GIBY built, in 2013, with a low-profile, "horse barn" appearance, complete with decorative cupolas and siding chosen specifically to blend with the surrounding landscape.
As part of this project, an apron of permeable pavers will be installed parallel to the road. This visually pleasing and functional path will allow the GIBY crew to move boats in and out of the new space without the need to go onto the public roadway.
This project represents a significant capital improvement for GIBY.
All of the natural elements have been designed by Irene Brady Barber of Greenscapes Design, LLC. Irene, who has done work for Coastal Maine Botanical Gardens, has selected a variety of indigenous plant species with which to beautify and soften the boat yard/marina entrance.
"Landscaping is something we've wanted to address for a long time," says co-owner Steve Rowe. "We're now at a point in our business evolution where it finally makes sense to move forward, particularly in conjunction with this project."
The final touch, at project completion, will be the addition of a lit, post-and-beam framed sign at the head of the drive.