Sample Issue
Maine Boats, Homes & Harbors: The Magazine of the Coast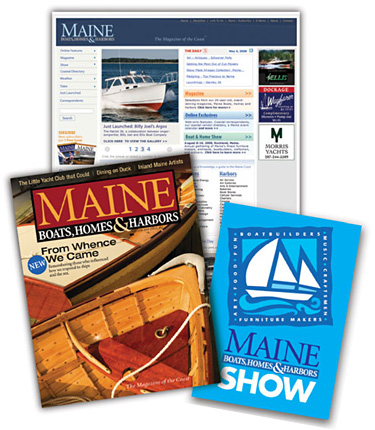 Maine Boats, Homes & Harbors reflects in words and images life along the Maine waterfront, whether on the ocean, a lake or river. We bring a boater's sense of simplicity, practicality and elegance to our coverage of boats, art, science, history, and food.
We explore some of the world's finest cruising grounds, talk with Maine's renowned yacht designers and boatbuilders, and sail aboard Maine vessels from dinghies to fancy yachts to schooners and workboats. We relive historic events that shaped Maine's character, uncover the mysteries of Maine's coastal ecology, view the work of Maine's fine artists, beautiful homes and gardens, and sample delicacies from the kitchens of Maine's gourmet chefs.
Enjoy Two Free Sample Issues of Maine Boats, Homes & Harbors
If you haven't had a chance to pick up a copy of our print magazine in stores, you can now enjoy two free issues from the convenience of your computer or smartphone! Just click on one of the issues below to start reading.
Subscribe to MBH&H
Ready to get every issue of MBH&H delivered to your mailbox? Subscribe today for less than $30 per year!