Historic Maine-Built Schooner Comes Home
Historic Maine-Built Schooner Comes Home
Monday, April 24th 2017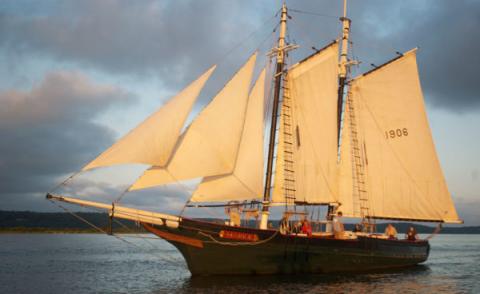 The historic schooner Mary E, believed to be the oldest Maine-built wooden fishing schooner still afloat, came home last weekend. The 73-foot, two-masted clipper schooner arrived Sunday, April 23, at the Maine Maritime Museum in Bath.
The Mary E. was built in 1906 on the banks of the Kennebec, just upriver on land that is now Bath Iron Works, according to the museum. Recently acquired by the museum, the Mary E is believed to be the oldest Bath-built wooden schooner, and the oldest fishing schooner built in Maine, still sailing.
The son of a Georgetown farmer, shipbuilder Thomas E. Hagan built the Mary E and sold it in 1907. The schooner worked as a fishing vessel and for coastal trade, then as a dragger out of Gloucester, Massachusetts, according to the museum. The schooner was abandoned in 1960, and sank in the harbor at Lynn, Massachusetts, during a hurricane on Thanksgiving Day 1963. In 1964, William R. Donnell II of Bath, whose great-grandfather had been an associate of Hagan, bought the "half-sunken fishing schooner" for $200, and renovated it before sailing it in Penobscot Bay.
After stints in Boothbay Harbor, New York City, and Key West, Florida, the schooner was bought by Matt Culen in 2006. He began restoring it and used it for river tours from the Connecticut River Museum until 2016 when the Maine Maritime Museum agreed to aquire it.
During summer 2017, restoration work started by Culen will be completed on the museum's campus, giving the public the opportunity to witness historic shipbuilding techniques first hand. The project will be overseen by shipwright Andros Kypragoras. Mary E will be launched at the museum in spring 2018, and the museum will offer public tours and cruises.