Experience Maine lecture series:Learn about Maine Sea Coast Mission and its hooked rugs with author Judith Burger-Gossart
Experience Maine lecture series:Learn about Maine Sea Coast Mission and its hooked rugs with author Judith Burger-Gossart
Monday, February 29th 2016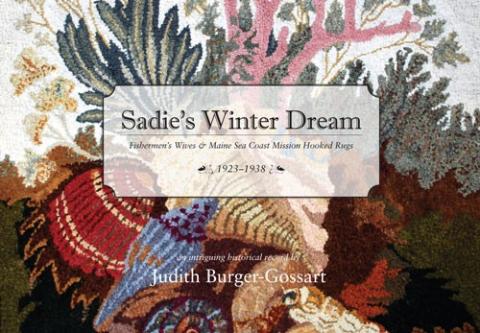 Maine Boats, Homes & Harbors has partnered with the Rockland Public Library and Friends of the Rockland Public Library to co-sponsor a new lecture series called "Experience Maine". The series highlights authors and individuals who have been featured in Maine Boats, Homes & Harbors magazine. Author Judith Burger-Gossart will give the first talk on March 3, 2016 at 6 p.m. about her recently released book, Sadie's Winter Dream, Fishermen's Wives and Maine Sea Coast Mission Hooked Rugs, 1923-1938. She will display several Mission rugs and illustrate her talk with archival photographs of Maine communities, rug hookers, and Mission hooked rugs.
Sadie's Winter Dream tells the story of how Rockland-born Alice M. Peasley changed women's lives all along Maine's coast and on the islands in the early 1900s, as she taught them to hook and sell rugs as a path to financial support, encouraging creativity and artistry in the process.
Maine author and MBH&H contributor Carl Little has noted, "Thanks to Judith Burger-Gossart's outstanding research, an intriguing piece of downeast Maine history has been brought to light. This book is about rugs, yes, but it is also a remarkable story of community, art, and hard living—and a determined woman named Alice M. Peasley."
The talk will be held Thursday, March 3, 2016 at 6 p.m. at the library, located at 80 Union Street in Rockland. It is free and open to the public. FMI: 594-0310.
For more about the book and author, read Burger-Gossart's article that appeared in the 2015 Boat Show Issue (Volume 138). http://www.maineboats.com/print/issue-136/hooking-better-lives