Huge ocean liner makes a stop in Rockland, Maine
Huge ocean liner makes a stop in Rockland, Maine
Tuesday, September 25th 2018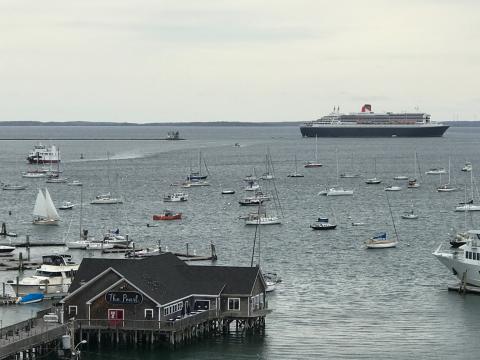 The 1,132-foot ocean liner RMS Queen Mary 2 (also referred to as the QM2) paid a visit to Rockland, Maine, on Sept. 25,. The largest passenger ship ever to visit the midcoast, the QM2 dwarfed the breakwater, the local ferries, and all the other boats in the harbor power and sail, including a much smaller American Cruise line vessel Independence (222 feet), which was berthed at the town dock.
At the time of her launch in 2004, Queen Mary 2 held the distinctions of being the longest, at 1,131.99 ft, and largest, with a gross tonnage of 148,528 GT, passenger ship ever built. She no longer holds this distinction after the construction of Royal Caribbean International's 154,407 GT Freedom of the Seas in April 2006. The ocean liner can carry 2,691 passengers with a crew of 1,292, according to Cunard.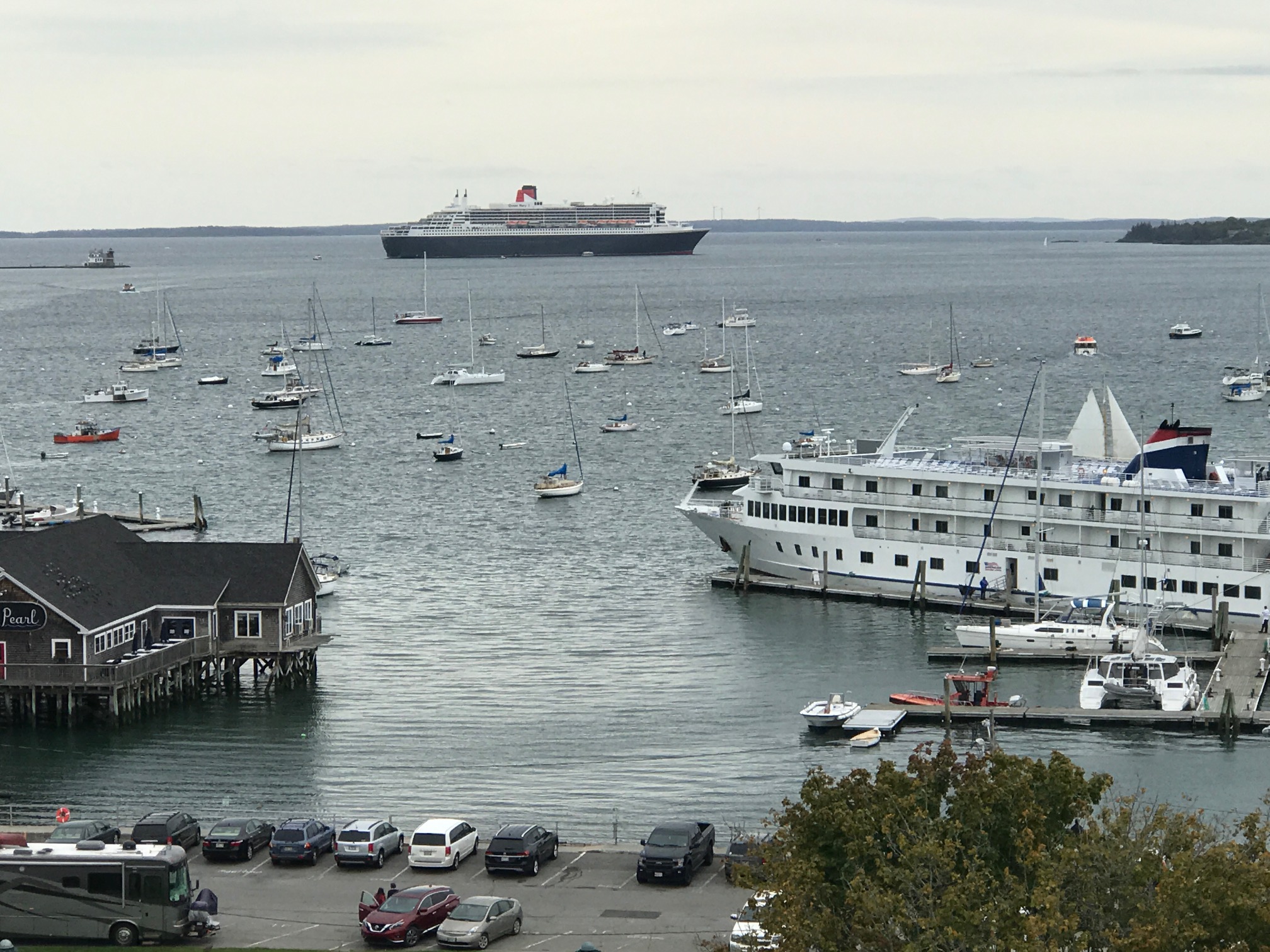 The QM2 is 131 feet wide and draws 34 feet. Bigger than a house: QM2 stands 236 feet from keel to funnel top — almost as tall as any building in Portland, Maine. The ship features 18 decks in all, 14 passenger decks. Power is from four electric drives, 90,000 hp each, which push the 80,000-ton vessel to a top speed of 30 knots (35 mph), and a cruising speed of 26 knots (30 mph).
The liner's facilities include fifteen restaurants and bars, five swimming pools, a casino, a ballroom, a theatre, and the first planetarium at sea, as well as a kennel. According to information on the Cunard website, the QM2's last port of call before Rockland was New York. Her eventual destination on this 11-day New England cruise is Quebec, where she is due to arrive on Sept. 29. She arrived in Rockland at around 7:30 in the morning and was scheduled to leave at around 6 p.m. that evening. The ship was anchored between the Breakwater and Owls Head and a small fleet of pod-like launches transported passengers to and from the public landing for most of the day.