Sneak Preview! 14th Annual Maine Boats, Homes & Harbors Show, August 12-14
Sneak Preview! 14th Annual Maine Boats, Homes & Harbors Show, August 12-14
Friday, June 10th 2016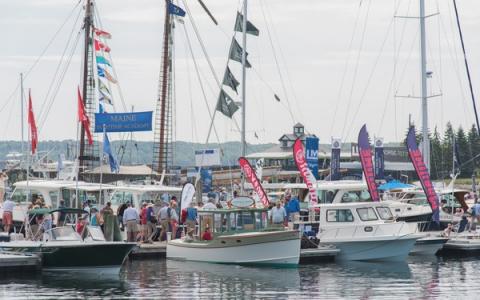 ROCKLAND, ME — Maine Boats, Homes & Harbors, Inc. has unveiled a sneak preview of coming attractions for the Rockland media company's 14th annual boat and home show, August 12-14, 2016. As always, the three-day celebration of Maine's coastal culture will reflect the focus of the award-winning magazine, Maine Boats, Homes & Harbors, published in mid-coast Maine since 1987.

Often called "a live version of the magazine," the show will bring together Maine's finest craftsmen: boatbuilders, furniture makers, home builders, jewelers, potters, rug weavers, and more, and showcase them in a beautiful coastal setting along Rockland's waterfront. There will be yachts in the water, boats and displays on land, and tents filled with wonderful creations from near and far.
In addition to hundreds of exhibitors, several event highlights are already in place. These special happenings have been designed to bring an even broader audience to what has become an annual gathering of thousands of people who want to revel in the rich combination of the very best of coastal Maine that the show offers.
Arriving by sea on Friday will be the classic 82-foot racing schooner Ladona, built in Boothbay Harbor in 1921 and winner of the 1923 Bermuda's Cup. When they see it, local salts may scratch their heads and remark how much the classic schooner looks like the well-known Maine Windjammer, Nathaniel Bowditch. Of course they'll be right; this is the same boat. Recently rebuilt, with the original name restored by new owners Captain Noah Barnes and his wife, Jane, Ladona is a classic beauty. This shining symbol of America's proud sailing heritage will be on the show docks all day, and will board passengers for a cruise that evening.

On Saturday, Maine Maritime Academy's 76-foot tugboat Pentagoet will be making a special appearance on the show docks. "We are pleased to bring the Pentagoet to the Maine Boats, Homes & Harbors Show," said MMA Marine Operations Manager Dana Willis. "It's a key vessel in our fleet, and central to the full-scale tug and barge training program—the only one of its kind in the U.S.—which we offer as part of our Vessel Operations and Technology major."
On Saturday evening, a Street Dance Party with a nod to contemporary music and art is on tap. The event will feature Boogat, a talented Latin American vocalist who lives in Montreal. Boogat bridges Latin groove with urban and electronic music while telling everyday life stories with catchy hooks. Co-sponsored by the Center for Maine Contemporary Art, the fun will run from 7:30 p.m. to 9:00 p.m. on Winter Street in Rockland, rain or shine. Tickets are $25 and include admission to the show on Saturday. There will also be live music on show grounds every day.

Back by popular demand will be the Boston Whaler Rendezvous, which will run all weekend long. Whaler enthusiasts are invited to exhibit their beloved craft at the show; those who do will receive complimentary admission. Last year's event attracted more than 40 Boston Whalers and their owners, who showed off their iconic boats alongside brand-new models. This made for a distinctive fleet of legendary, unsinkable boats. Maine Boats, Homes & Harbors magazine will host a rendezvous reception on Friday night.

A traditional Birchbark Canoe Building exhibition, a hands-on area with marine science activities for kids, a tastefully diverse fleet of food trucks, and the return of the show's ever-popular (and spirited) World Championship Boatyard Dog® Trials* (Sunday at 10:30 a.m.) will round out the show's offerings for the whole family.
Background and details:
The show was founded in 2003 by Maine Boats, Homes & Harbors magazine, which is now in its 29th year. Held annually in early August on the waterfront in Rockland, Maine, the event attracts thousands of discerning attendees from all over the country and world.

The 2016 Maine Boats, Homes & Harbors Show will be held August 12-14. Gates open at 10 a.m. daily. Tickets are $12, children under age 12 get in free. Multi-day passes available. Hours are Friday, August 12, 10 a.m.-5 p.m.; Saturday, August 13, 10 a.m.-4 p.m.; and Sunday, August 14, 10 a.m.-4 p.m. Advance tickets are available online or call 800-565-4951 or e-mail showinfo@maineboats.com. For more information and a full list of exhibitors and activities, visit maineboats.com/boatshow.

The show appreciates the support of its sponsors: Awlgrip/Interlux, Bangor Savings Bank, Bell's Furry Friends Photography, Epifanes, Loyal Biscuit, Maine Boats, Homes & Harbors magazine, Maine Made: America's Best, Port Harbor Marine, and USHarbors. The support of the City of Rockland is also much appreciated.

*NO pets are allowed on show grounds (except the pre-selected Boatyard Dog® Trials competitors on Sunday only and bona fide service animals).