Moonbeam replaces Sunbeam, temporarily
Moonbeam replaces Sunbeam, temporarily
Wednesday, March 20th 2019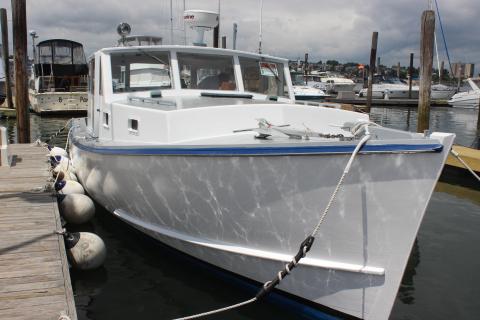 The Maine Seacoast Mission's iconic vessel, Sunbeam V, is scheduled for a major refit this spring. In the meantime, the organization has acquired a 34-foot wooden downeast cruiser to use until that refit has been completed. The new boat, which was designed by Thomas Dugas and built at Royal River Boat Yard in 1990, has been renamed Moonbeam, said Sunbeam Capt. Mike Johnson.
Five shipyards expressed an interest in the refit of the metal-hulled Sunbeam, including Billings Diesel and Marine, Stonington; Front Street Shipyard, Belfast; Portland Yacht Services; Rockland Marine Corp.; and Washburn and Doughty, East Boothbay. The project will involve gutting the interior of the 75-foot hull, removing rust and repainting the metal, and then replacing and upgrading interior fittings, Johnson said. The organizations is expected to award the bid for the job later this spring.
"We are 100 percent committed to doing this job in Maine, even though our architect told us we could save a lot by doing the work in Connecticut," he said. "We are an organization that serves the people of Maine and that's important to us."
Sunbeam was built in 1995 at Washburn & Doughty in East Boothbay.
Sunbeam Engineer Storey King, who previously had worked for builder Ralph Stanley and knows a thing or two about wooden boats, located the replacement boat in Portland. She has been trucked to Billings Diesel and Marine for routine maintenance and modifications to the interior. 
"I am very excited by this addition to our fleet. She is a classic, handsome, and understated vessel with hints of lines from Sunbeam 3," Johnson said.
About that name. Island Outreach Director Douglas Cornman solicited possible names from Mission staff and crew and asked island schoolkids to vote for their favorite name on the list. The majority selected Moonbeam, with Hope in second and Promineo in third."
Moonbeam was suggested as a complimentary name to Sunbeam V, Hope was the name given to the Mission's first vessel launched in 1905. Promineo is the Latin word meaning "to reach out." Holistic outreach is the crew's focus with outer island communities.
"So, the Sunbeam crew will be traveling around on a Moonbeam this Summer and Fall while our beloved Sunbeam is enjoying its much-needed refit," Cornman said.
Since 1905, the Mission has served the isolated communities of the unbridged islands and coastal villages of Hancock and Washington counties with health, education, food assistance, Christmas, and community-building programs, and pastoral care.
Learn more about the Sunbeam V and the crew's work among Maine unbridged islands: https://www.seacoastmission.org/what-we-do/island-services/