Comanche sets new transatlantic sailing record
Comanche sets new transatlantic sailing record
Thursday, July 28th 2016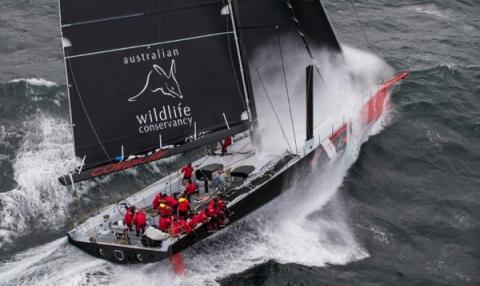 As of Thursday morning, July 28, a Maine-built boat now holds the west-to-east transatlantic monohull sailing record.

Comanche, the 100-foot super maxi yacht built at Hodgdon Yachts in East Boothbay, crossed a line at Lizard Point in Cornwall, England at 7:45 a.m. EST Thursday, for a total crossing time of five days, 14 hours, 21 minutes and 25 seconds, according to Audrey Hodgdon, marketing manager at Hodgdon. Comanche's crossing time, which is still unofficial, beat the current record by over a day. Standing in for Comanche's usual skipper Ken Read during the crossing was Casey Smith.
The current monohull transatlantic West to East Record is 6 days, 17 hours, 52 minutes, and 39 seconds and was set in 2003 by Mari-Cha IV. The route is around 2,880 nautical miles and goes from Ambrose Lighthouse (New York) to Lizard Point.
Comanche is owned by Netscape co-founder Jim Clark and his Australian supermodel wife, Kristy Hinze-Clark. Built with the intent of being the world's fastest monohull, Comanche has been living up to that goal. The super maxi recently broke the 635-mile Newport Bermuda Race record by five hours. In 2015, Comanche broke the 24-hour monohull speed record, sailing 618 nautical miles at an average speed of 25.75 knots, and in in December 2015 it became the first American vessel since 1998 to take line honors in the Rolex Sydney Hobart Yacht Race.
"Since being launched from Hodgdon Yachts in East Boothbay, Maine, USA at the end of 2014, Comanche has been such a success thanks largely to her talented sailors, passionate owners, and of course a tremendous design by Guillaume Verdier/VPLP Design and build by Hodgdon Yachts in collaboration with the owner's build team," said Timothy Hodgdon, President of Hodgdon Yachts.
Comanche is not the first Maine-built boat to set transatlantic sailing records. Way back in 1853, on her maiden voyage, the Red Jacket, an extreme clipper ship built in Rockland, sailed from New York to Liverpool, England in 13 days, one hour and 25 minutes dock to dock. Her average speed on the trip was 14.5 knots. That record held until Charlie Barr on the yacht Atlantic broke it by a day in the schooner yacht Atlantic.