Karen Talbot calendar illustrations feature Maine's native sea-run fish
Karen Talbot calendar illustrations feature Maine's native sea-run fish
Tuesday, January 31st 2017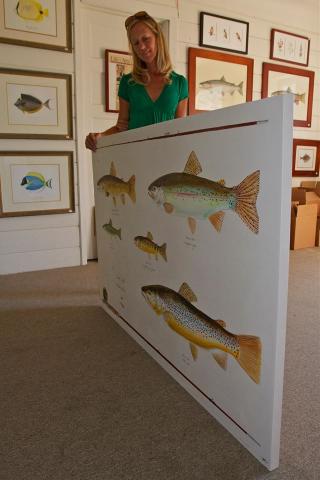 The Maine Sea Grant College Program at the University of Maine has produced a 2017 wall calendar featuring detailed scientific illustrations by Rockland-Maine artist Karen Talbot of Maine's twelve native species of sea-run or diadromous fishes. The twelve species are sea lamprey, shortnose sturgeon, Atlantic sturgeon, alewife, Atlantic salmon, brook trout, rainbow smelt, American eel, Atlantic tomcod, striped bass, blueback herring, and American shad.
Talbot, an award-winning scientific illustrator and artist, will host an opening for an exhibit of the original paintings for the calendar at the Karen Talbot Art Gallery on Thursday night (February 2nd) from 5 to 8 pm. The show is open to the public free of charge. Complimentary food and drink will be provided, and signed copies of the calendar will be available at no cost during the event.
The original paintings and prints are for sale with a portion of the proceeds going to The Nature Conservancy of Maine to benefit habitat restoration efforts in the Penobscot River and Bay watershed. Diadromous fishes spend part of their life in fresh water and part in salt water.
Diadromous fishes are either anadromous or catadromous fish, meaning either they spend most of their lives at sea, returning to fresh water to spawn; or they spend most of their lives in fresh water, returning to the sea to spawn. Historically, diadromous fishes were essential to the sustenance and economic growth of North America. Today many diadromous fishes are in trouble owing primarily to habitat alteration and destruction.
Talbot works in a variety of media, including watercolor, pen & ink and acrylic. An avid angler and diver, she has documented a large number of North American fishes based on her own fieldwork and work with specimens. An ardent conservationist, the tagline of her business is "Conservation through Appreciation," and she donates a portion of proceeds to organizations that help protect and restore the habitat in which the subjects of her art live. In 2013, she was honored with the Artist of the Year award at the Maine Sportsman's Show. She opened the Karen Talbot Art Gallery in Rockland in 2013.
The calendar was produced in partnership with NOAA Fisheries Greater Atlantic Regional Office and The Nature Conservancy, with funding from NOAA's Habitat Blueprint for the Penobscot River.