MBH&H writers honored by magazine peers
MBH&H writers honored by magazine peers
Thursday, November 18th 2021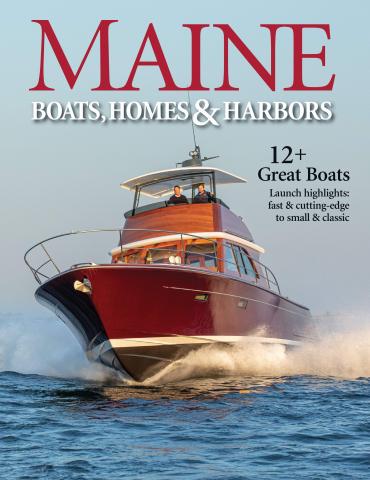 MBH&H writers honored by magazine peers
Maine Boats, Homes & Harbors Magazine and its writers were honored recently with a handful of prestigious awards from two national magazine associations. MBH&H won one first-place Eddie and four honorable mentions in Folio's 2021 Eddie and Ozzie contest. The magazine also collected a gold, a silver, a bronze, and an award of merit in the International Regional Magazine Association's annual contest.
The Eddies and Ozzies recognize excellence in journalism and design across all sectors of the publishing industry. As one of the broadest and longest-running competitions for editors and designers, winning an Eddie or Ozzie comes with the added honor of being judged exceptional by one's own peers—this year's winners were determined by 82 judges, all of whom are experts in journalism or design. 
IRMA members include state, province, and regional publications from across the United States, Bermuda, and Canada. The awards were granted for work published in 2020, and judged by independent panels of experts.  
The Folio first place Eddie in the category of essays and criticism in regional magazines came for an essay by Dr. Elizabeth Burgess, a research scientist at the Anderson Cabot Center for Ocean Life at the New England Aquarium, "Ocean Health, Monitoring Large Whales in a Changing Ocean." 
Other Folio Eddies included: honorable mentions for: essay in consumer-oriented publications for Cig Harvey's piece "Why I love My Pontoon Boat;" Single story in a regional publication for Rich King's feature article "Holly Martin and Solo Sailing Women;" and in the consumer magazine category for a series of stories of interesting 2021 boat launches.
Awards from the International Regional Magazine Association, included a first in the general feature category for magazines with a circulation under 35,000 for a story by Wendy Arundel about her grandfather's adventures in Nova Scotia, "The Strange Tale of Outer Baldonia." "Okay, I really liked this one," wrote the judge. "Just a delight!"
Other Irma awards included:
Historic Feature, 35,000 or less circulation: An award of merit for "A Year in the Life of a Lighthouse," by Ronald Joseph.
Nature and Environment Feature, 35,000 or less circulation: Bronze for "Leeches, Snappers, Spiders, and Snakes Oh My!" by Ronald Joseph. "Gory details compel further reading (at least they did for me)," wrote the judge.
Reader Service: Silver for the magazine's series on aquaculture by Nancy Harmon Jenkins. "Beautifully reported and written. Brava! This piece effortlessly (well, it seems effortless but I know it was a lot of hard work) fuses themes of climate change, culture, innovation and survival. Stunningly good," was the judge's comment. The series by Jenkins also won an honorable mention Eddie from Folio in the analysis category for consumer-oriented publications.
MBH&H Editor Polly Saltonstall said she was thrilled to see national recognition for the magazine's work. Competition for the Folio Eddies included such major publications as Travel & Leisure, Science News, and large regional publications such as Sonoma Magazine. 
"We are so lucky to have such talented writers sharing stories about Maine and the coast. I'm especially pleased with the awards for our science writing," she said. "We are on the forefront of magazines in Maine explaining the science of the world around us and it's great to have that noticed by the big boys nationally."