Lighthouses to get radio-activated signals
Lighthouses to get radio-activated signals
Thursday, November 12th 2015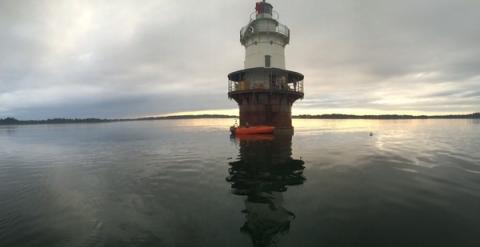 The Coast Guard plans to install radio-activated sound signal devices at 17 lighthouses in Maine. The devices which can be activated via VHF radio will allow boaters to activate a lighthouse horn on demand.
The change is part of a larger Coast Guard initiative involving fog signals at lighthouses across northern New England and the rest of the United States. The purpose of this modernization initiative is to replace the less reliable and less efficient VM-100 fog detectors with a Coast Guard-designed, radio-controlled system. The VM-100 detects precipitation levels and automatically sounds the foghorn when it senses moisture consistent with fog or other weather that might limit coastal visibility. That system is no longer supported by its original manufacturer.
The devices will allow mariners to activate the installed sound signal, on demand, by keying a standard VHF-FM radio five times consecutively on VHF channel 83A. The sound signal will then sound for up to 60 minutes following each activation.
"The MRASS devices will replace aging fog detectors that are prone to failure, expensive to maintain, and require specialized training to preserve", said Captain Michael Baroody, Commander of Coast Guard Sector Northern New England. "We believe giving the mariner more control is an effective way to enhance the coastal aids-to-navigation system."

According to an August 2014 article in the Bangor Daily News the system caused an uproar when it was first installed at Goat Island Light off Cape Porpoise in 2014. At the time, the Coast Guard said it planned to introduce the new system no matter what because the decades-old VM-100 system was old and increasingly difficult to service. Back in 2014, the Coast Guard faced complaints that the new system would be unusable by mariners who don't have VHF radios, placing those seafarers in greater danger, or that the foghorn could be set off when it's not necessary, potentially surprising and damaging the hearing of tourists visiting lighthouses. According to the Bangor Daily News article, the new system already had been installed at Moose Peak Light, at Whaleback Light between Kittery and Portsmouth, New Hampshire, Cuckolds Lighthouse in Boothbay Harbor, Wood Island Lighthouse in Biddeford, Pond Island Light in Phippsburg, and Nubble Light in York. Coast officials said then that the Rockland Harbor breakwater lighthouse, Dog Island Lighthouse, Ram Island Ledge Light off Boothbay Harbor and Owls Head Light were the next locations on the list to receive the new system. But there was no firm timetable for when those transitions will take place.
The lighthouses scheduled to receive the MRASS devices are:

 Browns Head Light: Vinalhaven, ME

 Burnt Island Light: Boothbay Harbor, ME
 Cape Elizabeth Light: Cape Elizabeth, ME
 Dog Island Light: Eastport, ME
 Egg Rock Light: Egg Rock, Frenchman's Bay, ME
 Fort Point Light: Stockton Springs, Penobscot River, ME
 Goat Island Light: Cape Porpoise, ME
 Goose Rocks Light: North Haven, ME
 Heron Neck Light: Green's Island, Vinalhaven, ME
 Marshall Point Light: Port Clyde, ME
 Owls Head Light: Owls Head, ME
 Portland Head Light: Cape Elizabeth, ME
 Sequin Light: Sequin Island, ME
 Spring Point Ledge Light: South Portland, ME
 Two Bush Island Light: Spruce Head, Penobscot Bay, ME
 West Quoddy Head Light: Lubec, ME
 Whitehead Light: Whitehead Island, Penobscot Bay, ME
Eight sound signals have been installed on lighthouses in Maine and New Hampshire since October 2009. Once each conversion is completed, the Coast Guard will contact local stakeholders directly, issue a Safety Marine Information Broadcast, announce the change in the Local Notice to Mariners, and initiate permanent changes to nautical charts and the Coast Guard Light List.