Maine to Host New Classic Yachts Challenge Series
Maine to Host New Classic Yachts Challenge Series
Tuesday, June 8th 2021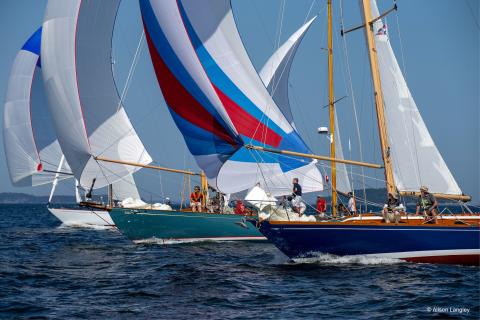 Classic yacht racing has always been strong in Maine due to the state's many world-class boatbuilders, yacht designers and the state's gorgeous sailing waters. And this summer the competition will be fierce, as racing ramps up after last summer's truncated season. 
Also, in addition to a new race in Boothbay, there will be a new trophy for boats that compete in at least three classic yacht regattas. The Newport, RI-based Classic Yacht Owners Association has established Maine as its own District in a newly formed competition called the Classic Yachts Challenge Series. To win the Maine District Series, competitors need to race in three races in Maine in two separate Maine events. A goal of the District Championship Series is to give boats that can't travel between districts the chance to be recognized. To qualify for the Overall Series Championship, an additional two races must be completed with one being in either the Massachusetts or NY/RI/CT districts. The Overall Championship series unites 13 prestigious classic yacht regattas from Long Island Sound to Eggemoggin Reach, Maine.
Maine's classic racing season will start with the Boothbay Harbor Yacht Club Regatta and Shipyard Cup Classics Challenge, July 24 and 25; followed by the Camden Classics Cup, July 29-31; the Castine Classic Yacht Race, August 5; and the Camden to Brooklin Feeder race on August 6. The Eggemoggin Reach Regatta, now in its 36th year and the regatta that started it all in Maine wraps up the Maine series on August 7. These are destination regattas. Every town puts out the welcome mat for these sailors and their crews.
The Maine District Champion and Overall Champion will be announced in the fall in Newport, RI at the CYOA awards ceremony. For more information of the Classic Yachts Challenge Series –https://www.classicyachts.org/series/
The membership-driven, nonprofit Classic Yacht Owners Association was established in 2015 to encourage fellowship amongst owners within the classic yacht community. One of the organization's goals is to help shape the future of the sport by influencing and cultivating long-term regional cooperation amongst those who are dedicated to owning, maintaining, and racing sailing vessels. CYOA also works to promote classic yacht ownership with the objective of attracting new members and creating new funding opportunities to support future classic yacht events. 
About Boothbay Harbor YC Regatta and Shipyard Cup Classics Challenge
47th Annual Running of the BHYC Regatta has expanded to include several divisions of Classic Yachts under the Shipyard Cup banner. Presented by Boothbay Harbor Yacht Club in conjunction with the marine community and support from key sponsors, Hodgdon Yachts, Bristol Marine's Shipyard at Boothbay Harbor and many others, the weekend will offer competitive racing and the beauty of sail on Booth Bay.  https://www.bhyc.net/racing-and-regattas
About the Camden Classics Cup 
Presented by Lyman-Morse, the 2021 edition will be the 5th Camden Classics Cup and features 2 days of racing and post-race parties, a one-day Youth Regatta and a Parade of Sail through Camden's inner harbor. The Camden Classics Cup is followed by Camden Classics Week featuring a variety of maritime-related events and destination racing to Castine, Brooklin and the outer islands. LifeFlight of Maine is the beneficiary of the event. www.camdenclassicscup.com
About the Castine Classic Yacht Race
On Thursday, August 5th, in the twenty-second annual edition of the Castine Classic Yacht Race, a fleet of classic and Spirit of Tradition yachts will set sail on a 19.6nm course from Castine to Camden—kicking off three days of racing culminating in the Eggemoggin Reach Regatta. For more information and to register for the race, please see www.castineclasssic.com.
About the Camden Yacht Club Classic Yacht Feeder Race
Now in its 34th year, this feeder race to Brooklin, Me, is the second race of the Wooden Boat Series will be held Friday, August 6, 2021.  https://camdenyachtclub.org/cruising-racing/wooden-boat-series/
About the Eggemoggin Reach Regatta
The Eggemoggin Reach Regatta is co-hosted by Brooklin Boatyard and Rockport Marine.. The Regatta's 15-mile course has remained the same over the years and only once was the race cancelled due to fog. The ERR is held every year on the first Saturday of August, and is open to any wooden boat 25' LOD or longer.http://erregatta.com/