Iconic clock tower in Boston gets a "hand" from Maine
Iconic clock tower in Boston gets a "hand" from Maine
Monday, January 11th 2021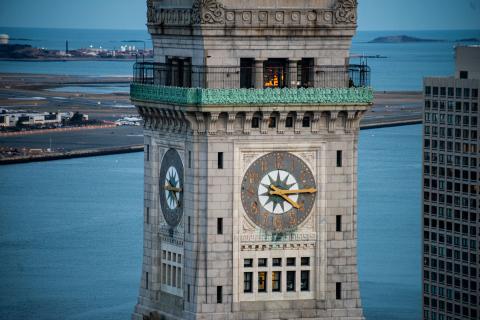 Time was literally of the essence when Lyman-Morse Technologies was contracted by Knollmeyer Construction Corporation in September 2020 to build a set of clock hands for Boston's iconic landmark Custom House Tower. The construction company wanted the hands delivered by the Christmas holiday season. 
Among other things, the timing was dependent on the clock tower's residents, a pair of nesting Peregrine falcons who have made the clock their home for more than 20 years. The four-sided clock is part of the large tower atop the Financial District's Custom House building, which was completed in 1847. The 495-foot tower and clock were added to the building in 1915-16.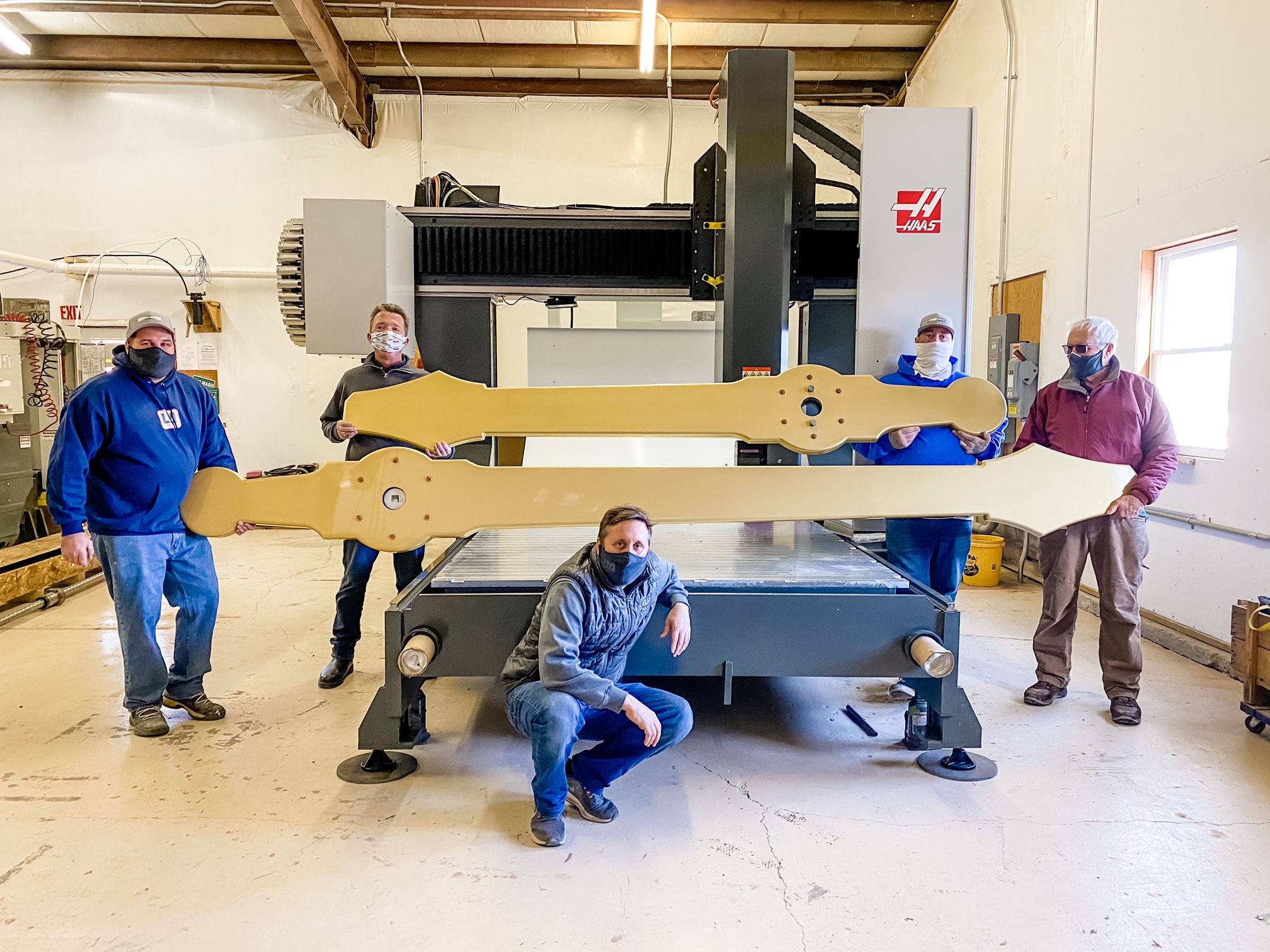 Requirements for the project included weight restrictions, stiffness, weather-resistance, and historical accuracy. The new hands, specifically the color of the gold finish, required approval from the Boston Landmark Commission. The project called for five sets of minute and hour hands — a set for each of the clock's four faces, plus a spare set. The hands weigh 25 pounds each and are made of carbon fiber laminates infused with epoxy resin.
The Thomaston, Maine company was referred for the job by a contractor partnering with Lyman Morse Technologies on a complex project to build a large composite canopy for a subway stop in Cambridge, Massachusetts, Smith said.
Lyman-Morse Technologies has taken on more and more non-boat projects such as these as the division has expanded the range of Lyman-Morse beyond the marine environment to a wide range of product development and prototyping projects. The division has become a recognized leader in advanced composites & plastics, precision metal fabrication, system integration, rapid prototyping, and small-run manufacturing process testing.
When the clock project got underway last fall the original wooden hands were delivered to the Lyman-Norse Technologies. There an engineer with calipers measured the hands and then used modelling software to create 3D models. Those models were used to create molds, which were produced on the company's computer-controlled cutting machine, explained Andy Smith, Vice President of Lyman-Morse Technologies. The hands, which are built from carbon fiber and are much lighter than the originals, as well as stiff and able to withstand the elements.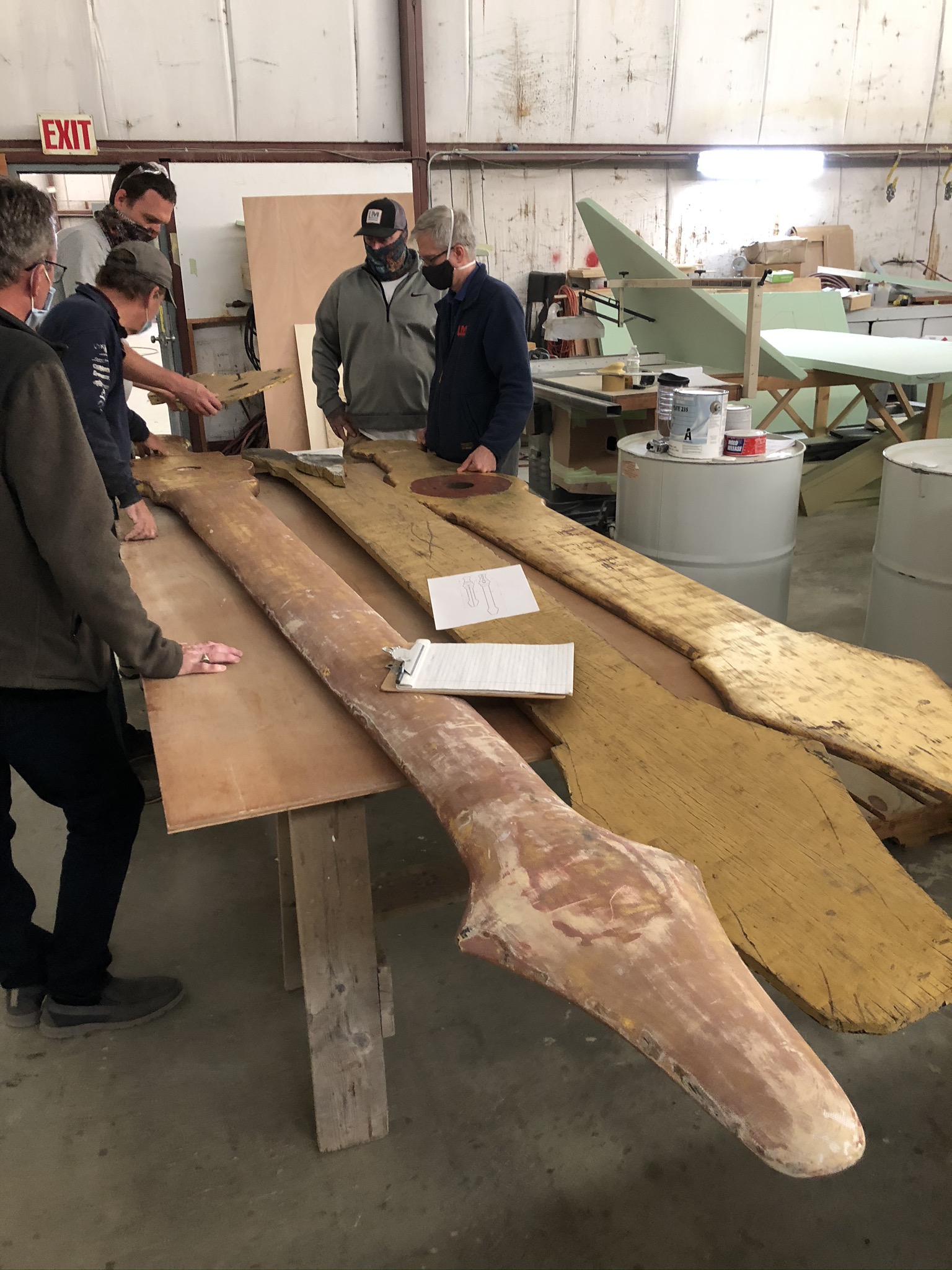 "To be sure we were dialing in the correct elements and fabrication techniques, we conducted a Finite Element Analysis to make sure the hands would meet the requirements," Smith said.
The Lyman-Morse team added some innovative new features including incorporating the balancing weights into the hands. The original hands were weighted with unsightly metal plates, Smith said. The new hands were balanced with balls of lead shot that were then sealed in.  
"Lyman-Morse Technologies used the state-of-the-art capabilities of composite construction, design accuracies, and weight tolerances to produce a high-tech replica for this iconic project," said Drew Lyman, President of Lyman-Morse. 
The hands were delivered December 10, and installed by steeple jacks. 
"It was a really fun project," said Smith. "Now whenever we are in Boston, we can look up and say hey we made those. It's nice for a small Maine company to do those sorts of projects."