Freedom Boat Club opens two locations in Maine
Freedom Boat Club opens two locations in Maine
Monday, July 2nd 2018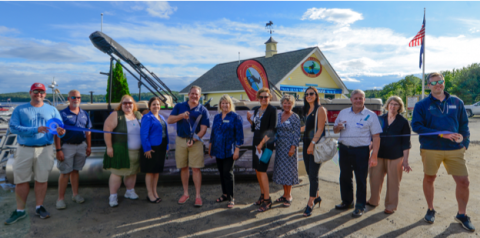 Riding the wave of sharing economy popularity, Freedom Boat Club offers an affordable alternative to boat ownership.
Members who join have unlimited access to boats at the club's two locations in Maine plus at 160 additional clubs across the U.S. and Canada. It can be a convenient option for folks who want to enjoy time on the water, but don't want to worry about cleaning, maintenance, or storage costs. After returning from a day on the water, members simply turn in the boat keys and pay for the fuel used. The dock staff at the club takes care of the rest.
The club's ocean-based location is at Yarmouth Boat Yard. At the May opening celebration, Owner Steve Arnold addressed the crowd of members and partner businesses. Chamber of Commerce representatives from both Freeport and Yarmouth assisted with the ribbon-cutting ceremony, and Sea Bags representatives were on hand, donating one of their fashionable wine totes for the boat christening.
To commemorate the mid-June opening of the lake location at Moose Landing Marina, Freedom Boat Club of Maine partnered with the Sebago Lakes Chamber of Commerce and the Bridgton Lakes Region Chamber of Commerce. They assisted with ribbon-cutting and boat-christening ceremonies. Event attendees also enjoyed refreshments, live music and valuable raffle prizes with proceeds benefitting Camp Sunshine. Freedom Boat Club offers multiple membership plans plus access to boats at 160+ clubs in U.S. and Canada. For details, visit FreedomBoatClubMaine.com or call 207-650-9374.