Sailmakers turn their talents to mask-making
Sailmakers turn their talents to mask-making
Thursday, April 2nd 2020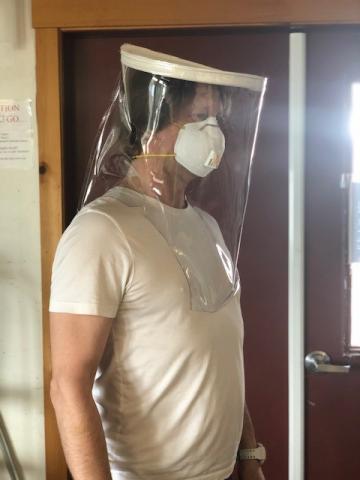 Like their colleagues in other industries across the state, folks in the boating community are putting their extensive skillsets to work to help keep COVID-19 at bay. At least two sail lofts, Hallett Canvas and Sails in Falmouth and the Freeport, Maine location of North Sails, have begun using their sewing machines and sail materials to make masks and head gear. And many boat builders up and down the coast have donated their caches of N95 face masks to short-handed community healthcare providers.
The Hallett team pulled together their resources to manufacture a quick, easy-to-use, one-size-fits all protective head garment. The simple design, which was the brainchild of company owner Richard Hallett, uses rolled glass, a pliable, plexi-like material, to make a tube that fits around a person's head. The top is made from a mesh material known as Sunsure, that is tightly woven but still breathes, explained Hallett General Manager Megan Hallett, who is Richard Hallett's daughter.
"If you are running low on supplies, or need alternative options we are here, capable of manufacturing large quantities using our state of the art Autometrix Cutting Table and industrial sewing machines in this time of dire need," she said.
The design has been submitted to the appropriate folks for review to see if the headgear will pass medical muster for hospital use, she said. In the meantime, the Hallett crew is selling the headgear to local business that want to provide employees with more protection, Meagan Hallett said.
"Our plan eventually is to donate some of them to hospitals as long as thed pass through the inspection phase," she said.
The company's small staff also are still at work sewing boat dodgers, biminis, sails and other items, she added
At North Sails, Eric Baldwin and his staff have been using their industrial sewing machines to make cotton face masks that are being shipped all over the country. Baldwin said he has put the call out to other North Sail lofts letting them know what he is doing and at least four other locations across the county have joined in the effort.
The photo above shows Hallett's proposed head gear