John Hanson builds an ice boat
John Hanson builds an ice boat
Friday, January 31st 2020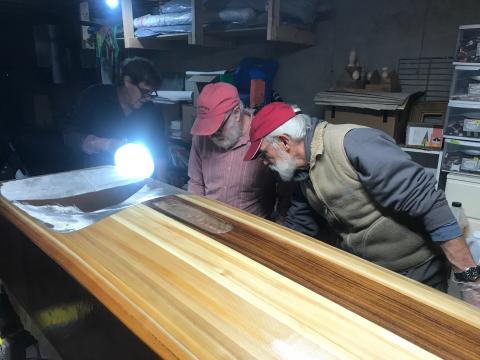 Many hands make light work! MBH&H Publisher John Hanson has been trying to finish building his mini-skeeter ice boat in time to get it out on the ice this winter. Expert builder and MBH&H contributing editor Art Paine and small boat guru, fellow ice boat sailor, and historian Ben Fuller stopped by recently to help him with the final fiberglass coating over the wood. 
For years Hanson has sailed on winter ice in a lumbering, stern-steering antique iceboat named Numb Nuts. It's awkward to transport and rig, and even more awkward to sail. A couple of years ago while he was skating on Megunticook Lake, a small iceboat caught his eye as it went whizzing by. Intrigued,  he soon learned that it was a "Mini-skeeter" class iceboat. The hull is 10 feet long; the beam with its runner plank is 82 inches; and it carries 5.5 square meters of sail area. Hanson knew right away that he wanted one.
One day when visiting Bill Buccholtz, a local boat builder and ice-boat guru, Hanson saw an unfinished hull in the rafters. It was a mini-skeeter that a high school student had started, but left unfinished when he went off to college. 
Hanson bought the unfinished boat from Buccholtz and set to work. He's down to the final steps of worrying about whether to take the time to sand out drips in the expoxy or just get the thing finished. The clock is ticking.
It's been a learning process and a chance to collaborate with fellow boat nuts. Hanson was tempted to name the boat "Many Hands" in a nod to all those helpers. But in addition to boats, Hanson has another off-the-water ice passion: ice cream. It's been decided that this skeeter will combine both his love of sailing and of food. The name is Ice Scream.