Brooklin Boat Yard starts work on Taylor 44
Brooklin Boat Yard starts work on Taylor 44
Friday, November 6th 2020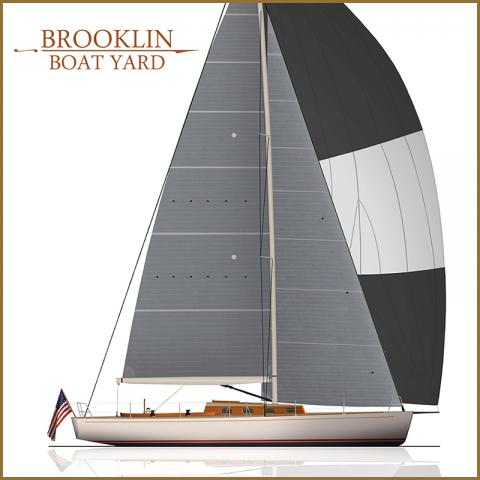 Naval architect Jim Taylor and Brooklin Boat Yard are collaborating on yet another sailboat, this one a 44-foot coastal racing/day boat for a sailor who already owns a Taylor-designed, BBY-built racer that lives in Maine; the client wants a second version to sail at his winter home in California.
The new boat draws its lineage directly from previous Taylor 49-footers Dreadnought, Blackfish, and Rascal. It has enough in the way of evolutionary design changes and direction of sailing focus to warrant its own category within the sailing world, according to a press release from the yard. 
A white hull, varnished mahogany house sides, cockpit coamings, and toe rails will keep the exterior appearance in the spirit of tradition class. A lithium ion battery bank supports a state-of-the-art electric propulsion system.  C-Zone touch screen controls will be integrated into a curly maple paneled interior that will blend 21st century luxuries with timeless craftsmanship. The boat is scheduled for a spring 2021 launch,
This is the seventh design by the Marblehead, Massachusetts-based Taylor that the Brooklin yard has built in the past few years, according to BBY President Steve White; They include three 49-footers, and three 47-footers.
Also this winter, the yard has three powerboats under construction, including a 28-foot mahogany speed boat designed for use on Lake Winnipesaukee. Drawn up by Michael Peters of Sarasota, Florida, the boat is a modern interpretation of a Riva Aquarama, White said. Two 430 HP gasoline engines will give it a speed of close to 70 miles per hour. That boat is scheduled for launch next year.