Great Island Boat Yard sold to Safe Harbor
Great Island Boat Yard sold to Safe Harbor
Friday, June 19th 2020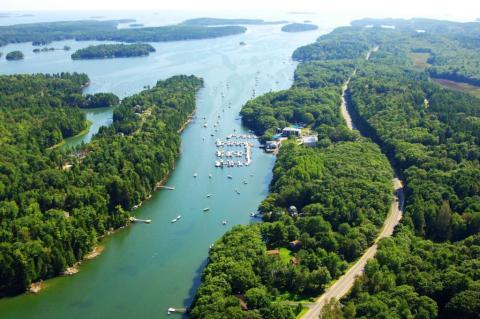 Great Island Boat Yard in Harpswell has changed hands. As of Monday, June 15, the yard has joined the stable of marinas owned and managed by Safe Harbor Marinas, according to a news release from Safe Harbors. In addition to Great Island, the company also acquired Sportsman Marina on the Alabama Gulf Shore, bringing its network of boating facilities to 100 across 22 states.
Great Island had been run by Steve and Stephanie Rowe who left high-powered corporate jobs at General Electric when they bought the yard and moved to Maine in 2005. They grew the small marina, modernizing the facilities, and expanding services to include refits, systems work, and even rebuilds, in addition to storage and maintenance. (https://maineboats.com/print/issue-134/yard-for-all-seasons). After a devastating fire destroyed the main office building, the Rowes built an efficient new structure, along with new storage sheds over the years, for a total of almost 80,000 square feet of storage space, with capacity for over 200 boats, in addition to 65 seasonal slips and 45 moorings in the marina. The yard employs close to 30 people.
"This is an exciting milestone for our team and our Members," said Baxter Underwood, CEO of Safe Harbor Marinas. "We've expanded the nation's largest boating network on both sides. You can now stay at Safe Harbor properties when boating from the sandy Gulf coast all the way up to the rocky shores of Maine, and everywhere in between. We're thrilled to add these high-quality marinas to our portfolio and welcome their teams, customers and Members as our own."
Safe Harbor's 45,000 members enjoy access to the largest network of marinas in the world. 
"We're incredibly fortunate to add these two marinas to our portfolio," said Jason Hogg, Safe Harbor's Chief Investment Officer. "They are perfect representations of our strategy. They are as nice and well-run full-service marinas as you will find anywhere in the country, and we've built in a capital plan to make them even better."