Lyman Morse launches second LM46
Lyman Morse launches second LM46
Friday, April 15th 2022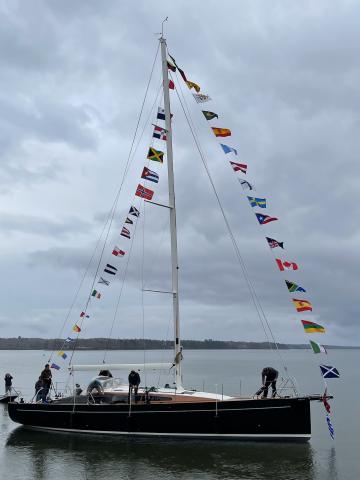 Never mind that a light rain was falling, the April 1 launch of the second hull in the LM46 series was a joyous event.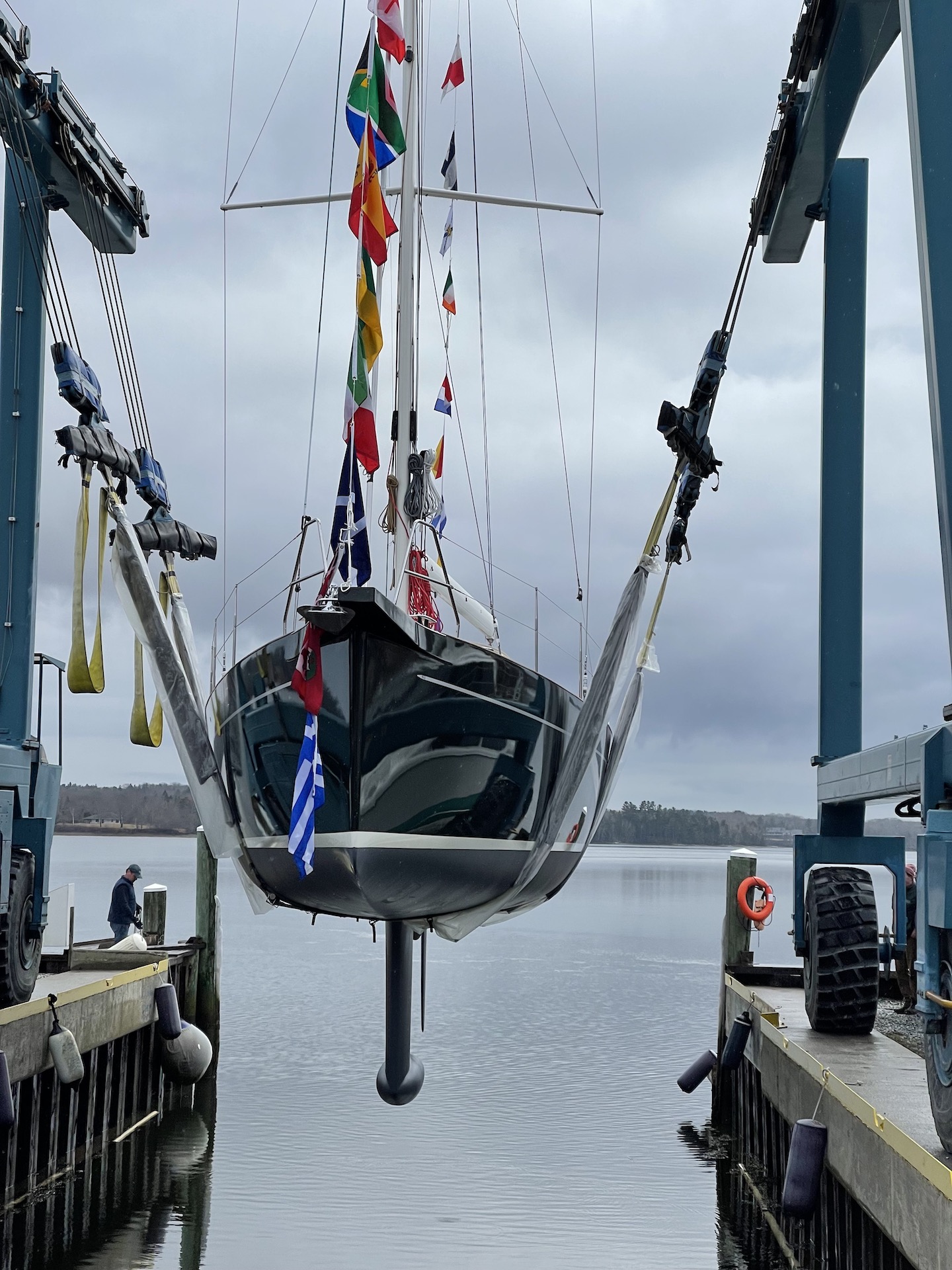 Built for the second generation in a family of long-time Lyman Morse customers, the beautifully detailed high-performance, cold-molded sailing yacht is the result of a collaboration between Lyman-Morse founder Cabot Lyman, his son and company president Drew Lyman, and New Zealand designer Kevin Dibley.
Flags snapped in the breeze, speeches were made with thankyous all around, and the yard crew gathered with the Lyman family and the boats owners for a photo, before a family member smashed a bottle of bubbly on the bow christening Arcadia.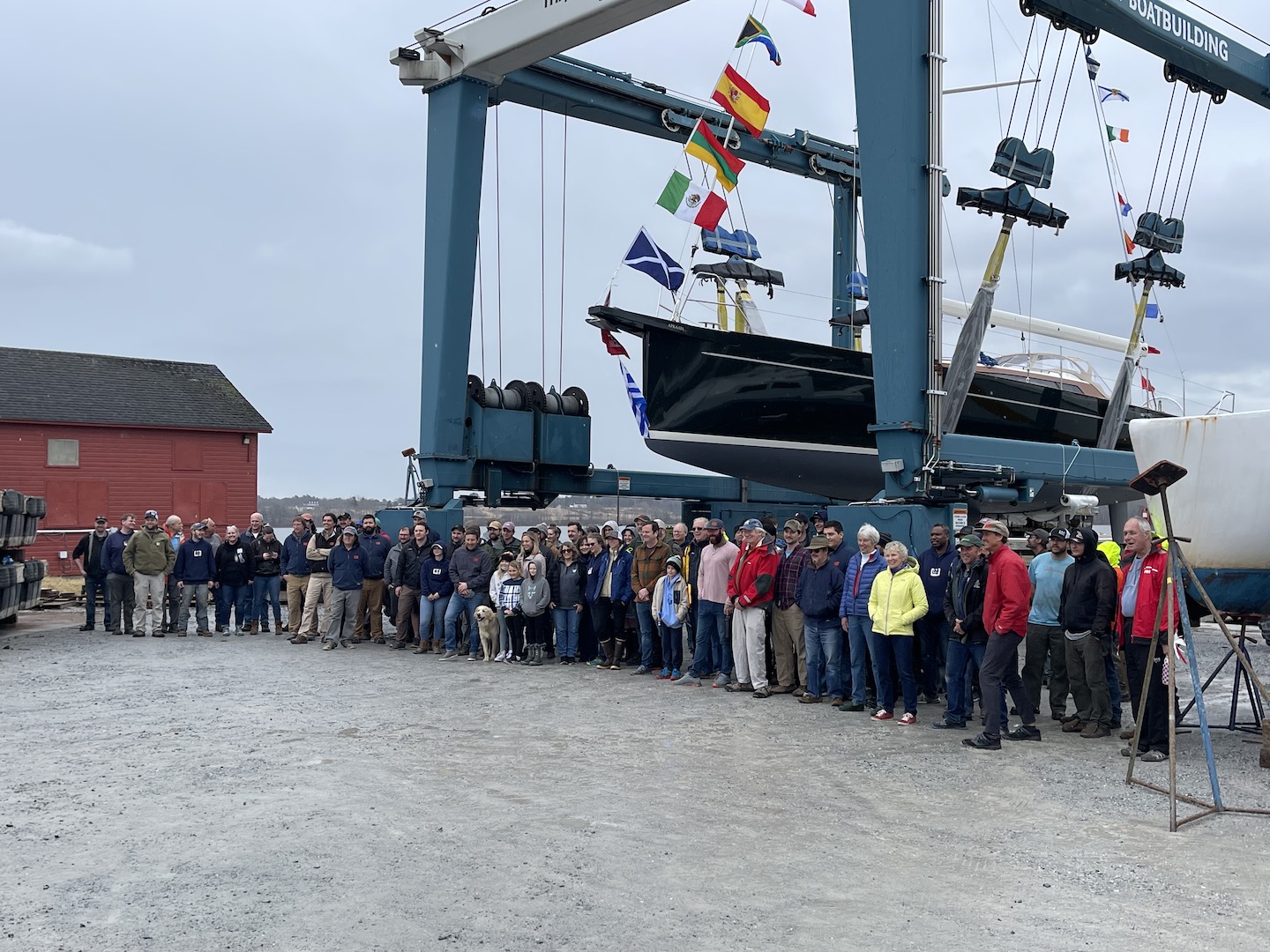 Arcadia differs slightly from LM46 hull #1 as she features a deeper 7'7" draft keel for better performance on the race course and a second head for increased comfort while either cruising or racing. The owner, who previously owned a J/42, said that he and his family have been service customers of Lyman-Morse for decades. He was in on discussions about the LM46 from the beginning.
"We've had out J42 for a long time and love it, but I had been thinking it would be nice to have a boat with a more modern design for cruising and racing," he said. 
The name Arcadia, he explained, has many levels of importance to his family. It was the name first given to the Eastern seaboard of the U.S. by 16th century Italian explorer Giovanni da Verrazano, but it also is the name of the place in Greece where his wife's grandfather was born. Arcadia flew a Greek flag, among others on launching day, and the name is written in Greek letters on the bow and in English on the stern, which the owner said is a Greek ship-naming tradition.
Arcadia features a powerful cruising rig with swept-back spreaders and 1,183 square feet of sail, including a square top main. When conditions are right, this yacht can hit an easy 10 knots, while the wooden hull and comfortable displacement-length ratio of 133, allows for one-handed steering or easy steering by autopilot, no matter the weather.
Down below, Arcadia features a a spacious salon with a V-groove ceiling and a huge skylight overhead, and a combination of painted and bright-finished bulkheads and trim.
When Kevin Dibley and Cabot Lyman got together in 2018 to come up with plans for a 46' sailboat, the goal was to design a modern cold-molded classic that would fast, stiff, and beautiful, as well relatively simple to sail. Lyman-Morse's vision is to build a series of these yachts with the goal of starting a one-design class. But the design  also is customizable to the fit the needs of its owners. The LM46 offers three different cabin configurations, along with three keel configurations beginning with the shoal draft at 6', a deeper performance-oriented keel at 7'7", and for those looking to step it up a notch, a 10' draft option is also available. Additionally, the list of options includes a more powerful engine, retractable bow thruster, electric winches, and a robust sail package.
Other projects in the works at Lyman-Morse include the Hood 35 LM, a classically-styled express cruiser; and the Navier, an all-electric, hydrofoiling powerboat. Additionally, Lyman-Morse's marina complex in Camden has been entirely rebuilt and will welcome guests into the new buildings later this spring. The modern working-waterfront marina facility will feature expanded marine services workshops, retail/office opportunities, and two new dining options on the harbor. The marina will also include boutique ocean view Crew Quarters and customer lounge spaces.