Fatal shark attack in Harspwell
Fatal shark attack in Harspwell
Wednesday, July 29th 2020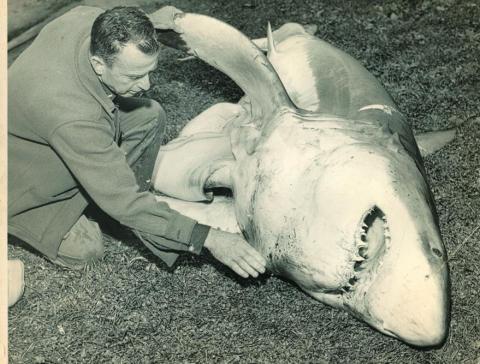 The Maine Marine Patrol is patrolling for sharks off the coast of southern Maine after a fatal shark attack near Bailey Island in Harpswell on Monday. It was the first recorded shark fatality ever in Maine.
Julie Dimperio Holowach, 63, of New York, was swimming with her daughter about 15-20 yards from the western shore of the island, where she has a summer home, when the attack occurred, according to a news release from the Department of Marine Resources. People who witnessed the incident helped bring Holowach to shore in kayaks, where she was pronounced deceased by EMS personnel called the scene by another witness on shore. 
DMR Commissioner Patrick Keliher also confirmed that, after consulting with Massachusetts Department of Marine Fisheries Senior Scientist Gregory Skomal, Ph.D, the shark involved in the incident was a great white shark. Skomal,, who is involved in shark research, was able to identify the shark as a great white through part of a tooth provided by the Maine Marine Patrol and the medical examiners office.
Keliher emphasized how uncommon the incident was. "It is the only confirmed fatality in Maine waters from a shark attack," he said. The only other confirmed shark attack in Maine waters occurred 10 years ago near Eastport, and that shark was reported to be a porbeagle.
He added that, although the incident of a shark attack in Maine waters is extremely rare, people should use caution when swimming or paddling in areas where there are schooling fish or seals. "Seals feed on fish and sharks feed on seals," added Keliher. "We urge swimmers and others recreating in or on the water in the Casco bay region, and in particular near Bailey Island to be aware of their surroundings and to avoid schools of fish or seals, which attract sharks." 
According to Marine Patrol Major Rob Beal, Cumberland County Sheriff's Office along with Orrs and Bailey Island Fire and Rescue responded to the incident.
Currently, out of caution, the state is prohibiting swimmers at state beaches from going beyond waist-deep water. 
"We will continue to monitor the area near Bailey Island for sharks and we ask the public to report any shark sightings to your local marine patrol officer," said Major Beal. The patrols are being conducted to help confirm the presence, location and species of sharks. Marine Patrol pilot Steve Ingram is searching from the air over the southern Maine coast while other officers are conducting targeted patrols from boat in and around the Casco Bay region.
If anyone provides information to a Marine Patrol Officer about a shark sighting, Marine Patrol asks that the information include specific location information, including GPS coordinates if possible. Photos and video will also help in confirming the species of shark.
Contact information for Marine Patrol can be found on the DMR website at https://www.maine.gov/dmr/marine-patrol/marine-contact.html
The photo above shows Harry Goodridge and a great white shark that he killed and cut open after it ate his pet seal, Basil, back in the 1950s. His next seal, Andre, became famous in Rockport, Maine, and elsewhere as the subject of books and a movie. Today, there is a statue of Andre near where this photo was taken.