Two Maine marine professionals have big plans for boatyard in Virginia
Two Maine marine professionals have big plans for boatyard in Virginia
Tuesday, March 12th 2019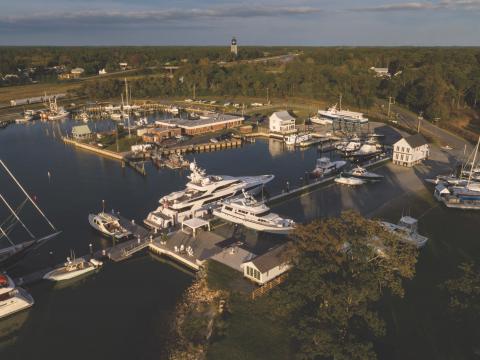 Two marine industry professionals from Maine plan to use their expertise to expand and enhance a yard in Cape Charles, Virginia. JB Turner, president and co-owner of Front Street Shipyard in Belfast, Maine, and Nicole Jacques, owner of Rhumbline Communications in Belfast, have taken on the development of the Cape Charles Yacht Center.
Turner said Tuesday that he and Jacques plan to expand the Chesapeake Bay shipyard into a premier superyacht refit and service facility. They have signed an 18-month lease on the yard, he said. When that lease is up, Turner said, "we can renew the lease or we can walk away."
Cape Charles Yacht Center was established in 2013 by South Port Investors with the expectation of developing it into a superyacht facility. The shipyard is located off the mouth of Chesapeake Bay where it meets the Atlantic Ocean. An 18-foot-deep channel leads into a modern marina with 1,000 feet of face dockage, a 75-ton boat hoist, and 30/50-amp single-phase and 100-amp three-phase power. The property is located in a Foreign Trade Zone, eliminating many duty costs for visiting vessels. The shipyard is a short walk to downtown Cape Charles and customers at the yard have access to a golf course and resort nearby.
Turner said he first learned about the yard when the owners sent their business manager on a tour of other yards along the East Coast a few years ago. After visiting Front Street, the manager invited Turner down to Virginia. The Cape Charles yard currently stores and maintains about 120 boats, but has lots of room to expand, Turner said.
"We identified Cape Charles Yacht Center as an ideal location for superyacht services because it's central for vessels traveling along the East Coast between New England and Florida," he said. "For years we've encouraged our customers at Front Street Shipyard to stop into Cape Charles when traveling south, and their feedback has been very positive about the location, quality of service, and amenities."
Turner and Jacques are developing a multi-year expansion plan with the support of investors, which includes a 30,000-square foot facility, 600-ton mobile hoist, and additional floating docks. Currently a new service facility is under construction.
"We intend to maintain Cape Charles Yacht Center's great reputation for service among their existing customers throughout Chesapeake Bay," said Jacques. "Our first initiative is to grow the yard's talented workforce and equip them with more modern equipment so we can attract additional international vessels seeking service and major refits."
Turner and Jacques have more than half a century of combined first-hand experience growing shipyards and attracting vessels. Turner is the president and general manager of mid-coast Maine's Front Street Shipyard, a yacht construction and repair yard with a superyacht marina. Along with his partners, he founded Front Street Shipyard in 2011, beginning with nothing but flat land, deep water, and a vision for a world-class shipyard. Jacques is the owner and marketing strategist of Rhumbline Communications, a marine-focused marketing agency. In addition to Front Street, her clients include shipyards, trade shows, manufacturers, suppliers, and trade associations.
Turner said he and Jacques will maintain their existing roles in their respective businesses as they also partner to operate Cape Charles Yacht Center.
"We're not moving down here," he said in a phone interview Tuesday from the yard in Virginia. "They have a good guy managing the yard and good team. We need a few more employees, but the basic set-up is good."