Learning & Fun at 2015 Boat & Home Show
Learning & Fun at 2015 Boat & Home Show
Tuesday, July 28th 2015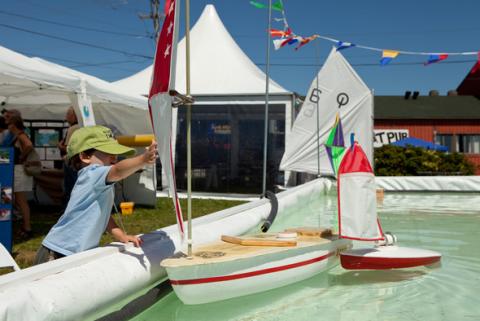 The Maine Boats, Homes & Harbors Show has teamed up with the Hurricane Island Center for Science and Leadership to create a fleet of family-friendly activities during the annual high-summer event on the waterfront in Rockland, Maine, August 14-16, 2015. At the new Kids Marine Experience Park area, young sailors (and their captains) can build a model boat, touch a live sea creature, blow off some steam, operate an underwater robot, act like a pirate, or dissect a squid. All this thanks to a group of organizations that are part of the heart and soul of the coastal Maine community.

The Hurricane Island Center for Science and Leadership, which is spearheading all this fun for the younger set, will help families create solar seaweed prints and will host a "touch tank" filled with live Maine sea creatures. For an even closer look at a denizen of the deep, youngsters can dissect and explore what's inside a squid. Continuing the underwater exploration theme, OceansWide will operate a remote-controlled robot in a tank on show grounds. The organization offers adventures in education and research to students through ocean exploration and awareness
There will be fun above the waterline, as well.
The Rockport Boat Club will teach knot-tying and help kids design and build boats out of found beach objects, from foil and plastic to coffee stirrers and driftwood. The craft can then be "tank tested" in the model pond on site.
A seaweed-bookmark making station will be hosted by the Herring Gut Learning Center, a marine resources educational organization, and the University of Maine's Learning Centers at Tanglewood & Blueberry Cove will organize watershed activities all weekend.
Youngsters can build wine cork boats as part of a project led by the Center for Maine Contemporary Art, and the Maine chapter of Trout Unlimited will have fly-fishing demos ongoing during the weekend as well.
There will be fun happening all day, every day; visit www.maineboats.com for a detailed schedule. A site-wide scavenger hunt (complete with tasty prizes), and activities and displays based around watershed protection will take place. The active set can clamber aboard a "pirate ship" and on actual (retired) navigational buoys. There'll be grass to run on and a pond for floating small boats.
Other activities will include shell and driftwood art projects led by the Island Institute, which helps sustain Maine's island communities, and a watershed model presented by the Knox-Lincoln Soil & Water Conservation District, which responds to local natural-resource issues. All these participating pillars of Maine's coastal community are dedicated to making the 2015 show an inclusive event that provides the best that Maine has to offer to children of all ages.
The show's usual selections of delicious food and daily live music will be conveniently located in Buoy Park near the kids area. All this is included in the show experience, just in case admiring gorgeous Maine-built boats and fine furniture isn't enough to fill a fine summer day.
The Maine Boats, Homes & Harbors Show is known for fine boats in the water and on land, handsome home wares, custom-made jewelry, and bespoke furniture. Other signature events and displays for 2015 include Boats that Make Maine Work, with visits by the schooner Bowdoin, the mission ship Sunbeam V, and a squadron of classic wooden lobsterboats from Johns Bay Boat Co.; the Refit Docks, a fleet of beautifully refitted yachts; a Boston Whaler® Rendezvous (all weekend) and Whaler Tales Party(Saturday night); a Food Truck Rally (vote for your favorite!) and other food vendors; and the always-popular (and pawsome) World Championship Boatyard Dog® Trials (Sunday morning, entries are closed).
The 2015 Maine Boats, Homes & Harbors Show will be held August 14-16. Gates open at 10 a.m. daily. Tickets are $12, children under age 12 get in free. Hours are Friday, August 14, 10 a.m.-6 p.m.; Saturday, August 15, 10 a.m.-5 p.m.; and Sunday, August 16, 10 a.m.-4 p.m. Advance tickets are available online or call 800-565-4951 or e-mail showinfo@maineboats.com. For more information and a full list of exhibitors and activities, visit www.maineboats.com/boatshow.