Silent Maid, a 2009 catboat, takes top honors in Castine to Camden race
Silent Maid, a 2009 catboat, takes top honors in Castine to Camden race
Monday, August 5th 2019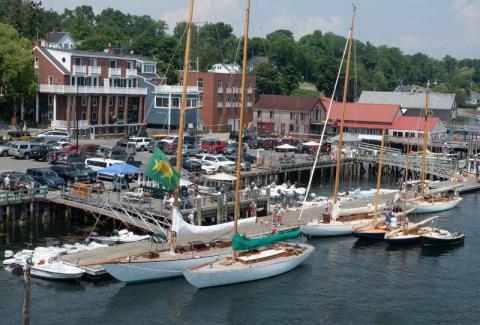 Photos by Kathy Mansfield
Silent Maid, a 39' Barnegat Bay catboat, built in 2009 and sailed by Peter Kellogg, bested the fleet in the 20th annual Castine Classic Yacht Race to Camden, sponsored by the Castine Yacht Club.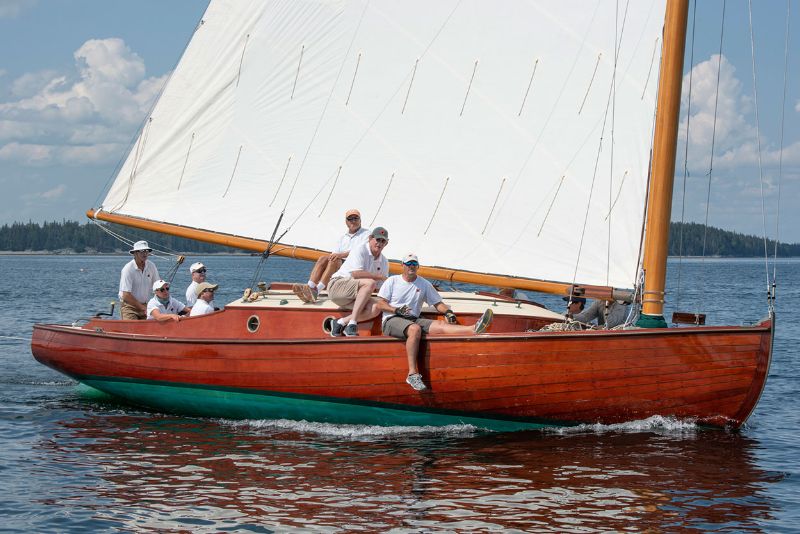 At a symposium the night before, Mystic Seaport Museum Diretor Steve White honored maritime photographer Benjamin Mendlowitz with the William P. Stephens Award. Established in 1988, and named after William P. Stephens (1845-1946), known by many as the "Dean of American Yachtsmen" and "the grand old man of American yachting," the award is given periodically in recognition of a significant and enduring contribution to the history, preservation, progress, understanding, or appreciation of American yachting and boating.
The Castine event kicked off three days of classic boat racing, culminating in the Eggemoggin Reach Regatta.
Under clear skies and a dying northwest breeze moving to the southwest, thirty-six boats set sail from the Castine harbor headed for Camden. Because of a dying wind and a turning tide, the race was shortened.  Sailing in Classic B Class, Silent Maid nipped Isla, a 45' New York 32 sailed by Henry May, by a mere 9 seconds. Neith, a 53' Herreshoff built in 1907, sailed by Van Brown, took third place among the classic classes.
 
In the Classic A fleet, Isla and Neith were followed by The Hawk, a 38' Tripp design, built in 1968 and sailed by Olvind Lorentzen.
 
In Classic B, Silent Maid was followed by Otter, a 41' Concordia built in 1954, sailed by Robert Keefer. Palawan, a 47.3' Sparkman & Stephens yawl built in 1952, sailed by Scott Gazelle, took third place.
 
The Classic C fleet was led by the gaff sloop  Alera, the first of the 43.5' Herreshoff New York 30 class, built in 1904 and sailed by Claas van der Linde. Finali, a 38.3' S&S sloop built in 1949, sailed by Gregg Knighton, placed second, followed by Thetis, a 26' Herreshoff Alerion built in 2008, sailed by Alden Brewster.
 
In the Spirit of Tradition class, Vortex, a 52', 55 square meter sloop skippered by Steve White, took honors, leading Blackfish, a Taylor 49 sailed by Ron Zarella, and Outlier, a Botin 55 built in 2019, sailed by Harvey Jones.
 
The race celebrated the iconic designs of NG Herreshoff, with an exhibition at the Castine town dock of nine Herreshoff boats and a symposium at Maine Maritime Academy chaired by Bill Lynn, Executive Director of the Herreshoff Marine Museum/America's Cup Hall of Fame, featuring a panel of distinguished Herreshoff sailors and experts. Before a packed audience at the Delano Auditorium, Mendlowitz, received the prestigious Stephens Award. The Commodore of the Castine Yacht Club, John Zoller,  also paid special tribute to David Bicks for twenty years of leadership of the annual Castine Classic celebration.
Mendlowitz was born and raised in New York City and drew his passion for boats and the sea from summers on the New Jersey Shore, where he was influenced by the local traditional boat builders. After graduating from Brandeis University, he embarked on a career in photography with his work appearing in WoodenBoat Magazine, Maine Boats, Homes & Harbors and other nautical publications. Through his company NOAH Publications, Mendlowitz publishes the Calendar of Wooden Boats, which has been a staple on the walls of wooden boat enthusiasts for more than 30 years.
Mendlowitz's newest book, Herreshoff: American Masterpieces, created in collaboration with Maynard Bray and Claas van der Linde, was published in November 2016 by W.W. Norton & Company of New York. In 1998, Norton published Wood, Water & Light, a large-format, full-color book featuring more than 180 of Mendlowitz's finest early images with accompanying text by Joel White. In addition to seven other book published by Norton, two books published by NOAH Publications feature his photography: Joel White: Boatbuilder, Designer (2002), with text by Bill Mayher and Maynard Bray, and Aida (2012) by Maynard Bray.
As overall winner of the yacht race, the Ames cup was awarded to Silent Maid. The Ames Cup honors the memory of Richard Glover Ames and Henry Russel Ames who were lost at sea on June 19th, 1935 south of the Grand Banks in an unsuccessful effort to save their father who was washed overboard during the Newport to Bergen, Norway, yacht race. The Ames family hailed from Castine.
 
The Sparkman & Stephens trophy, awarded to the S&S yacht with lowest corrected time, was won by Isla. The Phalarope Trophy, awarded to the top Concordia yawl in memory of Thomas G. Ashton, Sr, was won by Otter.