Dasher to Dundiggin: Annual Show to Bring Big Fleet to Rockland
Dasher to Dundiggin: Annual Show to Bring Big Fleet to Rockland
Friday, August 4th 2017

Summertime, and it's time to go boating. If you are looking for a boat or just want to look at boats, the Maine Boats, Homes & Harbors Show on the Rockland waterfront August 11-13, 2017, is the place to be. Celebrating its 15th anniversary this year, the show will feature close to 150 boats, large and small, luxurious and down-to-earth, displayed both on land and in the water. Advance tickets available online.
"Between all the stunning boats on the docks and on land and the Small Boat Love-In special event, this year's show will be especially boaty," said Show Manager Gretchen Piston Ogden. "It's a particularly rich year in terms of variety and visual interest."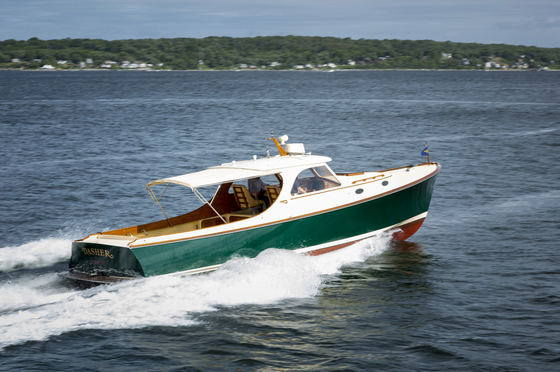 Leading the pack will be Dasher, the first ever Hinckley Picnic Boat to roll off the line. Featuring jet power and a classy take on downeast styling, Dasher marked a pivotal moment in Maine powerboat construction. The boat was recently purchased by the Hinckley Company for its collection, and will be making visits to boat shows and owner rendezvous around the country. 
Boats making their first public appearance at the show will include the MJM 35z, a brand-new 35-footer that combines the power-to-weight ratio and twin outboards of a center console with the snug cabin and ample creature comforts of a Downeast power cruiser.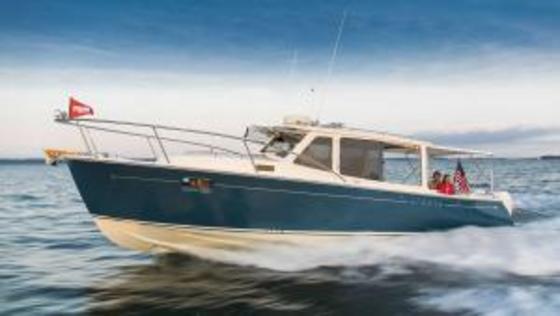 The Parker 2510, featuring a Parker 25-foot hull topped with new express-style hardtop will be on the docks, as will the Sea Fox 328 Commander, a blue-water-worthy center console propelled by twin 350 outboards for a 57-mph top speed.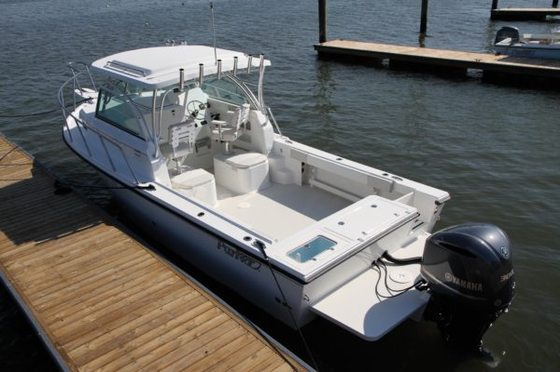 Pleasure tugboats will be represented by the Ranger Tug R27, the first example of Ranger's new outboard-powered tug yacht in the northeast. With a single 300, it reportedly can hit 42 mph at the top end.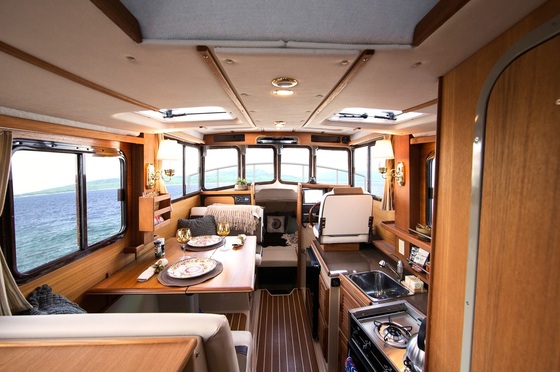 Also debuting at the show is the Everglades 355CC, a big-water center console with a twist — a second steering station on top of the hardtop. 
DN Hylan will be showing off Scraper, a 30-footer with distinctive sweeping sheer and ultra-low freeboard: Doug Hylan's reinterpretation of a classic Chesapeake workboat.
Boats & Motors by Yachting Solutions
Local boating-services provider Yachting Solutions will have a major presence at the show this year, with two of its own tents featuring Evinrude and Torqeedo outboards, AB Inflatables, and the amphibious Sea Legs RIBs. See them in Tent H, in Buoy Park, or down on the boat docks, where they'll have Hunt Yachts, Rossiter Boats, and a selection of prime brokerage vessels.
Back Cove is bringing its Back Cove 32, a Downeast-style cruiser that offers up big-boat living space (via flexible cockpit seating and a salon settee that converts to a double bed) in a handy compact size.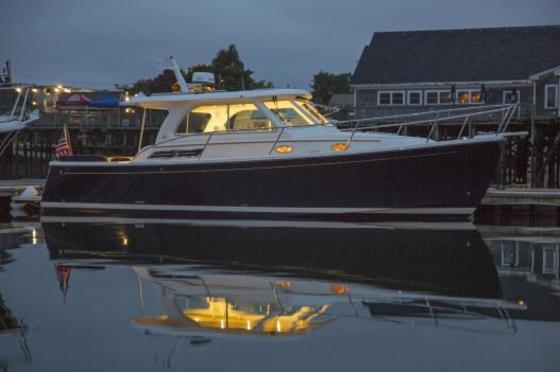 In addition to new construction, the show will feature vintage yachts, including two gorgeously restored Bunker & Ellis wooden lobsteryachts: Vera Lee, a 1973 36-footer presented by Classic Boat Shop, and Grayling, a 1954 35-footer restored by Johanson Boat Works.
The love for sail is strong. At the show, sailboats on display will include Mashpee, a restored vintage Buzzards Bay 30, and C.W. Hood's 32' daysailer, plus a variety of models from the likes of Cape Cod Shipbuillding, Classic Boatshop, and Maine Cat (38-foot catamaran). There'll be plenty of eye candy too: a sweet catboat from Marshall Marine, a Morris 42, and an elegant Morris 36.

Take a Test Drive (Dock F)
From the show's Demo Dock, show goers can test drive center-console boats from the likes of Southport Boats, Everglades Boats, Sea Pro, and Hunt Yachts. Show organizers stress that it's a good idea to sign up in advance with the builders to make sure the boat you want is available at the time you want..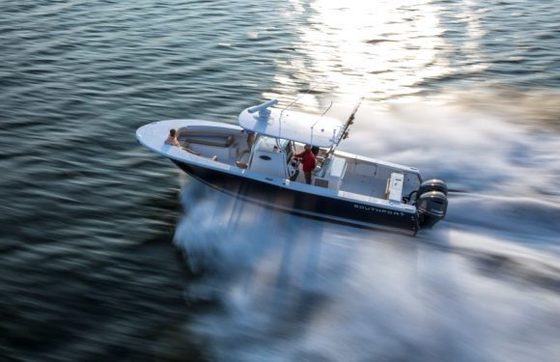 Dock G (off the Pearl Restaurant) will host lovingly restored and select pre-owned vessels, plus a bevy of beautiful craft will be on display throughout show grounds. Sponsored by Epifanes North America. 
This large and varied fleet will be rounded out by fine offerings from other boat exhibitors, including Artisan Boatworks, Block Island Maritime, Chase Small Craft, the Landing School, Lyman-Morse, Maine Yacht Center, Maritime Boats, Marshall Marine, Moose Landing, North Atlantic Inflatables, Padebco, Pendleton Yacht Yard, Port Harbor Marine, Puffin Boats, Rosborough Boats USA, Salty Boats of Maine, Yachting Solutions, and Yarmouth Boat Yard.   
FRIDAY: Visitors can tour the restored 74-foot-long world traveling schooner Koukla and find out what a Maine sailing adventure is all about.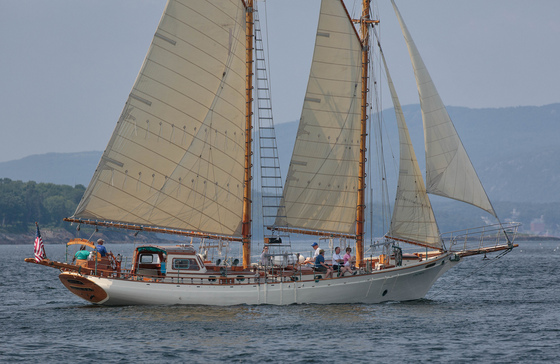 SATURDAY: Visit the Capt. Susan J. Clark, the 70-foot-long primary navigation training vessel for Castine's Maine Maritime Academy. 
SUNDAY: Friendship Sloop Fest! Alongside will be Persistence (restored and presented by Rockland's Sail, Power, and Steam Museum), Gladiator (celebrating 50 years ownership by the same Maine family), plus other Friendships.
Small Boat Love-In  (Buoy Park)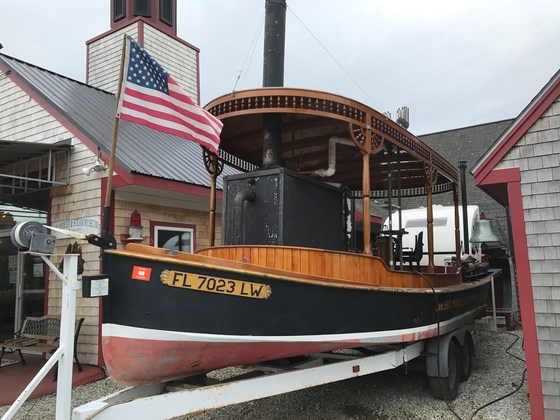 Visit the first annual Small Boat Love-In and meet the small-boat owners who trailered their own beloved craft to the show. 
A centerpiece will be a steam-powered paddle wheeler from Rockland's Sail, Power & Steam Museum (pictured).
The Maine Island Trail Association and the Traditional Small Craft Association will be represented; the event is sponsored by Hewes & Co. and 
USHarbors.com
15th Annual Maine Boats, Homes & Harbors Show Information 
August 11-13, 2017, Harbor & Buoy Parks, Rockland
The show was founded in 2003 by 
Maine Boats, Homes & Harbors
 magazine, which is now in its 30th year. Held annually in early August on the waterfront in Rockland, the event attracts thousands of discerning attendees from all over the country and world. The three-day event is also Maine's only in-the-water boat show. Admission: To honor the show's 15th anniversary, each
 $15 adult ticket
 is good for all three days (kids under 12 always get in free). Gates open at 10 a.m. daily. For more information and to purchase tickets, visit 
maineboats.com/boatshow 
or call 800-565-4951.
The show appreciates the support of its fine sponsors: Awlgrip/Interlux, Bangor Savings Bank, Bell's Furry Friends Photography, Epifanes, Hewes & Company, LCI Fiber Optic Networks, Loyal Biscuit, Maine Boats, Homes & Harbors magazine, Maine Made: America's Best, Rock Harbor Brewing, and USHarbors. The support of the City of Rockland, the Rockland Main Street progra, and West Bay Rotary are also much appreciated.  
*Please note: For the safety and enjoyment of all, no pets are allowed on show grounds (except bona fideservice animals) and no baby strollers are allowed on the docks. Thanks for your consideration.