Rockland marina sold to national company
Rockland marina sold to national company
Thursday, January 28th 2021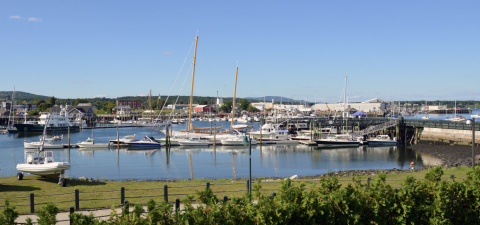 Safe Harbor Marinas, considered the world's largest owner and operator of marinas, has bought the Rockland, Maine marina and boatyard of Yachting Solutions. The sale closed Dec. 31, 2020, according to Yachting Solutions founder and Chief Executive Officer Bill Morong. The national company has been expanding in Maine in the past year, buying a yard in Harpswell earlier in the year.
Safe Harbor Chief Investment Officer Jason Hogg said the acquisition made good sense for his company.
"Yachting Solutions provided us the opportunity to acquire a well-established yacht service operation with a talented team of marine service professionals, which, along with our recently acquired Great Island location in Harpswell, will allow us to better serve our boating network as they transient Greater New England and the coast of Maine," he said. "Yachting Solutions also provided us a premium waterfront location with a canvas for expansion, allowing us to welcome more boaters to enjoy all that Maine has to offer. Having a premier tenured restaurant operator on site (Archer's On the Pier) will also prove to be an invaluable amenity to our boating Members."
Yachting Solutions has leased its site on the Rockland waterfront since 2009. In a separate deal, Safe Harbor also acquired that land, over four acres, including the pier where Archers Restaurant is located, the gazebo on the land side, and a portion of the parking lot from Rockland Harbor Park LLC, Morong said. The deal with Yachting Solutions also included the acquisition of its site on New County Road in Rockland and a lot on Pleasant Street in Rockland. Rockland Harbor Park LLC will continue to own the large office building, originally built by MBNA, the remainder of the boardwalk and adjacent parking lots. 
"It was a long courtship," Morong said about the deal. "We've been working with Safe Harbor for almost a year and a half." 
Morong said he and partner Chris Lawton will continue to run the marina and boatyard for Safe Harbor. Yachting Solutions' sales operation was not included in the deal. Lines sold by the company include Hunt Yachts, Rossiter, Beneteau, Nimbus, Century Boats, and AB Inflatables. In addition to sales, Morong and Lawton retained ownership of Yachting Solutions' Rockport Office and a charter operation in Florida and Maine.
"I am now a consultant for Safe Harbor and will stay on for the foreseeable future," Morong said. "Chris will be general manager of the boatyard and I will be in charge of capital projects, expansions, and possible further acquisitions."
Yachting Solutions has been working for several years on a plan to expand the marina's footprint and facilities, including the addition of a longer dock to accommodate superyachts, and the construction of a wave attenuator. Safe Harbor plans to continue with those plans.
"Rockland is an attractive cruising destination for our boaters and we have plans to expand and upgrade our in-water mooring capabilities to accommodate more boats, from 20 feet to 200 feet," confirmed Hogg.
Morong said the deal with Safe Harbors will provide Yachting Solutions with the capital to expand without taking on debt. "I have a lot of big ideas," he said. "This will let us tap in massive resources to allow us to take Yachting Solutions to the next level, and that is exiting to me."
The former Yachting Solutions Yacht Basin will now be known as Safe Harbor Rockland, he said.
Safe Harbor Marinas is the largest owner and operator of marinas in the world. Based in Dallas, Texas, the company owns more than 100 boating facilities across 22 states. The company acquired Great Island Boat Yard in Harpswell last spring. Safe Harbor itself was acquired last fall by Sun Communities, a real estate investment trust involved in manufactured housing, recreational vehicle communities, and vacation rentals and homes.
Safe Harbor's Hogg said the company would continue to grow. "We will continue to build-out our best in class network of boating destinations," he said. "We have many new targets and ventures on the horizon, not only in Maine, but across the U.S. and globally as well."