Five dogs will compete for the title of World Championship Boatyard Dog Trials
Five dogs will compete for the title of World Championship Boatyard Dog Trials
Tuesday, July 30th 2019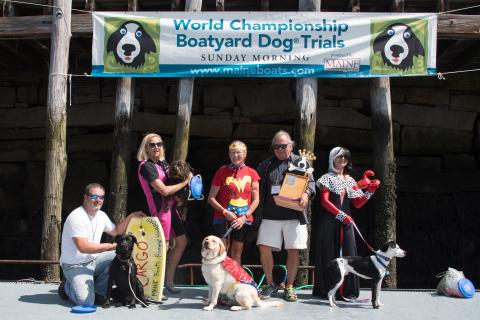 The Rockland waterfront will be taken over by dogs Sunday morning, August 11, as a pack of competitors vie for the title in the 2019 World Championship Boatyard Dog Trials during the Maine Boat & Home Show. The trials will take place at 10:30 a.m. and are included in the price of an admission ticket.
Show attendees are invited to watch from the seawall as the eager field of wannabe champions attempts to unseat two-time world champ Zola the Wonder Dog. Zola won a hard-fought competition last year with her Frisbee-chasing prowess. She also excelled at convincing her handler to jump into the chilly waters of Penobscot Bay to help out with the retrieval process.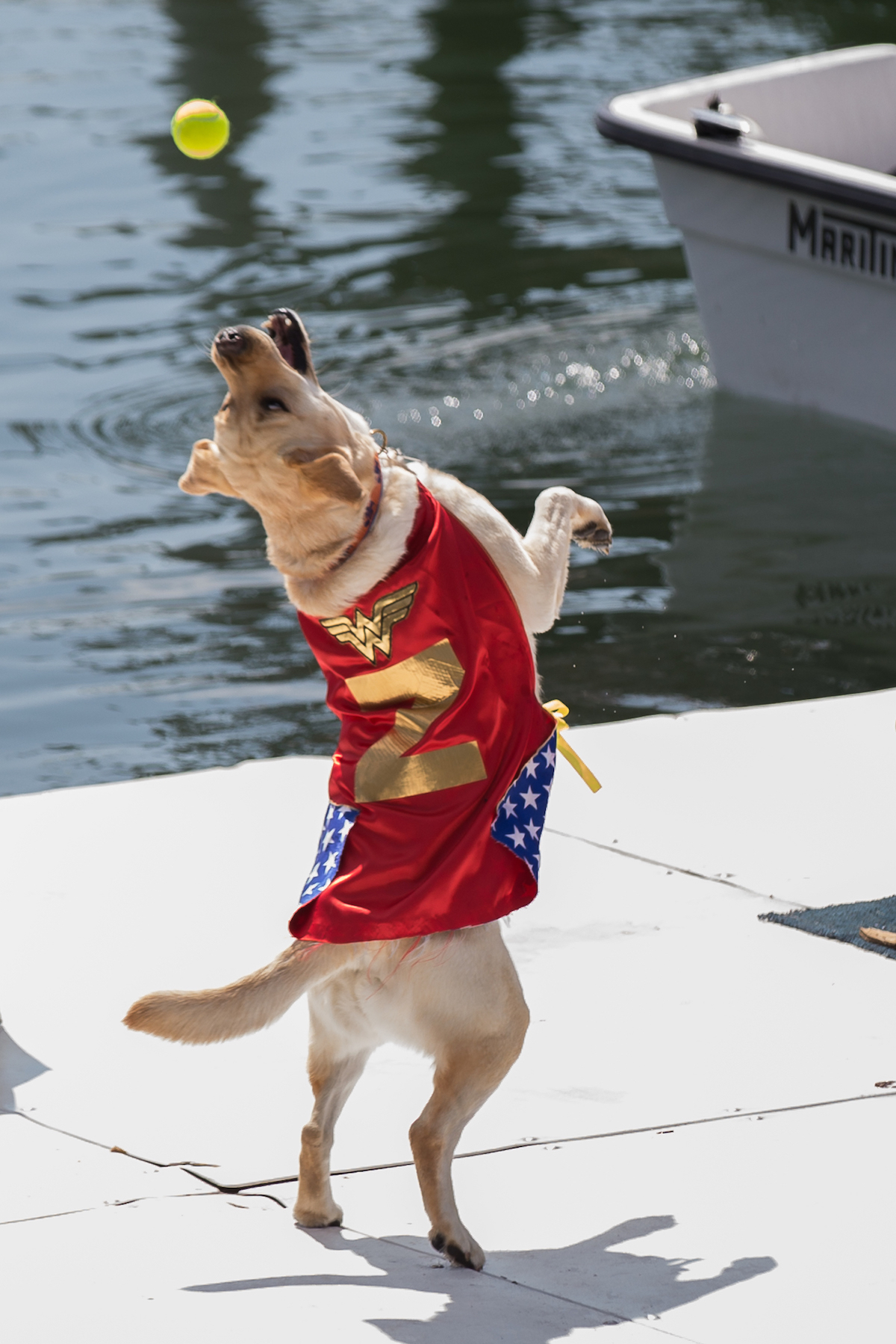 Zola has won the event, paws-down, two years in a row, said show producer John K. Hanson, Jr. "But we expect some tough competition for her this year," he said. "A very eager pack of challengers is in training right now; each of them threw their furry hats into the ring with great vigor."
The 2019 Field of Challengers includes: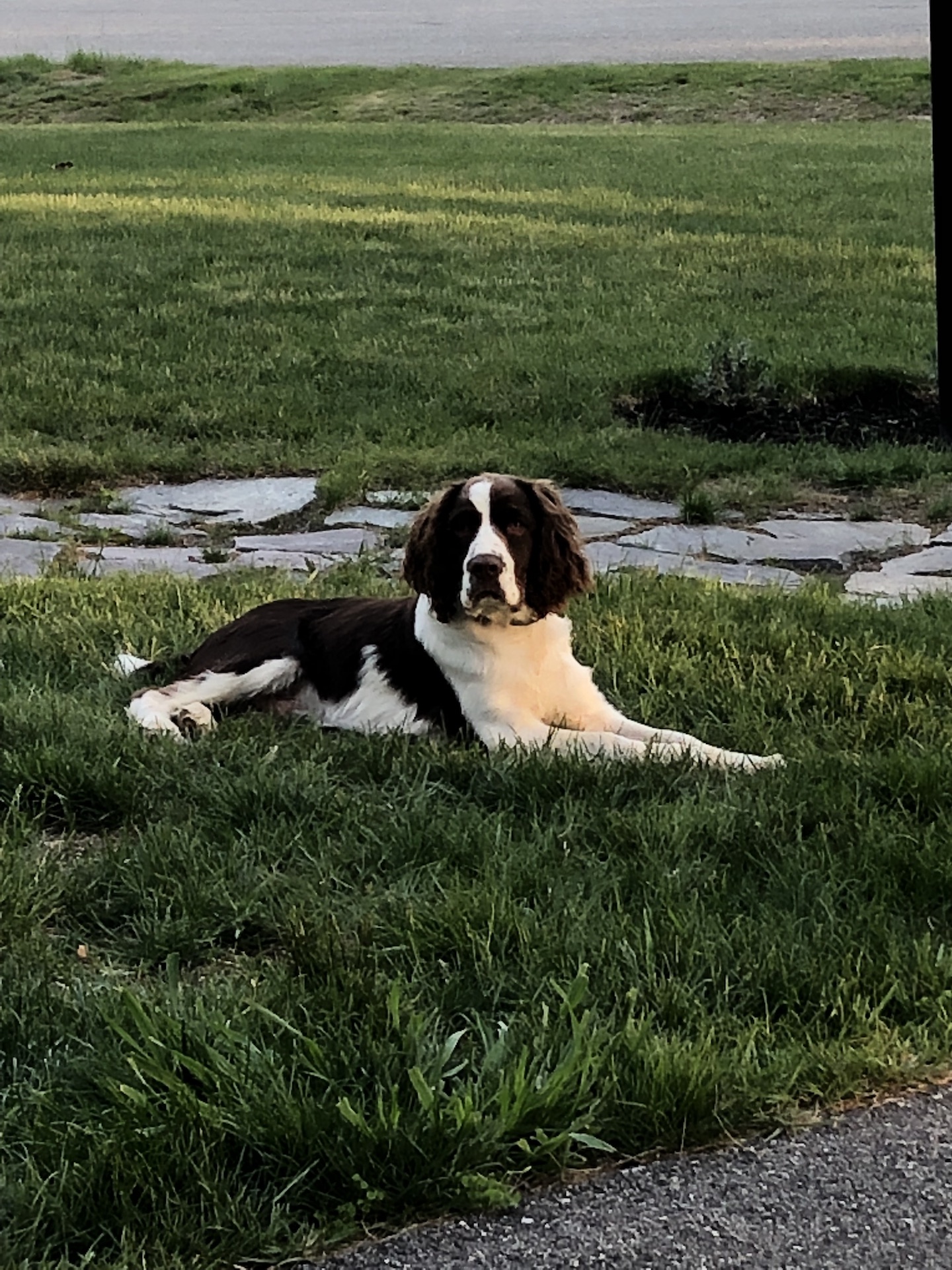 Cooper (springer spaniel) – "Anything to do with a tennis ball, I'm on it!" Handlers: Saylor and Jeanine Salica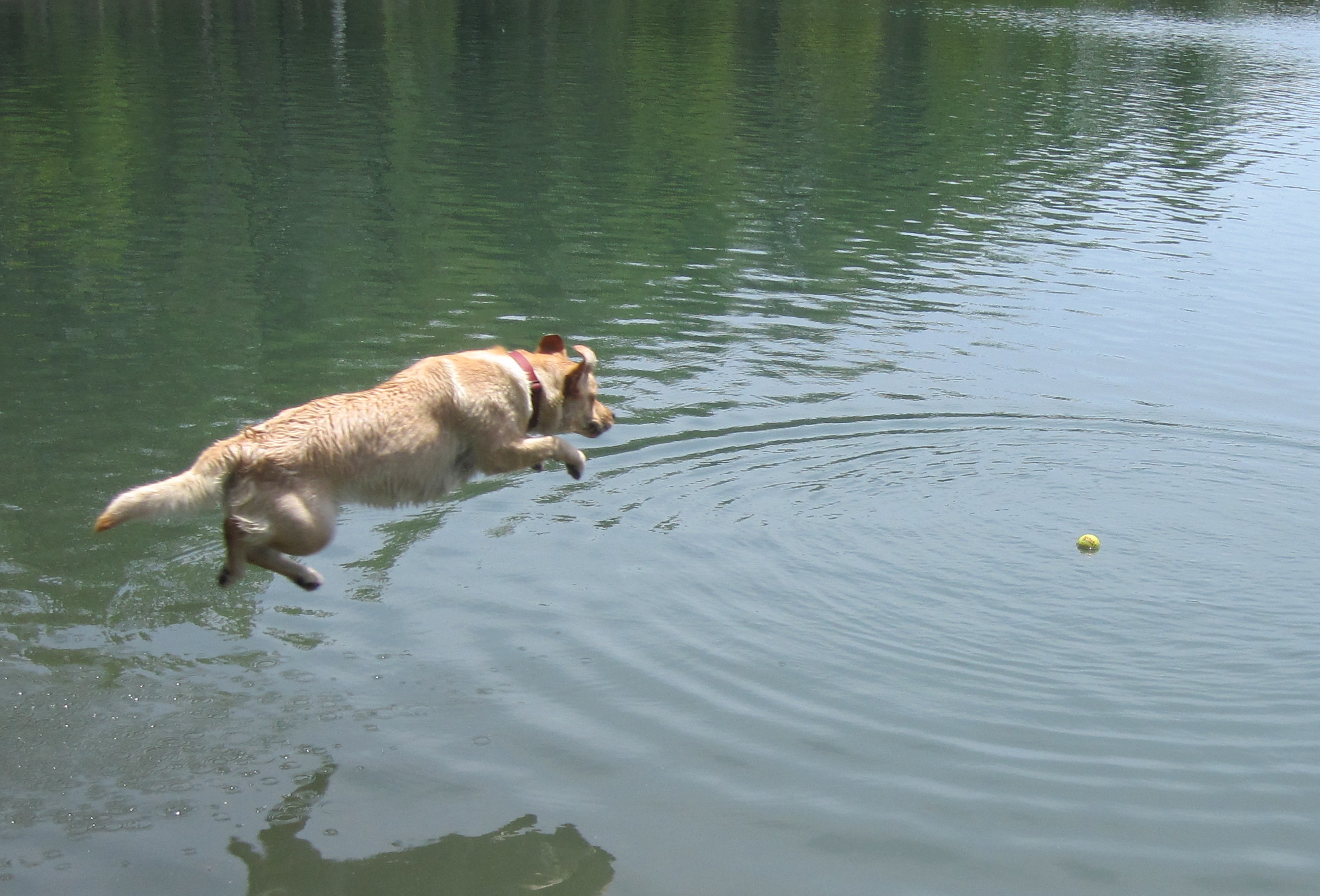 Sassy (golden retriever) – "I love, love, love the water!" Handler: John Crawford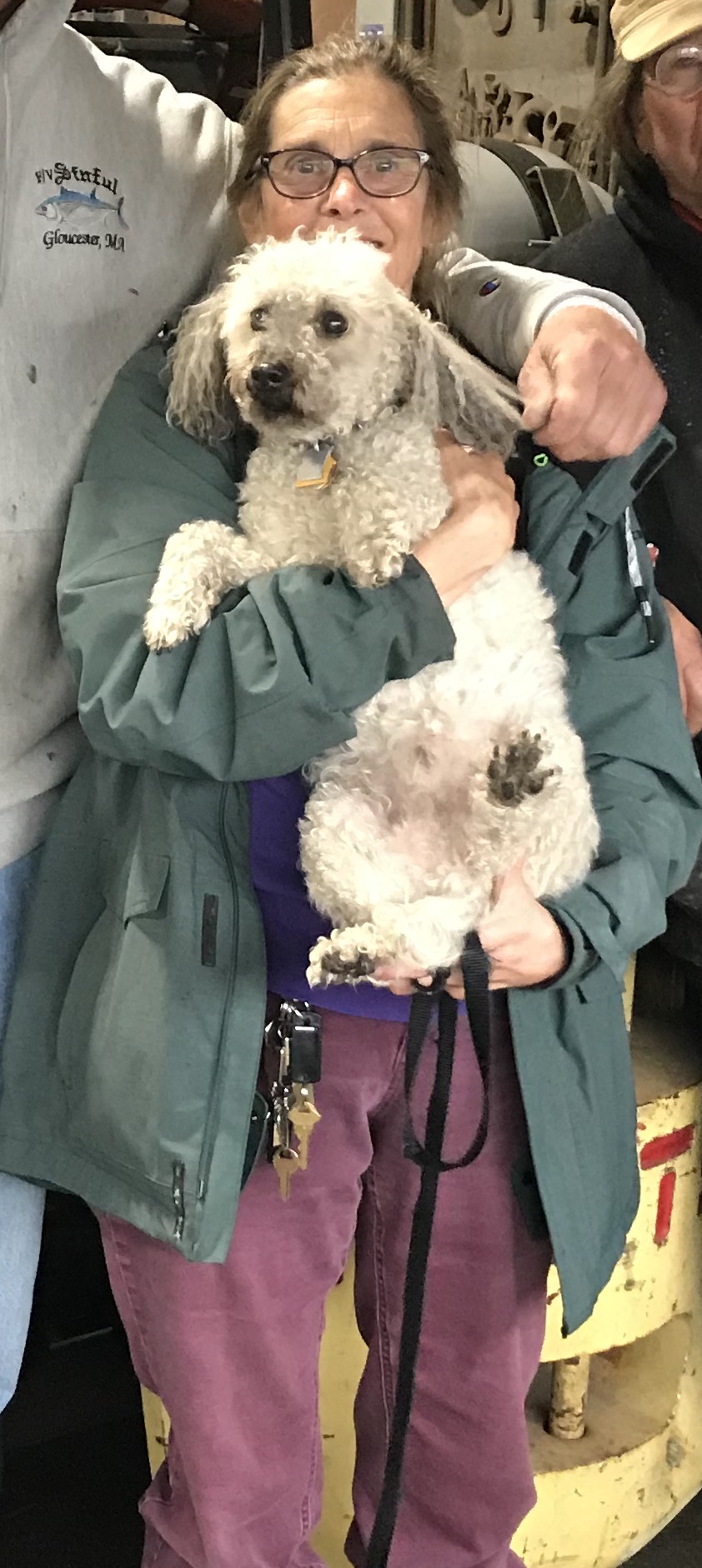 Tache (poodle/Havanese mix) – "That's French for spot!" Handler: Viking Gustafson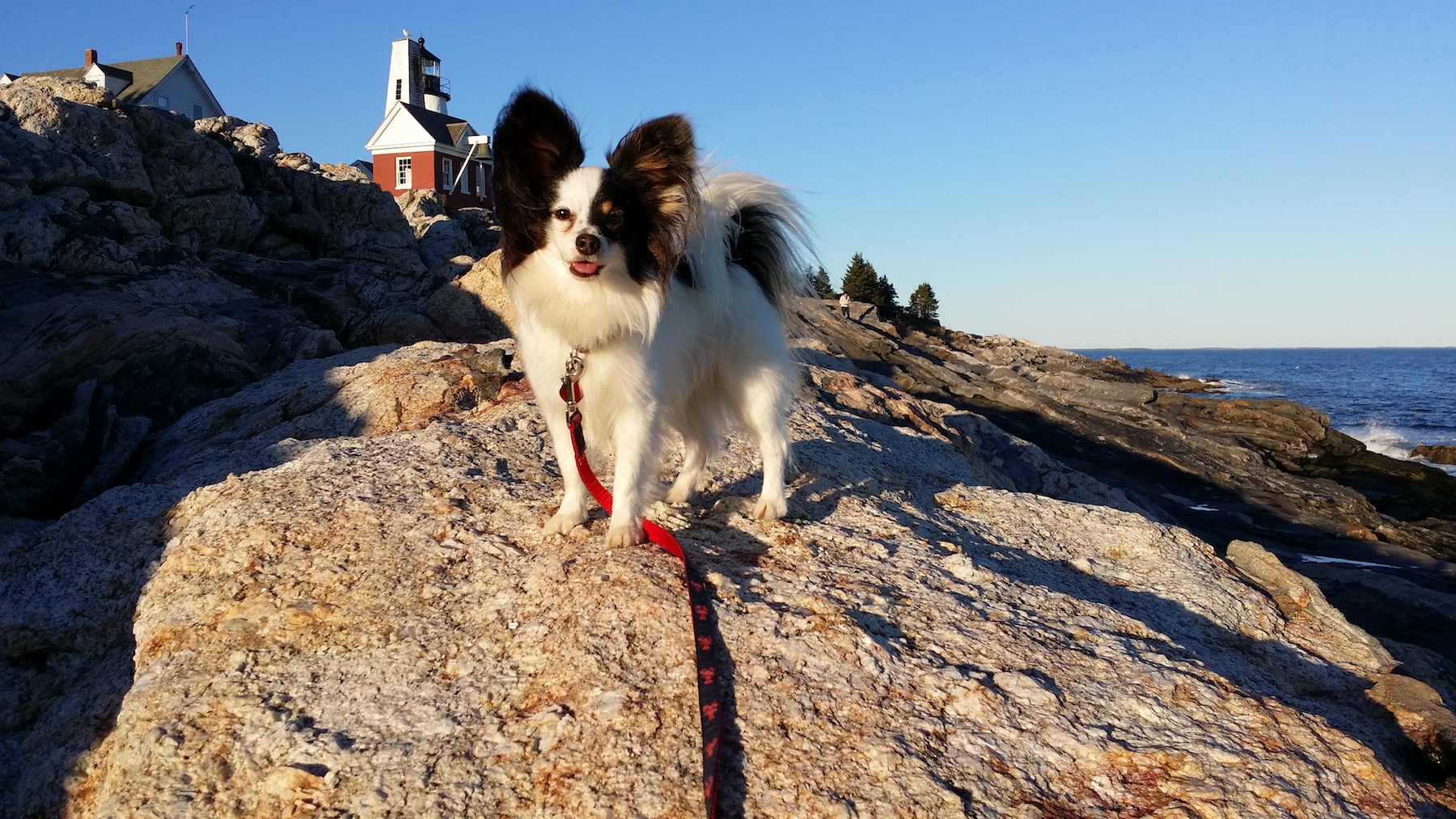 Tattoo (papillon) – "10 tons of 'tude in a 7-pound sack!" Handler: Lisa Lane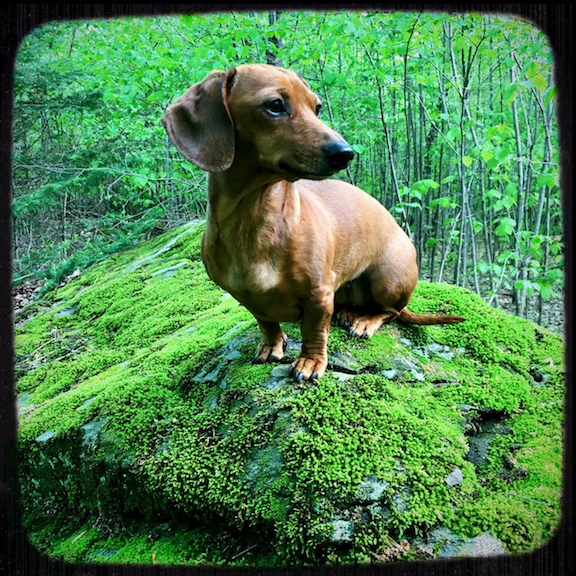 (Alternate: Charlie (dachshund) "A registered ground-support service dog!" –  Handler: Paul Schafer)
Entries are now closed.
The field will stand up, sit down, roll over, and act silly (or not at all) before an adoring crowd. This year's chosen dogs will be expected to complete three events within an 8-minute time limit: 
Dockside Obstacle Course — Dog and handler will negotiate a maze of lobster traps, piles of rope, buoys, and other funky dockside paraphernalia. 
Dinghy Hop — Dog and handler will scramble in and out of a very unstable dinghy that's tethered to a float. 
Freestyle — Each dog (and their person) will show off his or her special talents…. No holds are barred during this segment—dogs have tied bowlines, sung sea chanteys, climbed ladders, danced in costume, and "cooked" lobsters in the past. There's no telling what this year's crop will come up with to entertain the crowd.
The 2019 Esteemed Panel of Judges will be April Thibodeau from local pet-supply emporium Loyal Biscuit (stores in Bangor/Brewer, Belfast, Camden/Rockport, Rockland, and Waterville); Katie Griffin, certified canine swim coach and owner /founder of Water Bark Wellness in Camden; and Ruth Woodbury Starr from 250 Main Hotel in Rockland, "where dogs are welcome, and if your dog will vouch for you, you are welcome too!" The verbal antics and howling puns of emcees Mike Joyce and Alan Sprague, from WERU-FM's call-in show "Boat Talk" will add to the fun. 
New this year will be a water-rescue demonstration, in which a burly Newfoundland will show off safety and retrieval skills for the crowd.
The pawsome event will kick off with a furry procession of canine competitors at 10:15 on the show grounds. The official trials will begin at 10:30 a.m. on the waterfront. Admission to the trials is included in the price of a show ticket; children under the age of 12 always get in free. 
As always, Maine Boats, Homes & Harbors magazine and the Boatyard Dog® Trials will offer show attendees a chance to help support local midcoast animal shelters. Anyone can come by Tent B to make a donation to the shelters at any time during the show weekend. The trials competitors will also be encouraged to bring shelter donations.
The show will also (as always) feature boats in the water, boats on land, marine gear vendors, fine furniture and home wares, arts, architecture, live music, and delicious food.
17th Annual MAINE BOAT & HOME Show INFORMATION AT A GLANCE
August 9-11, 2019, Harbor Park, Rockland
Held annually on the second weekend in August on the waterfront in Rockland, the event attracts thousands of discerning attendees from all over the country and world. The three-day event is also Maine's only in-the-water boat show. 
Admission: Adult tickets $15, available at the gates and online. Kids under 12 get in free. Special Access Passes, which include parking and other perks, also available. Gates open at 10 a.m. daily.
For more information and to purchase tickets, visit maineboats.com/boatshow or call 800-565-4951. The show was founded in 2003 by Maine Boats, Homes & Harbors magazine. 
*Please note: For the safety and enjoyment of all, only bona fide service animals (preferably marked as such) will be allowed on show grounds.
The show appreciates the support of its fine sponsors (*=Boatyard Dog sponsors): Awlgrip/Interlux, Bangor Savings Bank, *Bell's Furry Friends Photography, Camden National Bank, *Casco Totes, CedarWorks, Courier Publications/Village Soup, Epifanes, *Hamilton Marine, LCI Fiber Optic Networks, *Loyal Biscuit, *Maine Boats, Homes & Harborsmagazine, Owls Head Transportation Museum, Rock Harbor Brewing, *250 Main, US Harbors, Water Bark Wellness, WERU FM, and Yarmouth Boat Yard. The support of the City of Rockland, the Rockland Main Street program, and West Bay Rotary is also much appreciated.