Lyman-Morse to Build 65' Custom Cold-Molded Yacht
Lyman-Morse to Build 65' Custom Cold-Molded Yacht
Friday, September 30th 2016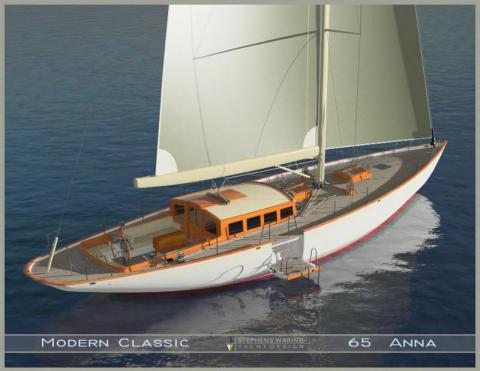 Construction is underway at Lyman-Morse Thomaston on a 65' sailing yacht designed by Stephens Waring Yacht Design of Belfast, Maine.
Drew Lyman, President of Lyman-Morse and his team spent the spring and early summer months working with Stephens Waring and the owners fine-tuning the design and planning the construction process. LM built a full-scale mockup of the boat in March plus an alternative mockup of the master stateroom and guest cabin. This enabled the owner, LM Team and designers to walk through a couple of different layouts of the project to further fine tune the cockpit and interior layout.
"The owner came to us for our expertise in systems engineering and installation; our attention to detail and responsiveness to owners' requests," said Lyman. "In addition, our strength also lies in quality and cost management, both of which are crucial in a project this complex."
The modern, yet-classic sloop is designed for day-sailing and family outings. The roomy cockpit flows into a raised saloon that features large, drop windows in the aft bulkhead for easy communications between exterior and interior spaces. The design calls for accomdations for six.
The sloop-rigged yacht will carry a large main and self-tacking jib for easy everyday sailing. The design will allow the crew to switch to a manually tacked jib; downwind sails and a cruising spinnaker round-out the inventory for racing; or sailing on lighter days.
The hull will feature composite cold-molded wood laminates over laminated Douglas Fir frames and will be sheathed in fiberglass for abrasion protection. The deck will be feature foam cored plywood skins with teak planking. Deep bulwarks add offshore security. Douglas fir deck beams, traditional raised and V-groove paneling, bright varnish and white painted surfaces will make the interior light and airy. LM Fabrication will manufacture custom designed deck hardware including the rail systems, butterfly hatch hardware, amidships boarding step and various structural components.
There will be push button hydraulic systems, including an amidships boarding platform and an anchor launching system. To deploy the anchor, one simply will open the hatch and press a button. On the amidships board platform, boarding steps will fold out automatically into position as the platform is lowered.
Expected launch date is fall 2017.
Specifications
LOA: 65 ft. – 6 in. (20 m)
LWL: 47 ft. - 10 in. (14.6 m)
Beam: 16 ft. - 10 in. (5.1 m)
Draft: 7 ft. - 6 in. (2.3 m)
Displacement: 57,000 lbs. 25,850 kg
Sail Area: 2040 sq. ft. (190 sq. m)