Maine Boat & Home Show unveils new poster
Maine Boat & Home Show unveils new poster
Tuesday, June 11th 2019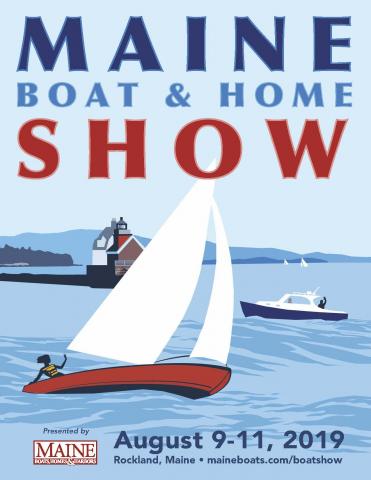 The producers of the 2019 Maine Boat & Home Show have unveiled the new poster design for the annual event, to be held this year on the Rockland waterfront August 9-11. The poster evokes a retro travel poster in style, and was created in concert with Rockland graphic designer and artist Anneli Skaar. 
"We wanted this year's poster to be quite different from previous years, and to convey both a strong sense of place — downtown Rockland, on the shores of Penobscot Bay, is the perfect venue for the event — and the joys of being on the water, no matter what kind of boating you do, sail or power. We were also looking for a traditional nautical color palette of reds and blues," said John K. Hanson, Jr., publisher of Maine Boats, Homes & Harborsmagazine and show producer.
A first-generation American, artist and designer Skaar has a strong connection to her ancestral home in Scandinavia. Fluent in Norwegian. she moved to Norway from California at 18, to attend the National Academy of Arts in Oslo, where she received her B.A. After living and working in Oslo, Norway, for over a decade, she returned to the Northeast and has since made midcoast Maine her home.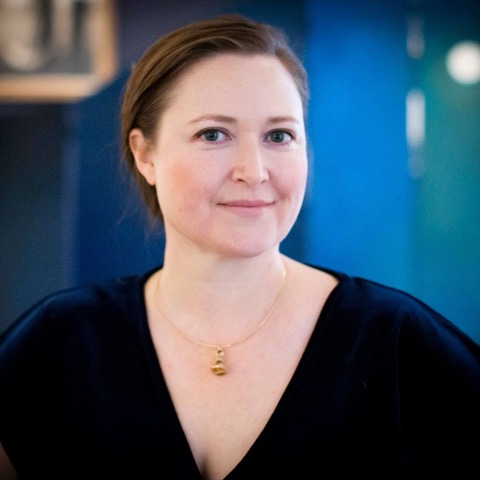 Regarding the process of designing the show poster, Skaar said, "Pastiches, or artistic works in a style that imitates that of another work, artist, or period, are always a fun challenge for a designer. Besides researching vintage travel posters, I worked closely with the Maine Boat & Home Show staff to get a general theme for this year's poster, which resulted in a colorful and optimistic Rockland water scene that includes boaters waving to each other from different boats."
The image is a collection of different images. 
"I assembled bits and pieces of both my own original artwork with Photoshopped stock photos. I also requested boat models that I processed digitally to emulate the Art Deco and Modernist styles of illustration common for the travel poster era of the 1940s and 1950s," Skaar said. "Due to advances in printing technology in the 1960s, this type of poster art gave way to those using photography, but it's always great fun to be inspired by this style to create modern work."
The 18"x24" poster is available HERE for $10 plus S&H. Copies will also be available for sale at the Maine Boats, Homes & Harbors Kiosk (Tent B) during the event itself.
17th Annual MAINE BOAT & HOME Show INFORMATION AT A GLANCE

August 9-11, 2019, Harbor Park, Rockland
Held annually on the second weekend in August on the waterfront in the heart of downtown Rockland, the event attracts thousands of discerning attendees from all over the country and world. The three-day event is also Maine's only in-the-water boat show. 
Admission: 
Adult tickets are $15, available at the gates and online. Kids under 12 always get in free. 
Special Access Passes, which include parking and other perks, are also available. 
Gates open at 10 a.m. daily.
For more information and to purchase tickets, call 800-565-4951. The show was founded in 2003 by Maine Boats, Homes & Harbors magazine.
The show appreciates the support of its fine sponsors: Awlgrip/Interlux, Bangor Savings Bank, Bell's Furry Friends Photography, Camden National Bank, Casco Totes, CedarWorks, Courier Publications/Village Soup, Epifanes, LCI Fiber Optic Networks, Loyal Biscuit, Maine Boats, Homes & Harbors, Owls Head Transportation Museum, Rock Harbor Brewing, US Harbors, Water Bark Wellness, and Yarmouth Boat Yard. The support of the City of Rockland, the Rockland Main Street program, and West Bay Rotary is also much appreciated.