Blue Water Sailing Club hosts boating guru Nigel Calder
Blue Water Sailing Club hosts boating guru Nigel Calder
Friday, January 25th 2019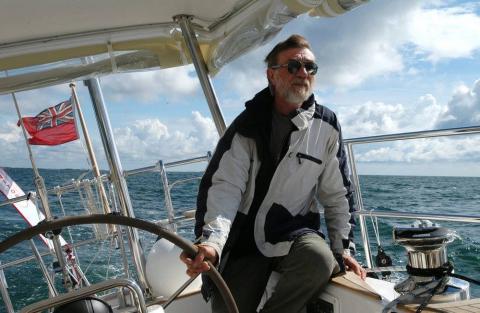 Cruising on a sailboat or powerboat is a dream for many. World-renowned author Nigel Calder has made it his life.
Calder, author of a new book Shakedown Cruise: Lessons and Adventures from a Cruising Veteran as well as the best-selling Boatowner's Mechanical and Electrical Manual, will be offering two presentations on Saturday, Feb. 2, 2019 at the Kittery Community Center in Kittery, Maine. Hosted by the Blue Water Sailing Club, the presentations are sponsored by the Kittery Point Yacht Yard and DiMillos Yacht Sales.
At 9 a.m., Calder will talk about his early cruising adventures in the Caribbean and the lessons he and his wife learned, including voyaging with small children aboard. Based on his most recent book, Shakedown Cruise, he will describe his early years of cruising including getting run down by a freighter in the North Sea, finishing off a bare hull, and setting off for a round-the-world cruise with his wife Terrie, five months pregnant, and their one-year-old child.
Cruising on a boat is also sometimes referred to as "fixing your boat in exotic places." In a separate afternoon session starting at noon, Calder will offer a four-hour seminar on "Understanding Boat Electrical Systems."
Author of the best-selling 'Boatowner's Mechanical and Electrical Manual' (now in its 4th edition, with over 300,000 copies sold) Calder will lead participants through the core design and installation requirements necessary to head off electrical systems problems. No previous experience is required. The cost is $50 per person.
Both presentations will be held at the Kittery Community Center, 120 Rogers Road (just east of the Kittery Traffic Circle off I-95 Exits 2 (southbound) and 3 (northbound).
To register for either of the Feb. 2 sessions, visit the Blue Water Sailing Club website at https://bluewatersc.clubexpress.com. For more information or questions, contact Jack Savage at jacksavage@roadrunner.com.