New Casco Bay water taxi launched
New Casco Bay water taxi launched
Wednesday, April 26th 2017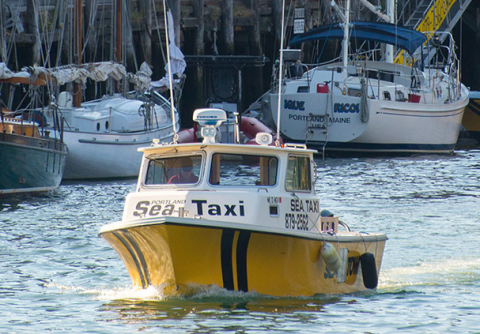 Tourists who want to visit Peaks Island, play a round of golf on Chebeague Island, or explore Fort Gorges have a new option for transportation to these destinations.
Bruce White and Matt Wilder, who operate Sea Tow in Portland and the midcoast, have launched Portland Sea Taxi (formerly Presumpscot Water Taxi.) Portland Sea Taxi has two dedicated boats in use and provides year-round water taxi service. In addition to basic water transportation, the Sea Taxi crew can perform ship launch services, short sightseeing trips, and can provide support vessels for ships on sea trials.
"When Matt and I started in this business together, we were certain on sharing our love for boating with the community," said White, co-owner and operator of the new Sea Taxi Portland/Midcoast. "Taking a water taxi ride along the inlets and shores is a new experience for many people and we are happy to be a part of that experience."
The Sea Taxi service is on-call 13 hours a day, from 7 am to 8 pm, and can be available 24 hours per day with notice. Rates start at $30 for up to six passengers. For more information, visit www.portlandseataxi.com, email seataxiportland@seatow.com, or call/text (207) 879-2562. Sea Tow Portland/Midcoast is a membership-based on-the-water service with four dedicated boats assist boaters in need of help.