Class 40 yacht on its way to race final leg in 2016 Atlantic Cup
Class 40 yacht on its way to race final leg in 2016 Atlantic Cup
Thursday, June 16th 2016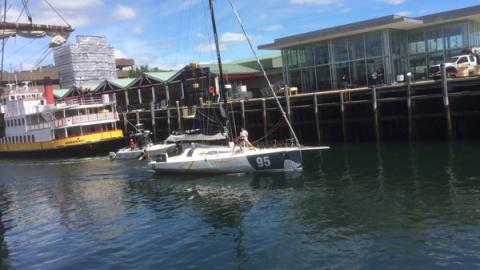 A Class 40 hi-tech racing yacht motors out from behind a replica of a 17th century galleon on its way to the starting line for the final leg of the Atlantic ...
The Spanish team #123 Tales II, skippered by Gonzalo Botín and Pablo Santurde, captured the 2016 Atlantic Cup title as they dominated the offshore legs and fared well in the inshore series.

For the first time in its five-year history, the race finished in Portland, Maine. Spectators from near and far watched the inshore races at the Eastern Promenade and enjoyed the Atlantic Cup festival, which featured a Pabst Blue Ribbon beer garden, kid's activity zone, food trucks, local merchants and live music.
The one Maine-based boat in the race, Amhas, finished 6th.
"It was great to have the Atlantic Cup in Portland this year," said Portland Mayor Ethan Strimling. "The buzz around town was very strong and it was amazing to see how beautiful our harbor is and how effective it can be as an attraction for professional events. We hope that the Cup returns to Portland in 2018!"
The Atlantic Cup is the longest offshore sailing race in the Western Atlantic. Sailed in hi-tech Class 40 boats, which cannot exceed 40 feet in length and weigh nearly five tons, the Atlantic Cup is considered the premier short-handed (one or two sailors) event for Class 40 sailboats in the United States.
The race featured an international field of nine teams from the USA, Spain, France, U.K., Sweden and Canada. Nine teams started the race and seven finished. The teams set sail from Charleston, S.C. on Saturday, May 28, stopped in Brooklyn, N.Y. for the second leg of the competition and a Pro-Am event (May 31-June 3), before departing on June 4 for the final leg of competition held in Portland, Maine, June 6-11.
Here is a short video shot by Tom Morse of one competitor heading out of Portland for the first day of racing. https://www.youtube.com/watch?v=sFdAo08xPXw