Going with the wind and the waves
Going with the wind and the waves
Monday, July 27th 2015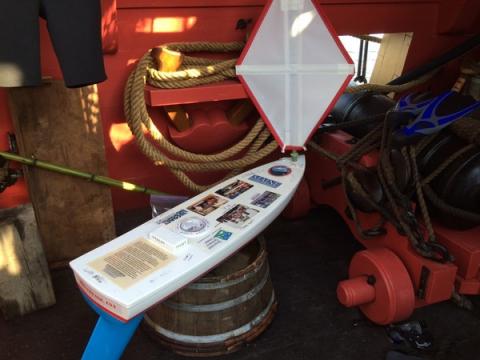 This little unmanned sailboat named Bon Voyage was launched July 27 several hundred miles east of Nova Scotia from the French frigate L'Hermione, which is on her way back to France after a triumphant visit to the United States.
An exact replica of the vessel that brought the Marquis de Lafayette and his promise of French aid to the colonies during the American Revolution, L'Hermione's last U.S. port of call was Castine, Maine.
While she was there the folks from the Belfast, Maine-based Educational Passages dropped off one of their unmanned sailboats to the crew on the French frigate, which agreed to release the boat while on their way back to France. MBHH Editor Polly Saltonstall saw the Bon Voyage while she was visiting L'Hermione and had a crew member take this close-up photo.
Like Educational Passages' other vessels, Bon Voyage is equipped with a GPS and can be tracked on the organization's website: www.educationalpassages.com . Click on the "Boat Tracking" page and click on the summer 2015 link. Maine Boats, Homes & Harbors is one of the sponsors of this boat. It carries a magazine and an offer of a free subscription for anyone who finds it.