Body Footer:
As rusticators came from away in the late 1800s and early 1900s, they took to the water, starting yacht clubs and engaging in sailboat races. The North Haven Dinghy, a 14-foot catboat that evolved from the visiting yachtsman's tender, is the oldest one-design racing class in North America, some say the world. Most of the wooden versions of these boats (a fiberglass version was introduced in the 1980s) were built at North Haven's J.O. Brown and Sons yard, which was started in the 1880s. On the powerboat front, Anson Corson was a pioneer in the use of fiberglass for the mass production of runabouts in the late 1950s. Dozens of yards have helped Maine hold a worldwide reputation for fine boatbuilding, both in wood and newer epoxy-based materials.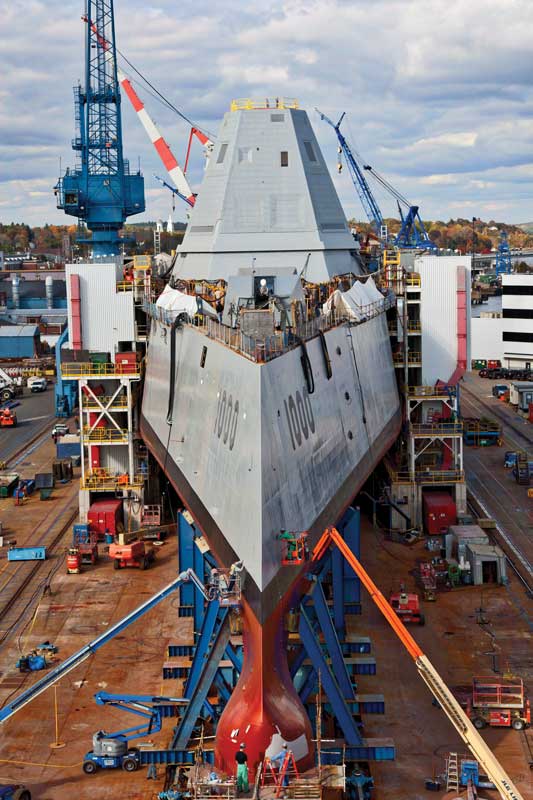 Launched by Bath Iron Works in 2013, the 600-foot Zumwalt is a guided missile destroyer, whose futuristic design and $4.4 billion price tag attracted a lot of attention. But the vessel's stealth systems make her appear to be very small on a radar—the size of a fishing boat. Courtesy General Dynamics After years of mass-producing wooden boats, the Henry R. Hinckley Co. launched its first fiberglass sailing yacht, the Bermuda 40, in 1959. Hinckley branched out into fast modern powerboats in 1989 and in 1994 introduced its ground-breaking jet-powered "picnic boat," adding the equally novel concept of joy-stick steering in 1998. 
While a number of Maine yards have won worldwide reputations for their fine work in wood, builders in the state also have been at the forefront of introducing new technologies, from the blending of wood and epoxies to build cold-molded hulls, to lightweight but strong carbon fiber.
Recently, Hodgdon Yachts, which started buildings boats in 1816 and is the country's oldest boatbuilder, created a warehouse-sized oven and built the record-setting carbon-fiber monohull racing machine, Comanche. 
The University of Maine, which introduced the world's largest 3D printing machine in 2018, has been at the forefront of work on integrating 3D printing with boat construction. Another innovation in the last few decades has been computer generated design and computer-controlled cutting machines that have simplified the creation of boat parts, as well as the creation of boat kits for home builders.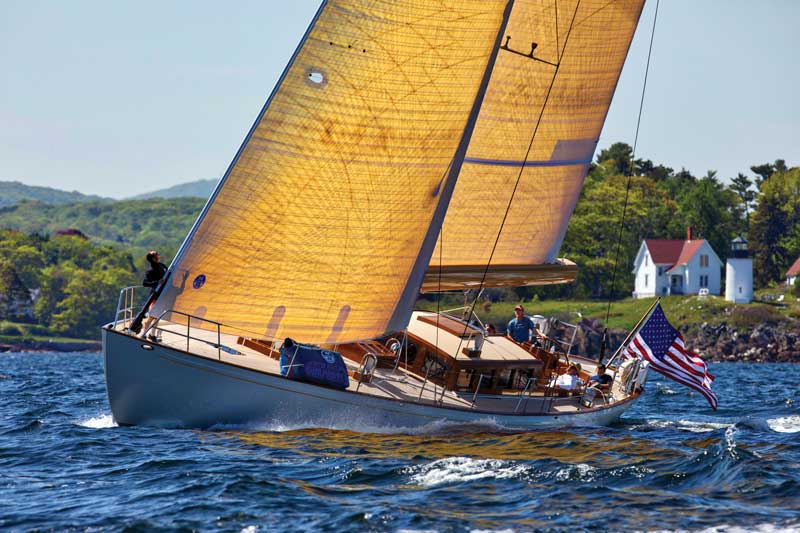 The first English-built ship constructed in North America was the
Virginia
, a 30-ton pinnace built in 1607 by colonist in Popham, at the mouth of the Kennebec River; a nonprofit has been building a reconstruction in Bath for several years. Since those early days, boatbuilding and related maritime businesses have been a major force both in the state's economy. In a salute to the men and women who built these vessels, and along with Maine's reputation for top-notch boats, Maine Boats, Homes & Harbors will host a special exhibit at the Maine Boat & Home Show this August 13-15, 2021 showcasing examples of many of these boats.