Maine Boats, Homes & Harbors Show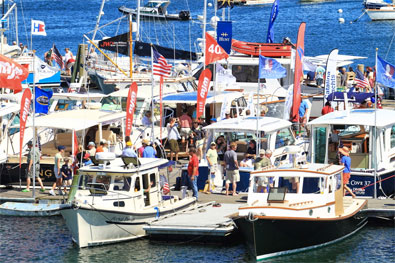 August 12-14, 2016
If you love the coast of Maine, you won't want to miss this high-summer event! Each year we gather Maine's finest artists, architects, boatbuilders, craftsmen, designers, furniture makers, jewelers, and marine gear vendors together in ONE place at ONE time, so you can meet them in person at the 14th Annual Maine Boats, Homes & Harbors Show.
ACTIVITIES
Live music
Fine fresh food
Fun for children (of ALL ages)
It's the pages of Maine Boats, Homes & Harbors magazine brought to life, and the only in-water boat show in the state, with more than 70 boats in the water and 150 or so exhibitors on land.
There truly is something for every member of the family!
SCHEDULE
Friday
: 10-6
Saturday
: 10-5
Sunday
: 10-4
On the waterfront in Rockland, Maine (Harbor & Buoy Parks)
(
Click here for directions
)
Price
: $12, kids under 12 FREE
Two and three-day passes available.
*NO pets are allowed on show grounds (except the pre-selected Boatyard Dog® Trials competitors and
bona fide
service animals).
---

---
BOSTON WHALER® RENDEZVOUS
Whaler gathering. Old, new, restored. Reception Friday night.
Click here to register your Whaler
---
WORLD CHAMPIONSHIP
BOATYARD DOG® TRIALS
Sunday morning. Cheer for your favorite canine competitors
(but please leave your pets at home).
Click here for info
---
FOOD TRUCK RALLY
Boutique cuisine. Vote for your favorite on Saturday.
---
REFIT DOCKS
Expertly refurbished yachts at the Epifanes Refit Docks.
---
KIDS MARINE EXPERIENCE PARK
Hands-on fun for young sailors. Science, art, pirates, and fly casting.
Click here for info
---
BOATS THAT MAKE MAINE WORK
A small fleet of quintessential Maine work boats.
---
---
---