Partnership Focused on Coastal Island Conservation
Partnership Focused on Coastal Island Conservation
Wednesday, May 9th 2018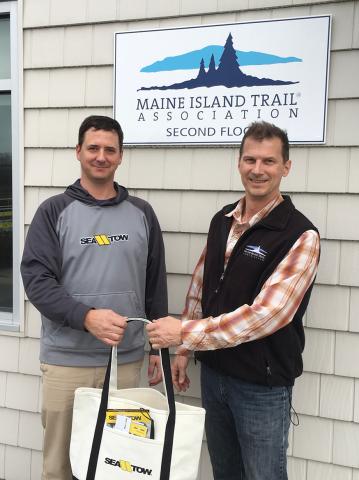 From his Southport office overlooking Boothbay Harbor, Capt. Bruce White of Sea Tow Portland/Midcoast, can watch his six Sea Tow vessels zoom past on their way to and from jobs. Often those jobs take the Sea Tow boats past uninhabited islands, said White, who has co-owned this franchise since 2015.
Over the years, he has worked jobs up and down the coast; and whether in Casco Bay, the Sheepscot River or Muscongus Bay, it's safe to say he knows a thing or two about what makes these wild islands so special. For that reason, he and his co-owner, Capt. Matt Wilder, have – for the sixth-straight year – partnered with the Maine Island Trail Association (MITA) to help preserve the wonder that is Maine's wild islands.
"MITA does some phenomenal work to help keep these islands pristine and beautiful," White said. "So many people come to visit these islands and enjoy everything they have to offer, so it's always a pleasure working with MITA and doing whatever we can to help support their cause."
Co-founded by Dave Getchell, Sr. in 1988, MITA is a nonprofit organization "charged with caring for the trail islands to ensure the integrity of their wilderness character." Now with more than 6,000 active members, MITA is heading into its 30th year.
As part of the partnership, Sea Tow Portland/Midcoast will provide free Sea Tow memberships to each of MITA's nine boats, which are often operated by seasoned volunteers. Should any of its vessels break down during the course of its duties, White and his crew will provide a jump-start, fuel delivery or tow, free of charge. In addition, White will donate a one-year Sea Tow membership to MITA's annual fundraising auction, which will be held May 17, 2018 at East Coast Yacht Sales in Yarmouth.
Doug Welch, MITA's executive director, said he was grateful for White and Wilder's longtime support. "Sea Tow have always been great stewards on the water and the work they've done in Maine's local boating communities is unmatched," he said. " It is a huge relief for the MITA staff to know that if they or a volunteer have an issue on the water, help is just a call away."
Above, Sea Tow Portland/Midcoast co-owner Capt. Matt Wilder (left) provides a Sea Tow membership bag to MITA's Executive Director Doug Welch (right).