Boat raffle will benefit women boatbuilders
Boat raffle will benefit women boatbuilders
Wednesday, March 16th 2022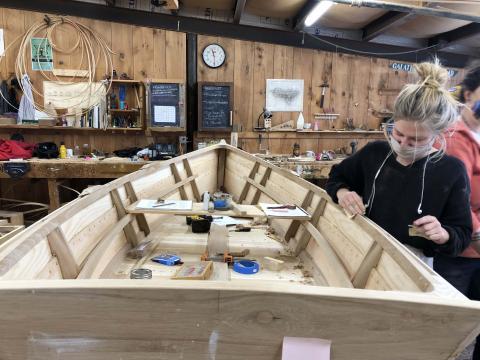 As part of Women's History Month and effort to support women in boatbuilding at The Apprenticeshop, the Rockland, Maine organization is raffling off a 12' flat bottom rowboat, called a Susan Skiff, to raise funds for the Mary Lacy Scholarship for Women. The scholarship fund was established in 2020 to encourage more women to participate in boatbuilding apprenticeships as part of a long-term goal to increase diversity, equity, and inclusion across The Apprenticeshop. Since 2020, the scholarship fund has supported five women apprentices in 12-week, 9-month, and 2-year boatbuilding apprenticeships. 
The Apprenticeshop, which is celebrating its 50th anniversary this year, has four women in leadership roles: Board Chair Rachel Davis, Vice Chair Emily Dueñas Cornell du Houx,  Executive Director, Isabella Feracci, amnd Director of Student Affairs & Outreach Nina Noah, all of whom are graduates of the Apprenticeshop's boatbuilding program.
This year's skiff was built by apprentices Amber and Max and launched this past December. When asked about how this first project impacted her, Amber described how her confidence had grown hugely in a matter of weeks. "I have the confidence to voice my opinions and questions a little louder, to try something new even if it scares me, to use tools that I didn't know existed three months ago, to offer solutions to things that didn't go right the first time, and to create whatever it is my heart desires," she said. "Although the work here is quite the challenge, I leave here every day with a sense of peace and the knowledge of something new. I am so thankful to be at The Apprenticeshop and to be welcomed by its greater community." 
Raffle tickets will be available until July 23 on The Apprenticeshop's website. The winning ticket will be drawn on Saturday, July 23rd, the last day of the 'Shop's 50th Anniversary Celebration Week. To purchase a raffle ticket, find out more, or spread the word to women who might be interested in the program, visit https://www.apprenticeshop.org/donate/#mary-lacy-scholarship.