President Franklin Roosevelt and the lobster dinner provided by a Deer Isle fisherman
President Franklin Roosevelt and the lobster dinner provided by a Deer Isle fisherman
Tuesday, February 25th 2020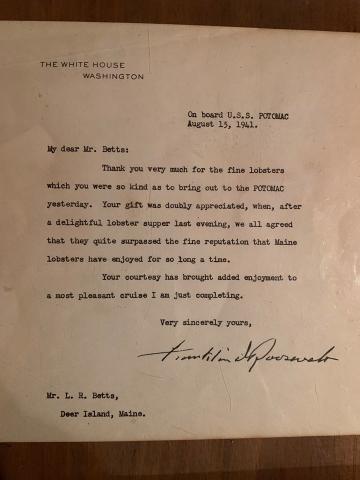 The former Presidential yacht Sequoia and its barge trip to Belfast, Maine, where it will be restored by boatbuilders French & Webb, made big news last fall. But 79 years ago another presidential yacht cruised through Penobscot Bay and, unlike the Sequoia, this one had a sitting president on board. 
That visit by President Franklin Roosevelt resulted in what veteran newspaper reporter Steve Betts considers one of his most treasured family heirlooms: a personal letter from Roosevelt to his grandfather, lobsterman Leo Bertram Betts of Sunset, Maine.
It all began on Aug. 14, 1941 as Bertram tended his traps off Deer Isle, with his 10-year-old son Bob. As the pair went about their work, a fancy yacht approached and waved them alongside. The water was choppy and Betts had a tough time keeping his 32-foot lobsterboat from bumping the side of the elegant cruiser, Bob Betts recalled many years later. When they finally secured their boat, and looked up into the yacht, they  found themselves face to face with U.S. President Franklin D. Roosevelt, wearing a floppy old hat and waving his cigarette holder.
He was on his way back from a secret meeting with British Prime Minister Winston Churchill on a British cruiser off the coast of Newfoundland. He and his party on board the presidential yacht Potomac, including his advisor Harry Hopkins and Roosevelt's two sons, Elliott and Franklin Jr., were hoping to enjoy a lobster dinner. Could Betts supply them with 80 or so pounds of Maine's signature seafood? they asked. Indeed he could, and did, adding in an extra 25 pounds of extra special hand-picked lobsters, according to Steve Betts, who lives in Rockland and works for the Courier Gazette.
"My grandfather had worked on building the causeway for Deer Island as part of the Work Progress Administration and was a huge admirer of the president," Steve Betts said. "He refused to take any money for the lobsters."
The next day the president and his entourage cruised under the Deer Isle Bridge, which his funding had also helped build. They continued on to Rockland where they disembarked from the Potomac and returned to Washington by train. Soon afterward, Roosevelt announced the Atlantic Charter, which had been negotiated during his secret meeting with Churchill.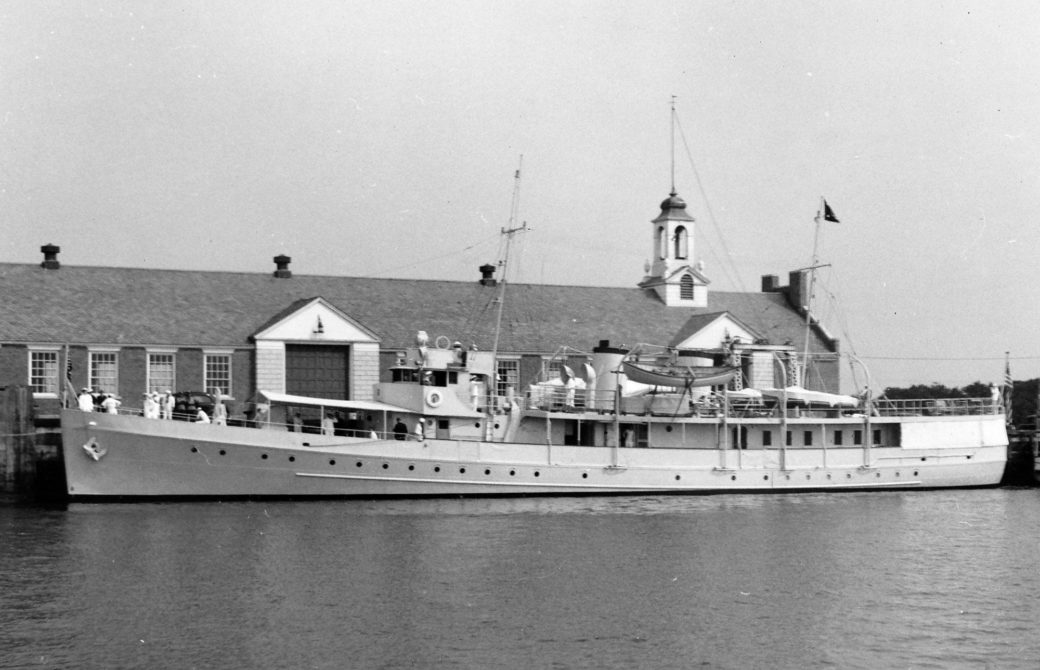 But Roosevelt did not forget his lobster dinner. Before he even got back to Washington, he sent a letter to Betts with a large check.
"My Dear Mr. Betts,
Thank you so much for the fine lobsters which you were so kind to bring out to the Potomac yesterday. Your gift was doubly appreciated, when, after a delightful lobster supper last evening, we all agreed that they quite surpassed the fine reputation that Maine lobsters have enjoyed for so long. Your courtesy has brought added enjoyment to a most pleasant cruise I am just completing."
Steve Betts does not know how big the check was. He said his grandfather carried it around for years in his wallet but times were tough, and finally in need of money, he was forced to cash it. Steve never met his grandfather who died before he was born. But he cherishes the memory of that good deed and the letter that resulted.