Castine Classic Yacht Racers will honor Aage Nielson
Castine Classic Yacht Racers will honor Aage Nielson
Thursday, February 9th 2017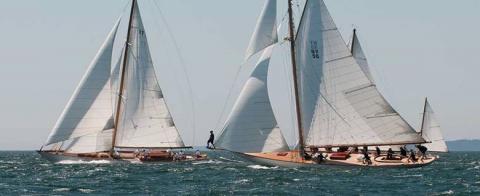 The 2017 Castine Classic Yacht Race to Camden will take place this summer on Aug. 3, kicking off three days of spectacular racing on Penobscot Bay.
For Race Notice, Registration, pictorial History and other information, please refer to: www.CastineClassic.com.
Event organizers plan to honor Aage Nielsen, a genius of 20th century yacht design, at an exhibition at the Town Dock and an Aug. 2 symposium at Maine Maritime Academy, chaired by Doug Adkins. Maynard Bray and Tom Jackson, authors of Worthy of the Sea, the definitive Nielsen treatise, will help orchestrate the presentation. All Nielsen yacht owners wishing to participate are urged to contact Committee@CastineClassic.com.
Racers are urged to fill out registration forms at the website as soon as possible. This year the Classic Racing Formula has been changed, requiring all entrants to obtain a new Mark II CRF rating. The new rating application form will be posted on the website when available.