Maine Boat & Home Show Launches "Working the Coast" Initiative
Maine Boat & Home Show Launches "Working the Coast" Initiative
Monday, May 21st 2018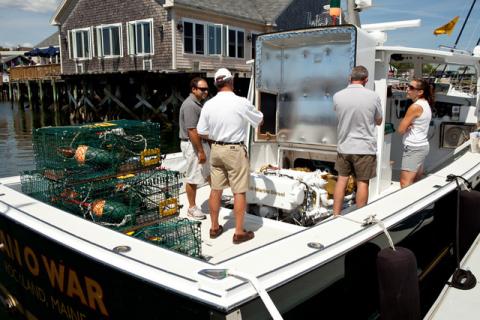 The Maine Boats and Homes Show, state's biggest boat show, will offer a new exhibition area designed to introduce commercial marine interests to the recreational market, and vice versa.
Maine's rugged coastline has long been a place where hard work and tradition meet constant change. This is true even more so today: our fisheries are evolving, our workboats are changing, and new industries such as digitally driven boatbuilding and aquaculture are emerging.
This year's Maine Boat & Home Show, held along Rockland's waterfront, August 10 -12, will showcase many of the companies and people who make up the working coast. Some of us look to the water for fun, adventure, and relaxation, but what makes Maine so special is the hardy men and women who earn their living from the sea — commercial fishing, marine research, aquaculture, and boatbuilding among many others. At this year's show, we want to salute these folks, and to promote the many different and rewarding employment paths that are available to those who want to live and work in Maine. To further this effort, the Maine Department of Labor will host a Job Fair on Friday afternoon as part of the "Working the Coast" exhibit space. Tickets for the show are available at maineboats.com/boatshow. Contact Dave Getchell at 207-594-8622 if you or your company are interested in participating.
The photo above is by Jeff Scher.