Hinckley images now digitized and available online
Hinckley images now digitized and available online
Thursday, March 7th 2019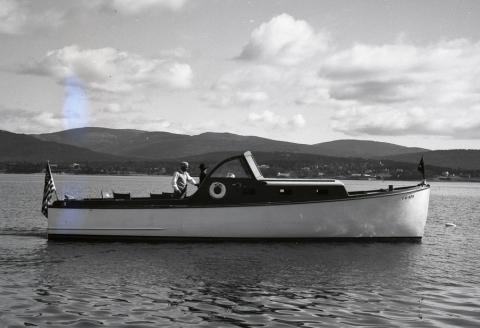 Lovers of classic Hinckleys have a new visual source to fuel their dreams. Thanks to a partnership between the Hinckley Co. and the Southwest Harbor Library, over 1,400 photographs from the boat building company have been digitized and are available for viewing online.
The project was made possible by a grant from Hinckley to the library in honor of the boatbuilder's 90th anniversary. Hinckley, which now has yards and down the East Coast, was founded in 1928 as the Manset Boatyard in Southwest Harbor, Maine.  Back then, Henry R. Hinckley's focus was on servicing the local lobster boats as well as the yachts of summer residents. Today, the company, which has a manufacturing facility in Trenton, builds luxury power boats, as well as sailing yachts.
The newly digitized images are of sail and motor yachts, working boats, and vessels Hinckley built for the military during WWII (in 1942, the company received the Army-Navy "E" Award for excellence in production of war equipment). Many of the photos show boats under construction and under sail off the waters of Mount Desert Island. The images can be seen online at swhplibrary.net/hinckley.
"We are very pleased to have partnered with the Southwest Harbor Public Library to fund an effort to make more of the Library's collection of historical Hinckley photographs available online," said Hinckley Chief Marketing Officer Pete Saladino. "Visitors to the Library's Digital Archive can now see more images of our yachts, the people who built them, and the waters that shaped their design."
The Southwest Harbor Library's Digital Archive contains more than 10,000 historical photographs, documents, maps, and research material given to and shared with the library since about 1900. The collection illustrates the way people, businesses, vessels, places, structures, organizations, and events relate to one another and tells the story of how islanders and "people from away" lived on and visited Mount Desert Island, Maine, in the 19th, 20th, and 21st centuries.
The Library has a backlog of some 30,000 items still to go into the Digital Archive. Thanks to dozens of volunteers who spent thousands of hours scanning, most of the items have been digitized, but are not yet cataloged.
"Hinckley not only helped us catalog more items, their financial assistance serves as an affirmation of the importance of the tireless effort of Library volunteers who have given so much time to preserve our rich history" said Library trustee George Soules.
To learn more about the Digital Archive, visit swhplibrary.net or call the Library at (207) 244-7065. To learn more about Hinckley Yachts, visit hinckleyyachts.com.