New owners for Robinhood Marine Center
New owners for Robinhood Marine Center
Tuesday, March 15th 2016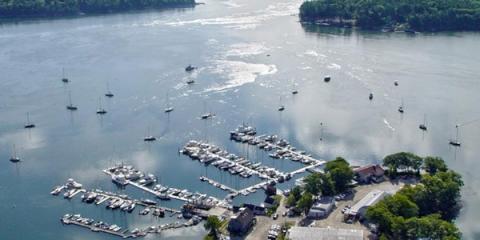 A historic marina in Georgetown, Maine, has new owners following its sale to a partnership with deep roots in the yachting and boatyard industry.

Robinhood Marine Center was sold March 7 to Derecktor Maine, a partnership led by Derecktor Shipyards. The facility will be renamed Derecktor/Robinhood.
Andy Vavolotis had owned the marina for 35 years and was ready to move on. But he was picky about who would take his place. They had to be sailors and experienced boatyard people.
"There was a lot of interest in Robinhood, and I wanted to make sure the new owners would be the right choice for me, the customers and the employees," Vavolotis said about the sale. "I believe these guys will do what's needed to make Robinhood better than ever."
Included in the sale are the Osprey restaurant, an on-site library, museum, general store, more than 17,000 square feet of storage, and 77 slips.
Known as one of the country's leading builders and repair yard with facilities in Florida and New York, Derecktor has launched vessels ranging from Americas Cup contenders to the largest yacht ever build in the United States, the 287-foot 2,500-ton Cakewalk.
The company was founded in 1947 by Bob Derecktor and has been run for many years by his son Paul.
"We are tremendously enthusiastic about Derecktor Robinhood," commented Paul Derecktor. "Our business began in the Northeast almost 70 years ago, serving cruising and racing sailboats and cruising powerboats. Now we cover the East Coast from Florida to Maine, and Robinhood lets us serve that traditional customer base, while offering all our customers seamless service, North to South."
The new owner's first move was to hire Neil Collins as General Manager. Collins spent the past 10 years at Maine Yacht Center in Portland, and has built a reputation for both technical expertise and thorough professionalism.
Before buying Robinhood in 1981, Vavolotis had a long history in the boat-building business. His career started at Boston Whaler. Then he designed what would become his first Cape Dory, a dinghy. His lines of fiberglass sailboats and powerboats proved wildly popular. By the late 1980s, he owned 140,000 square feet of factory space and had about 325 employees, who turned out thousands of boats.
He was looking for a waterfront site to demonstrate a new boat design when he found Robinhood. The site had been focused the maritime trade since the late 1700s when Benjamin Riggs operated a waterfront store there and then a warehouse to support his busy coastal trading business. Cape Dory folded in 1992. But Robinhood remained strong.