Windjammer Association honors longtime leader Meg Maiden
Windjammer Association honors longtime leader Meg Maiden
Friday, May 18th 2018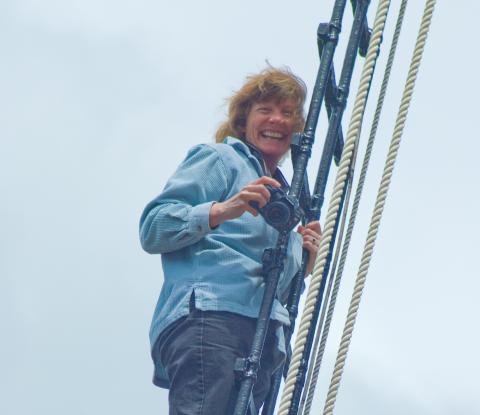 The Maine Windjammer Association, North America's oldest fleet of commercial sailing vessels, kicked off the 2018 sailing season by presenting its Lifetime Appreciation Award to Meg Maiden, the association's Executive Director from Blue Hill, Maine.
After nearly 30 years on the job, she is passing the wheel on to two new people who will succeed her in managing the association's activities. Maiden was presented with a plaque photos, a bag created from Maine Windjammer pennants, and perhaps most appropriately, a cape made from the same pennants, honoring her "super hero" status in the eyes of the Maine Windjammer Association.
"Meg has been a consistent guiding force for the Maine Windjammers for nearly 30 years," said Garth Wells, Captain of the Schooner Lewis R. French. "Working behind the scenes, she has enthusiastically and tirelessly promoted windjamming and the Maine coast — getting people from all over the country and world to visit Maine and experience the thrill of sailing on a Maine windjammer. She kept a fleet of historic schooners alive and thriving and did it the right way. We were lucky to have her work with us for so long."
Maiden started her maritime career at Wooden Boat Publications in Brooklin, Maine. From there, she moved to an ad agency in Blue Hill, where she was assigned to the Maine Windjammer account in 1989. In 1993 Meg started her own PR firm, Maiden Enterprises, with the Maine Windjammer account. She has worked as the association's executive director for nearly 30 years, with small leaves of absences to start and raise a family. Under her leadership, the Maine Windjammer Association has secured media coverage in most major media outlets and publications, plus on popular TV programs like Travels with Samantha Brown and the Rachael Raye show. During Maiden's tenure, the Maine Windjammer Association has received many awards and honors including most recently the 2012 Penobscot Bay Regional Chamber's Beacon Award; the 2013 About.com Reader's Choice Award for best attraction; the 2015 Governor's Award for Tourism Excellence, and in 2017 Maine Windjammers received USA Today's 10 Best Reader's Choice Award, 2017 as the No. 1 attraction in Maine.
In addition to these awards, Meg was a founding partner of Experience Maritime Maine, a partnership of maritime organizations and businesses dedicated to preserving Maine's maritime culture through tourism.
"My time working with the Maine Windjammer Association captains has been incredibly rewarding and always changing," Maiden said. "Thanks to the loyal passengers who come back year after year, plus every season's first-timers, this historic fleet will continue to offer guests the chance to unplug from their workday world and experience a rich, relaxing and restorative sailing tradition that can only be found along the coast of Maine."
Maiden will be replaced by two part-time marketing professionals. Alisa Meggison, the association's webmaster for the past six years, will also assume the administrative responsibilities of the executive director. PR and marketing professional, Marti Mayne, will take on the media, events and content management aspects of the job. The Maine Windjammer Association offers 3- to 11-day sailing adventures that allow visitors to experience an array of Maine's attractions—from lobster and lighthouses to Acadia and the many fine museums, shops and restaurants in Camden and Rockland, homeports for the fleet. For more information, visit www.sailmainecoast.com.